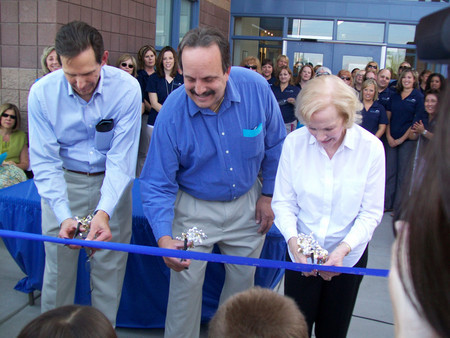 Henry and Evelyn Bozarth Elementary School celebrated its grand opening Aug. 21 with a ribbon-cutting and open house to kick off the 2009-2010 school year. The elementary school is the first to open within Providence, a 1,200-acre master-planned community located at Interstate 215, the Las Vegas Beltway, and Hualapai Road.
The school's name honors Dr. Henry Bozarth, a bomber pilot in World War II, who served as director of education for the Clark Country School District.
His first wife, Evelyn, earned a triple degree in math, biological science and education. She taught elementary school in Las Vegas and, in the 1960s, wrote the math curriculum for the district's third- through fifth-grade students.
"The Bozarth family contributed immeasurably to the educational system in the Las Vegas Valley and it is a testament to their achievements by naming the elementary school at Providence in their honor," said Deonna Stocker, manager of the information center of Providence. "A master plan truly becomes a community when its first school opens and we are excited that our residents have a school in their backyard to help educate the young people who call it home."
The colors, mascot and motto of Bozarth Elementary School were decided through student input received at Bozarth Family Night, which was held earlier this year. The school administration announced that the school colors are dark blue and silver, the mascot is the aviators and the school motto is "Aim for success! Accept nothing less!"
The new school features an extended kindercare program, which already has full enrollment for this year. Several clubs and extracurricular activities for students are offered including student council, basketball, cheerleading, honor choir and chess.
Bozarth Elementary School will implement the Clark County School District's curriculum through a method called differentiation to meet all students' academic levels. For more curricular information, visit ccsd.net.
The Bozarths were selected to represent Providence as an example of those who have dedicated their lives to the betterment of the country and the community where they live.
Providence outdoor design include streets lined with mature shade trees and also features the Providence Promenade, a linear park featuring paths for residents to jog, bike or stroll.
The community's theme is demonstrated in annual events such as Mark Twain Days, which is held every spring, and includes such highlights as Mark Twain leading a "tall tale" with audience participation.
In the fall, Providence features Red Apple Days, which is an annual event that incorporates games, food and entertainment throughout the promenade.
When completed, Providence will include an estimated 7,500 homes. Plans at Providence includes two community parks, one linear park, miles of trails systems, one additional elementary school and one middle school, in addition to the existing high schools in the surrounding area.
Participating homebuilders at Providence include Beazer Homes, KB Home, Lennar, Meritage Homes, Pardee Homes, Pulte Homes, Ryland Homes and Warmington Homes Nevada.
To learn more about Providence, visit the community's information center, which resembles an old-fashioned soda shop with wood siding and a wraparound porch. It is open from 10 a.m. to 4 p.m. daily
For more information, call 433-5084 or visit providencelv.com.