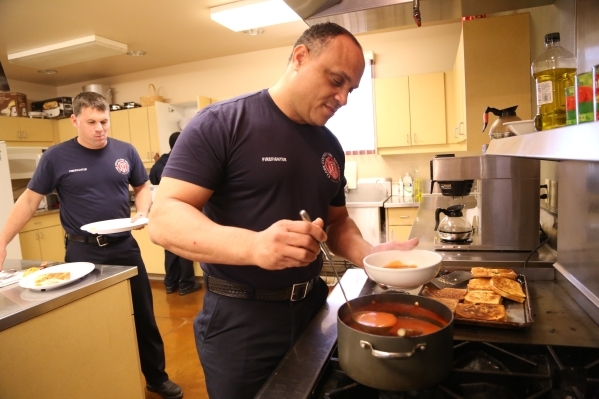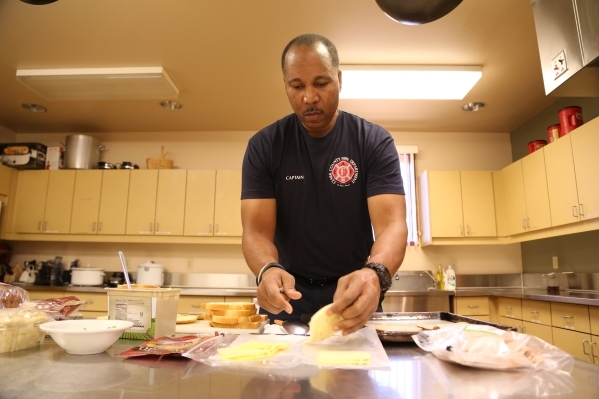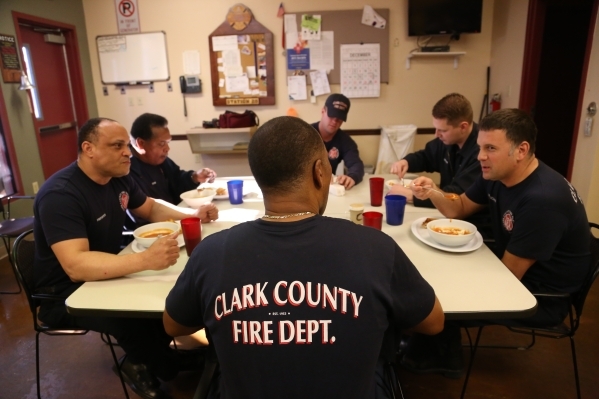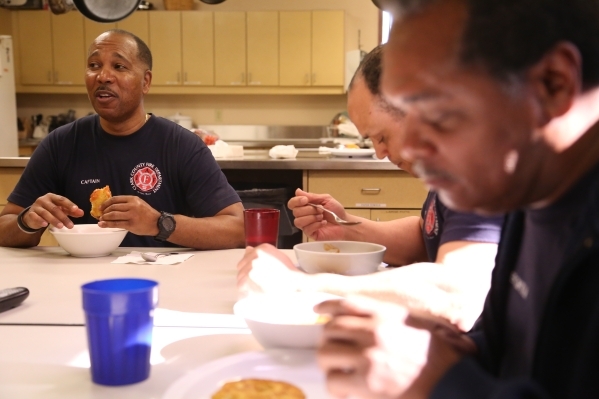 When you're the designated cook for the fire station, the heat is on.
At Summerlin's Clark County Fire Department Station 28, 10820 W. Sahara Ave., Capt. Michael Lee generally holds court as his crew's chef. Though untrained in culinary arts, he has adapted recipes he's found online or gotten from cooking shows to keep the stomachs of his co-workers — engineer/firefighter Brian Neafsey, firefighters Maceo Woolard andLindbergh Collymore and paramedics Ricardo Hernandez andBarney Locke — filled.
"I don't consider myself a chef. We take turns, but the guys (elect) me a lot of times because I like to cook. I look at a recipe and try to enhance it, increase the appeal so it stands out more," Lee said, adding that he also picks up recipes from his family. "… I'll go to a restaurant, try something, and go, 'Man, I can increase this (flavor).' "
Generally, he said he does it with spices and herbs, kicking things up a notch with garlic, basil and cilantro. His turkey burgers, charred on the grill outside, are a favorite, and his chicken tortilla soup is another hit.
When he's particularly inspired, he tries out new things on the crew. That's how he came up with his best recipe, a Mexican-style dish that's made with lasagna noodles. He compared it to an enchilada.
"I'm not a very good cook," Neafsey said. "When you're a rookie and you come on, there's a lot of pressure to make good meals. I made some good ones and bad ones. … When someone doesn't like what you made, they let you know by dumping it in the (trash can)."
Smart rookies who face unanimous dumping go out and buy the crew restaurant take-out meals to atone for their mistake. But one bad meal can seal your reputation.
"These guys over here, this guy and this guy," joked Woolard, pointing, "they're banned from cooking. They don't know what they're doing."
Although they are public employees, and their shifts last 24 hours, the crews are responsible for buying their own food. At the beginning of each shift, they decide what their meals will be, then pitch in $10 to $15 each, depending on the ingredients required, before going grocery shopping.
Most stations have three rotating crews, and each crew has its own food pantry and refrigerator.
Food is a highly valued commodity at a fire station. The pantries and refrigerators are chained and locked, and the message is clear: Hands off.
"You can leave out money — anything of value — and (it won't be touched), but food? They're like crazed dogs," Lee said. "When it's food, it's fair game."
The firehouse chefs take into consideration food allergies and keep things healthy by using olive oil and keeping the sugar and fat levels low.
Lee may be the main chef, but he needs help to feed his hungry crew. Everyone pitches in for food preparation and cleanup.
If a call comes in during meal preparation, they shove it in the refrigerator and resume cooking when they return. Once in a while, food abandoned for a call has to be tossed.
Lee said the key to making sure everyone likes his meal is to marinate the meat.
"Sometimes a guy will tell me that he doesn't like something, like maybe pork loin," he said. "But if I marinate it enough, they can't tell what it is. I'll serve it, and they think it's beef. Marinating, that's the key."
Lee said he plans to put out a cookbook one day, chock-full of the recipes he makes at the fire station.
— To reach Summerlin Area View reporter Jan Hogan, email jhogan@viewnews.com or call 702-387-2949.
Firehouse favorite
Tom LaSure's "Died n' Gone ta Heaven" Sausage Gravy

2 Jimmy Dean hot sausages
1/4 teaspoon of fresh grated garlic
1 heaping tablespoon of butter
2 quarts of whole milk
Enriched flour
Pinch sausages into teaspoon-sized pieces and brown in a large skillet. Add butter and stir until melted. Add garlic and lightly brown. Add flour until all the fat is absorbed. Stir in the milk and bring to a near boil. Serve over homemade biscuits.

(Recipe submitted by Capt. Tom LaSure, Davis-Monthan Fire Protection Flight, Tucson, Ariz.)

— Courtesy thefirestations.com