'Five star' veterans facility in Boulder City needs to improve
February 21, 2016 - 12:15 am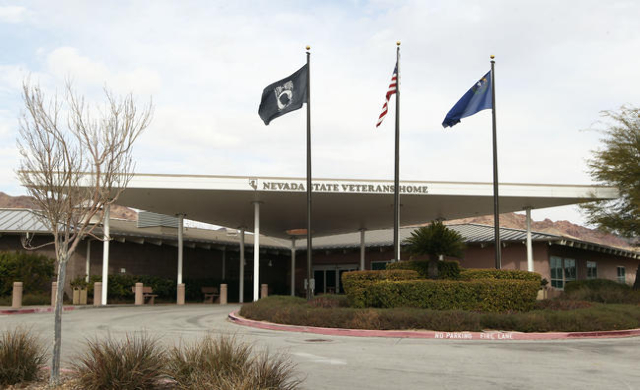 When Nevada State Veterans Home resident Charlie Demos Sr. died April 21, 2015, with deadly legionella bacteria in his system, his family sought answers.
Now Rep. Dina Titus wants them, too.
In her role as a member of the House Veterans Affairs Committee, Titus is working to ensure veterans nursing homes, funded with federal dollars but administered by the state, receive sufficient oversight. Although the Boulder City facility isn't in her congressional district, Titus has received past complaints about the Boulder City veterans home and recently responded to a contact by the Demos family.
Now she's picked up an ally: VA Under Secretary of Health David Shulkin. Titus raised the nursing home oversight issue in a Feb. 10 VA budget hearing, observing "some of them just really aren't operating up to standard. And the VA doesn't seem to go back and check on them very often."
Shulkin replied, "VA, as you know, funds this through a matching program, but does not have the responsibility for quality oversight. All that we have right now is an annual inspection. Again, if there are specific concerns on that and you think that we should have a more active role on that, I would be glad to work with you on that."
Consider the work begun.
Trouble at the Boulder City facility first came to Titus' attention in 2013 when she learned that former state legislator and World War II veteran Robert Robinson had died after suffering severe burns and heat exposure after being left in the sun by a staffer.
Titus said the current system of inspection "doesn't really give you an idea of what's going on. … There seems to be a bit of a pattern out there. It must the case in other places, too. And I think we need the VA to weigh into it more heavily."
The response from the veterans home management to quality control concerns has been terse and dismissive. A January column on the Demos matter generated a letter from Boulder City veterans home administrator Linda Gelinger in which she defended the facility as "more than sufficiently funded," and boasted that it currently enjoys a "five-star rating in overall and quality measures" with the staff ranking "above average."
Contrast that sunny outlook with statistics compiled by ProPublica, which reported the nursing home generated 38 deficiencies from December 2012 through June 2015 and was fined $20,166, in part for failing to ensure residents "received adequate supervision to prevent accidents."
Demos was 88 and medically fragile when he was transported from the nursing facility and hospitalized. The legionella finding was confirmed by a medical examiner.
A 2015 inspection of the facility by the Southern Nevada Health District found legionella bacteria, which causes deadly Legionnaires Disease, throughout retirement home, including in Demos' room. The family wanted to know what steps were taken to ensure the safety of the facility's residents and staff and eventually filed a lawsuit to demand a full accounting from the veterans home.
Now they have Titus on their side.
"If the VA is going to give them the money to run this place, that's taxpayer dollars so you don't want to waste that money," Titus said. "You also want to have more oversight so this is a place veterans trust. And this has got to be part of our commitment to serving veterans."
Boulder City is by no means the worst facility in Nevada, but an analysis of inspection reports kept by the Department of Health and Human Services and Centers for Medicare and Medicaid Services have shown it lacking in several areas.
"Five star" ratings aside, there's plenty of room for improvement.
— John L. Smith's column appears Sunday, Tuesday, Wednesday, Friday and Saturday. Contact him at 702-383-0295, or jsmith@reviewjournal.com. On Twitter: @jlnevadasmith