Floyd Mayweather Jr. says he's opening a strip club in Las Vegas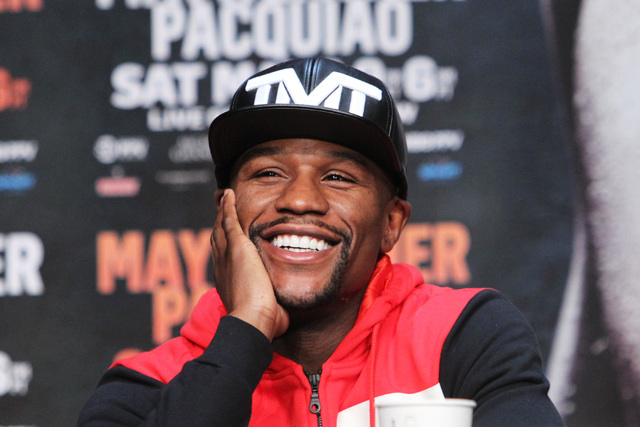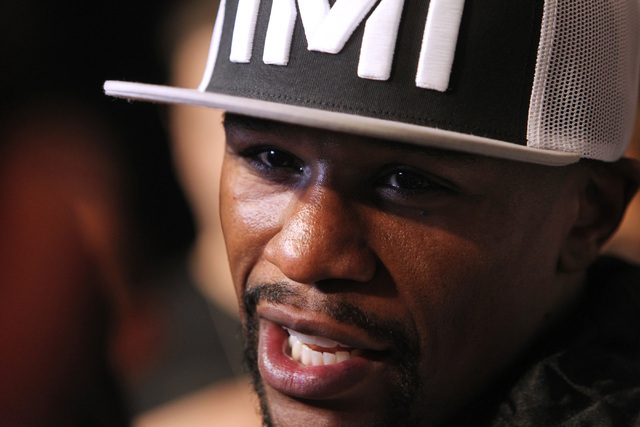 It's finally happening — Floyd Mayweather is opening a strip club in Las Vegas.
The Las Vegas boxing champ has been the king of "making it rain" at strip clubs (actually, he might be Earth's reigning rainmaker) by flipping cash stacks at dancer booties for years.
In the early morning hour of 8 Sunday, he announced via Instagram:
"I am just months away from opening up my very own strip club in Las Vegas, Nevada called @GirlCollection."
The image he posted is of Girl Collection's sign or digital billboard. It features 10 illustrated women in silhouette, in high heels.
A Mayweather club probably wouldn't greatly hurt the bottom lines of Vegas' bigger strip clubs, unless he peels away all the hottest strippers from rival clubs, which seems unlikely considering Vegas is a buyers' market with a dancer glut.
Things we want to know are the location, Mayweather's stance on cab kickbacks, his phone-microtargeting marketing approach, whether he's building from scratch or replacing an existing club, what execs he's hiring, and other details to follow.
Mayweather is uniquely situated to make a financial and celebrity impact on the strip club scene, because of his reputation for getting celebrity friends to accompany him to rain nights.
Refresher — based on previous reported claims, Mayweather tossed these large sums at strippers in clubs around America:
• $100,000 in Miami
• $20,000 at Las Vegas' Hustler Club (he wanted the club to cover his taxes)
• $35,000 in Houston
• He and Ray J (who helped make Kim Kardashian famous by being the male lead in her sex tape) invested $50,000 on Atlanta ladies of the pole via withdrawals from the boxer's Louis Vuitton bag of cash.
Those are just his most famous club moments. We'd be here all day if we listed all the reports of Mayweather's flipping big bills at booties, sometimes over his back, as if he's so unbothered by spending money, he just thumbs it over his shoulder, sunglasses on.
One time, Mayweather reportedly gave 10 L.A. strippers $3,000 each to twerk their booties in a hotel suite for a video on Instagram.
Way back in 2009, Mayweather told me he was thinking of getting a strip club. At the time, he was frequenting Spearmint Rhino, Sapphire and Crazy Horse III.
"I love entertainment," he said then. "Some people think of it as a bad way, but you gotta realize this: We were all born without clothes on. The body is a beautiful thing."
In 2009, some party poopers knocked the champ for his keen strip club eye, but he told me those hypocrites "like to go" to strip clubs, too.
CONOR WHO?
Fallen UFC superstar Conor McGregor will get his party on at Intrigue nightclub in the Wynn hotel on July 9 — the very night he could have been bobbing and weaving in the Octagon at T-Mobile Arena.
The big mouth got beat in his beard by Nate Diaz, then was removed from UFC 200 for not doing media.
Still, the Irish trash-talker was champ once, so some spoils remain, namely getting paid to pose with VIPs in the dark.
TREY + KHLOE = PUBLICITY
Seductive R&B singer Trey Songz performed "Bottoms Up" and other singles Saturday at Drai's nightclub as part of his residency in the Cromwell hotel club.
And there was Khloe Kardashian, right by his side, arriving with him, and filling the VIP booth by the stage.
Apparently, it doesn't appear she holds it against Vegas that her estranged husband reportedly almost died at a nearby brothel. I like that about her.
CHER HEARTS PEOPLE
In the future, we fear, all news will concern people tripping on social media.
Latest: Ex-Caesars Palace headliner Cher apologized for inserting a bomb emoji and an explosion emoji next to her words of sorrow regarding Turkey's airport terrorism.
"WE ALL PRAY FOR INNOCENT PPL IN TURKEY AIRPORT," Cher wrote. And then she found the bomb and explosion emoji on her device's keyboard to add at the end, to further emphasize her sad-faced-ness.
People jumped her, as if Cher did something bad on purpose when she obviously didn't.
But Cher apologized on Twitter for her "Insensitively Timed" emoji, adding two more emoji, a red one with a broken heart, and the crying-face one.
I'm glad living online isn't getting stupider. No, not at all.
SIGHTINGS
Comedian Kevin Hart drank vodka with friends in a VIP booth Friday at Chateau nightclub in the Paris hotel for his bachelor party.
Sports Illustrated cover model Ashley Graham took a friend to Marquee Dayclub on Friday, Snapchatting her "plus-size" bikini body (size 14, they say, which isn't plus-size for America anymore), then eating at Beauty & Essex and resuming partying at Marquee nightclub.
YouTube stars Andrea Russett (2.6 million subscribers) and Arden Rose (1.4 million subscribers) staged a joint belated birthday party for themselves on Friday at Tao restaurant in The Venetian and Marquee nightclub.
"I never want to leave Vegas," Russett tweeted at 2 a.m. Sunday, then by 1 p.m. Sunday, she tweeted, "I am dead" and "mom plz halp."
Doug Elfman can be reached at delfman@reviewjournal.com. He blogs at reviewjournal.com/elfman. On Twitter: @VegasAnonymous.