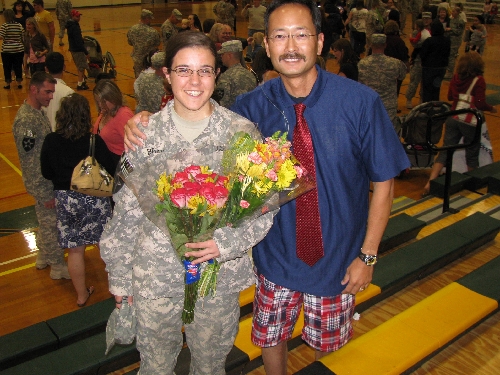 As Father's Day approaches, many people are finding ways to honor their dads. While some children honor their fathers with words or gifts, others pay tribute by following their examples of service and career choices.
SERVING THE CITY
Henderson Mayor Andy Hafen remembers his father, Herschel Woods Hafen, as the shy, quiet type.
"He has a dry sense of humor," Hafen said. "He is actually the opposite of me, very shy and reserved and never likes being in front of a group."
Hafen said his father is a hard worker, which he instilled in Hafen and his siblings.
Hafen was in the third grade when he started working for his dad at Hafen's OK Tire Store.
"I never saw much separation between the boss at work and my father," Hafen said. "My dad thought we should have to work for our wages. He didn't put up with slacking, and we always had to keep busy."
Hafen said it was probably his extended family members, who were in the state Legislature, who got him curious about politics. Hafen said watching them serve and do a lot for the community politically made him interested. But it was ultimately his dad's work ethic that inspired Hafen .
"It has always benefited me," Hafen said. "Even when I worked for (Las Vegas Metropolitan Police Department), someone once told me, 'You're not the brightest light bulb in the socket, but you sure do work hard.' "
Besides hard work, Hafen was taught by his father to serve the community.
"Something we would hear a lot in the house that I say even today at council meetings," Hafen said, "when you are in the service of your fellow man, you are in the service of your God."
That service mentality guided Hafen to become a Henderson City Council member and now mayor .
Herschel, 92, drove from Utah to watch his son be sworn in as mayor in 2009.
"He was really proud," Hafen said.
SERVING IN HEALTH CARE
His dad might not have been a surgeon, but Dr. Steve Jones, chief medical officer with St. Rose Dominican Hospitals, said watching his father, Kendall Jones, work as a dentist made him ponder going into the medical field .
"It made me look into dentistry and medical school," Jones said.
Either way, his father was pleased.
"My dad wasn't as interested in what his kids did (in school) as much as how they defined themselves after school," Jones said.
After graduating from the University of Nevada, Reno, School of Medicine, Jones became a surgeon.
When he became a father, he took all the examples his dad left him and passed them to his children.
"My father is a great example of a hard worker," said Jones' son, Jansen Jones, 26. "He is an example of how a father should be."
Jansen also became interested in the medical profession .
"I use to work in the office doing paperwork," Jansen said. "I saw how my father would help people in pain."
Jansen wanted to do that.
"I wonder if he knows what he is getting himself into," Jones said, jokingly.
Jansen recently completed his first year at Touro University Nevada in Henderson.
"He was excited when I decided I wanted to become a doctor," Jansen said. "I don't think he would have been disappointed if I didn't want to be one, though."
Dr. Randy Feikes also followed his father, Harold Lee Feikes, and became a cardiovascular surgeon.
"He grew up in Oklahoma as a poor dirt farmer," Feikes said. "He was the first one in his family to get an education."
Feikes said Harold moved to Las Vegas in 1966 and began pioneering cardiovascular surgery and eventually became the chief of surgery at Sunrise Hospital.
One summer, to avoid working in the heat, Feikes asked his dad if he could have an inside job. Harold gave him a part-time job mopping the floors at Sunrise Hospital.
"I got to watch my father operate," Feikes said . "I was infatuated with it. It seemed interesting and exciting."
Watching his father, Feikes decided to become a cardiovascular surgeon.
"He didn't want me to become a surgeon," Feikes said. "He knew the lifestyle a surgeon has and the hard effects it has on your life. He was opposed to it."
But Feikes continued down his path. Harold died of colon cancer in 1990 before Feikes graduated from medical school.
"People would tell me that he would talk to them and he sounded excited (about me becoming a doctor)," Feikes said. "I think he was proud that I wanted to be educated and make something of my life."
Feikes continued to follow in he father's footsteps by serving as the chief of surgery at Sunrise Hospital.
"I think it was the first second-generation chief," Feikes said.
Feikes has a 3-year-old daughter and is expecting his first son in June.
"Health care is a great (industry) to work in," Feikes said. "But like my father, I don't think I'd want them to become a surgeon. I love my job, and I'm glad I get to do it. But I wouldn't want them to have to give up and sacrifice the things I had to. I wouldn't wish that upon them."
SERVING COUNTRY
Corey Adkins, whose father was an Army Ranger, has fond memories of moving around the country, playing with rubber rif les and rappelling off a 65-foot tower when he was 11 during one of his dad's training exercises.
"My experiences were very different from my friends who didn't grow up in a military family," Adkins said. "I remember one time my mom was sick with strep throat, so my dad took us to work. He was an instructor at a Ranger school. We were out in the middle of the woods. It was kind of a glorified camping trip where we got to go on (reconnaissance missions), wear night-vision goggles and scare (my dad's) trainees. It was really fun."
Adkins said his dad, David, was a very strict, yet loving, military father.
"He had the best traits," Adkins said. "I know most of those traits came from the military. I would see him around his troops, and his leadership was motivating."
When Adkins graduated at 17 from Green Valley High School in 2002, there was only one option, which was joining the Army.
"I always knew I was going to join the military," Adkins said. "It's funny. Other people in high school had no clue what they wanted to do with their lives. But I did."
Adkins said his father was supportive of everything he did.
"But he told me all about being in the military," Adkins said. "It's not the glamour people think it is. He told me it was a lot of hard work."
At 17, his dad signed the consent forms allowing Adkins to join.
Adkins served three tours in Iraq and now is living in Las Vegas and attending the University of Phoenix.
Adkins knows how he plans to run his family, which includes his two children.
"I want to emulate my father," Adkins said. "He is the best man I know."
Even though Army specialist Savannah Bright didn't grow up with her father, Army Staff Sgt. Mark Hosaka, she recalls getting postcards from him from different countries.
"My dad was all over the place," Bright said. "He was in Germany and Iraq and a few other places. He always made it seem like he was on an adventure where you get to learn not only how to become a better person, but you discover new ways to overcome your fears."
After graduating from Coronado High School in 2008, Bright decided she wanted that same adventure.
"Everyone was supportive," Bright said. "My dad was very proud of me. It was great having him come out and see me graduate from boot camp."
Bright is currently stationed in Washington.
SERVING LAW ENFORCEMENT
Henderson Police Lt. Marc Cassell was about 8 years old when he watched his father, Bill Cassell, graduate from the police academy and begin working for the Las Vegas Metropolitan Police Department.
"I wasn't scared," Cassell said. "But it was more that I was aware of the fact that it was a possibility my dad could leave and never come home."
Cassell said he grew up with a strong sense of right and wrong.
"You knew the good guys were good guys and the bad guys were bad guys," Cassell said.
Cassell was 15 when he knew he was going to become a police officer just like his father.
It might have started with the mental images of action and adventure, chasing down people and kicking in doors, but in the end, Cassell knew he wanted to be a police officer to make a difference and serve his community.
"Once I got a closer look and got a little older, I realized what a difference they made," Cassell said. "At 16, I was at the age where I saw a lot of people going down the wrong path. There were gangs starting to move into high schools in the valley. I couldn't wait until I could come in and help be a solution to the problem."
With the help of his father, Cassell trained hard and waited to join the academy.
"He would help prepare me with academic things and helping me study," Cassell said.
Cassell said his most vivid memory was after a family friend, who was a police officer, died in a car crash.
"My dad took me to the impound lot to see the car," Cassell said. "He made me realize what happened in a police car is the same as what could happen in a regular car and that I needed to be careful. It was a lesson that stuck with me until this very day."
In 1993, when Cassell was 21, he graduated from the academy and joined the Henderson Police Department.
Cassell doesn't know if his two children will follow the family legacy of law enforcement.
"As long as they find a purpose, that's all I care about," Cassell said.
Contact Henderson and Anthem View reporter Michael Lyle at mlyle@viewnews.com or 387-5201.