Former art museum space repurposed for gallery at Sahara West Library
October 31, 2013 - 2:56 pm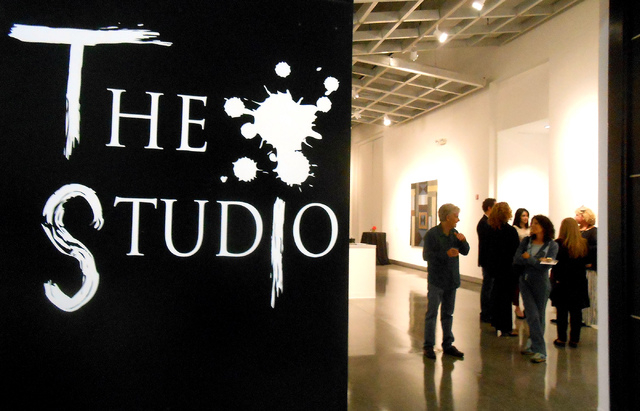 After the Las Vegas Art Museum folded in 2009, the space it occupied inside the Sahara West Library, 9600 W. Sahara Ave., was a dark, empty shell. Now, the Las Vegas-Clark County Library District has reinvigorated the cavernous space.
It's named The Studio, and its logo is a simple serif font with an ink splat to one side. Gone is the obstruction wall that forced visitors to shift left or right to go around it. Instead, a waist-high platform sits in its stead, perfect for guest sign-in books and floral arrangements, said Denise Alvarado, gallery services coordinator for the library district.
Along with a new name comes a new intent.
"It's for people with high credentials in art," Alvarado said. "It's not for starters. That's where the community galleries are important."
Three to four art exhibits will be scheduled each year in The Studio, officials said. It installed a rail system on the walls from which art will hang on cables. Artists will exhibit by invitation only. The library district said it will look to artists both in state and nationally for consideration. All receptions and showings will be free and open to the public.
For large shows, double doors within the walls can be opened to connect rooms. In total, The Studio covers 4,427 square feet.
Las Vegas resident Gloria Martel attended the first artist reception at The Studio for the exhibit "Canon 21" by Jose Bellver. A supporter of the arts, she said having the space being reopened gave her hope that Las Vegas was evolving its artistic side.
"We need more of this type of culture," she said. " I don't know why they closed the Las Vegas Art Museum … (this) lets people express themselves. It's a beautiful space."
It's also a flexible one. The last use of the space was to host a physics lesson disguised as a skateboard traveling exhibit, "Tony Hawk: Rad Science," developed by Exhibit IQ. Not exactly high art, the November 2012 exhibit was targeted at youngsters and included hands-on exhibits and test-your-balance and "how much would you weigh on the sun" interactive displays. The company behind that event rented the space.
Along with high art, plans are underway for The Studio to host different kinds of events — an Italian arts festival, a business fair and a TechArt exhibit. One of those shows is for the Society of Illustrators, an exhibit of about 40 pieces sponsored by developer Mark Fine. It's expected to open in October 2014.
Alvarado said Las Vegas is slowly evolving as an art-savvy city and that when she took charge of gallery services more than 10 years ago, she could count the number of local artists on her hands. But not any more.
"Now, we have so many," she said. The economy "made it much more difficult for galleries and artists. We have the downtown synergy, which is great, and hopefully some of those people will be in this space, too."
The Las Vegas Art Museum began as an art league in 1950, transformed into a fine art museum in 1974 and moved into the Sahara West Library in 1997. With the economy stall, the museum went into free fall and officially closed Feb. 28, 2009.
The economic plunge of 2008 wreaked havoc on the Summerlin area's art scene. It led to the demise of independent art galleries such as The Gallery at Summerlin, which opened in 2006 in Village Square, 9400 W. Sahara Ave., and closed in June 2008, and White Square Gallery in Boca Park, which closed in August 2009, less than two years after it had opened in its original location at Village Square.
The name The Studio was chosen through brainstorming between library district executive director Jeanne Goodrich, general services director Steve Rice and Alvarado.
Goodrich said she wanted the space to be adaptable for a variety of activities, so library management named it The Studio to embrace the concept of a multipurpose event space.
For more information about upcoming exhibits, visit lvccld.org.
Contact Summerlin/Summerlin South View reporter Jan Hogan at jhogan@viewnews.com or 702-387-2949.