Founder of Las Vegas dog rescue talks about new facility, goals of organization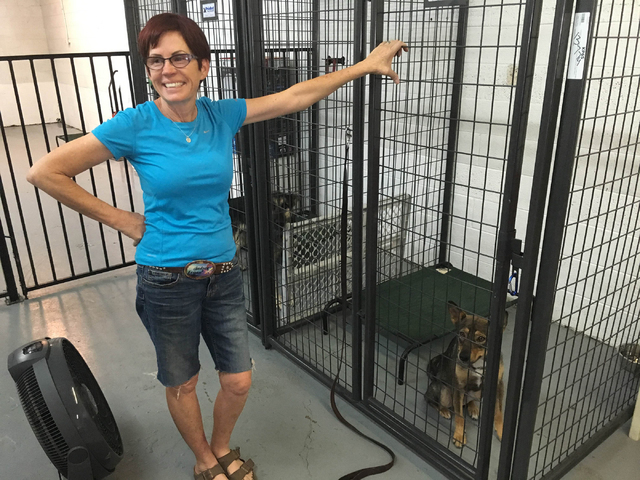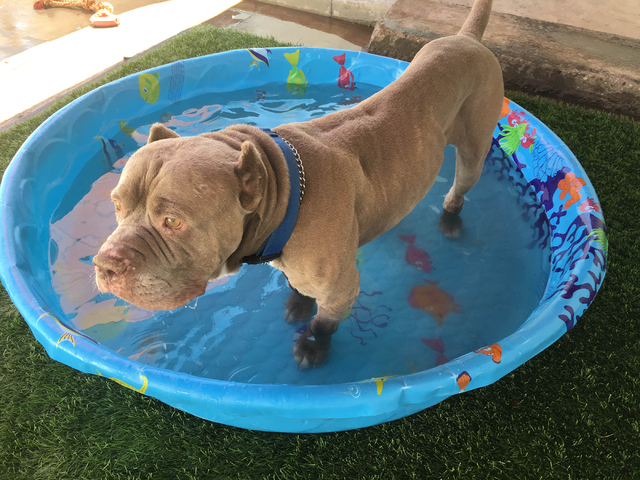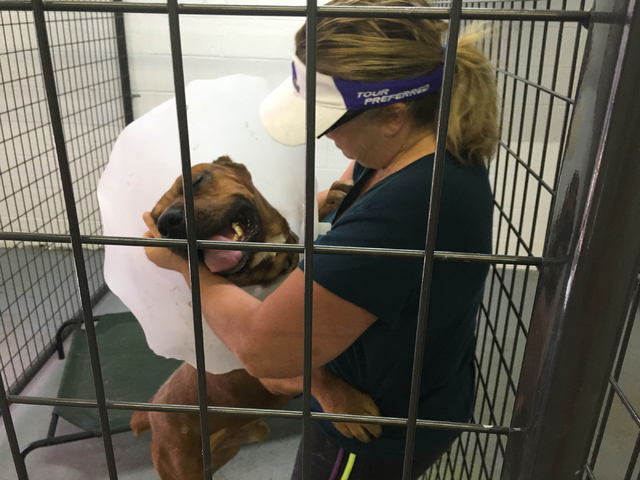 At 50, Diana England decided she wanted to do something that changed her life. She figured what better way than to save the lives of the hundreds of dogs that are euthanized every year?
The former northwest-area resident founded A Home 4 Spot in March 2009. The volunteer-based organization provides foster care and medicine while seeking permanent homes for abandoned dogs.
Since then, the nonprofit has saved more than 2,000 local dogs from being euthanized . The organization has raised over $500,000 for the medical treatment of animals since 2012.
The organization was thrust into the public spotlight in March 2014 when it agreed to take in the "Arson Puppies" who survived a fire that destroyed the infamous Prince & Princess Pet Boutique.
Despite the extra attention, the nonprofit continues its goal of saving as many dogs as possible.
View recently sat down with England.
Tell me about your background. How did you get into the dog rescuing business?
I've always wanted to do something that matters, and I like dogs. I've known that the overpopulation of dogs had been (and continues to be) a huge problem here with more than 20,000 a year being killed. I decided to focus on them and help further combat the problem. I had no experience with running a nonprofit, but everything and everyone just fell into my lap. I learned how to get fosters, how to manage bookkeeping and so forth. There was always someone there to help me with every aspect of this business. I learn as I go, and I've made a lot of mistakes, but by the grace of God, there is always someone to help me. I told myself if I could help at least 50 dogs a year, then I've made a difference.
What kind of dogs do you rescue?
The majority of the dogs that we rescue are from the Animal Foundation's Rescue Only List. I have a girl that picks them because she knows the kind of dogs that we take in. We typically have half that I think are going to move fast and half that no one else will pull due to not having enough money for medical issues. Last year alone we spent $127,000 on medical expenses.
Tell me about the new facility. When did it open?
Home 4 Spot's new rescue home opened in May because I couldn't stand to see dogs in boarding. They needed to socialize and exercise with other people. Here they get to jump and play in a kiddie pool and socialize every day with different volunteers. The only drawback is that they'll start running the kennels because there's an order, so some may get a little possessive over it. We have the capacity to fit 30 dogs here, but in total with our fosters, we have more than 100 dogs.
Can anyone visit the facility?
This is actually a private facility, so people can't just come in. I encourage them to check out our website, and if they see a dog that they like, they can call and make an appointment with us.
How do you help socialize the dogs?
We have volunteers come in and play with them outside. Right now, since it's too hot to take them on walks, we'll have a volunteer take the dogs to run errands, and her son will wait in the car with them.
How much are adoption fees?
Adoption fees range from $250 to $500 here. Some of our dogs in foster homes are a little less, but we have a facility to maintain plus the fees are cheap to me anyhow. These dogs work with two trainers four days a week who teach them manners.
We will also continue working with whoever adopts a dog from here, and we can help provide low-cost training or whatever else we can do.
What type of criteria do you have for people who are interested in adopting?
We do home checks, so we look for responsible people who live in a safe environment. We also want people who will take the initiative to get dog training if they need to socialize their dog.
What type of volunteers do you need?
Right now, we really need fosters for big dogs. Some of our dogs are rowdy and need to learn manners. We suggest people start by doing two-hour shifts here, like from 7 to 9 a.m. or 6 to 8 p.m. We're always in need of volunteers to clean kennels or just sit and play with the dogs outside or in the pool with a water hose. Sometimes we'll have kids come to read to the dogs.
What has been the biggest challenge of running this rescue?
The biggest challenge is finding good fosters and not letting yourself become too eager to take whoever comes along just because you want to save a dog. You really have to pick your fosters right and realize that you can't save everyone.
What type of financial help does the organization receive?
We have some donors and our thrift store helps pay for the facility. We'll also do fundraisers every now and then. We're planning one after it cools down in the fall.
What's the most rewarding part about your work?
It's definitely all about getting these dogs into good homes. The majority of these dogs were just days away from being put down.
Why do you think there are so many stray dogs in Las Vegas? What can people do to help combat the problem?
People get dogs, and they decided to move to an area where they don't allow dogs, so they just give them up. People have kids, and they give up their dogs. People break up, and they get rid of their dogs. In Las Vegas, it seems people aren't committed or they get puppies, which are cute and everything, but when they grow up, people who don't handle them properly or don't socialize them or get them trained make it harder for them to be adopted. If you can't afford a trainer, you can easily look up training videos on Youtube.
To reach North View reporter Sandy Lopez, email slopez@viewnews.com or call 702-383-4686. Find her on Twitter: @JournalismSandy.
Diana England
Age: 59
Occupation: Founder of A Home 4 Spot
Past Job: Manicurist
Education: Graduated from Valley High School
Hometown: Montana
In Las Vegas since: 1956
Contact: info@ahome4spot.com or visit ahome4spot.com.