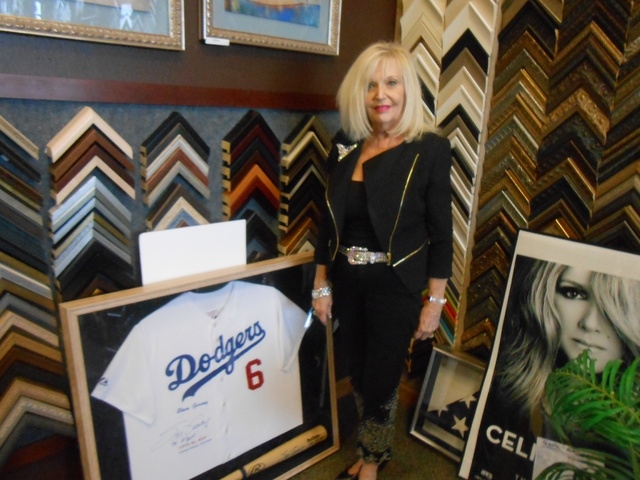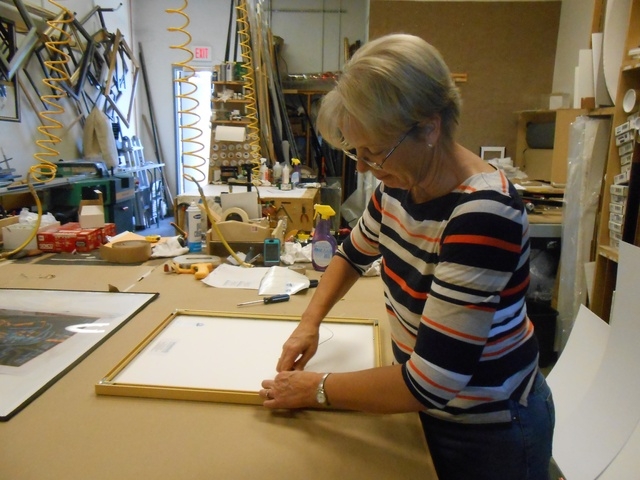 Lynda Rolen comes from an artistic family. She's related to Andrew W. Mellon, who founded the National Gallery of Art in Washington, D.C., and her mother was a professional painter.
A year and a half ago, Rolen bought The Great Frame Up, 10870 W. Charleston Blvd., Suite 110. Now, she gets to help patrons select from dozens of frame styles lining the walls of the roughly 1,200-square-foot shop.
"There's a lot of interesting art that comes through here," she said. "This morning we had a man bring in a signed boxing glove that he wanted some sort of (Plexiglas case) for. … We get a lot of signed NFL jerseys."
Items such as those require a shadow box, where the glass cap covers the item.
Enter the shop and a long, wide counter allows for artwork to be laid out and various frame options tested.
"We spend a long time with the client," Rolen said.
Scott Vollmer, a Realtor, often takes pictures of his clients when he hosts them in a private suite at The Joint at the Hard Rock Hotel. He has the pictures enlarged to give as gifts. He said he leaves it to The Great Frame Up to choose what frame looks best.
"I know how to sell houses," Vollmer said. "I don't know how to make things pretty. … they do a great job."
Almost anything can be framed. Posters and portraits are common, as are diplomas, degrees and merit awards. Some marathon devotees bring in their race shirt and entry number to be framed.
Celebrity clients bring in items. Mac King had a Houdini poster of about 6 feet long, a birthday gift from his wife, framed a few months ago. Rolen said Penn Jillette of Penn & Teller is in frequently to have memorabilia posters and art framed.
Original artwork literally gets the white glove treatment.
"We don't want to leave any fingerprints," Rolen said. "Some of these pieces are museum pieces."
All framing is done on premises.
Lori Benjamin, one of three design framers, said she likes the opportunity to be creative.
"The reward for me is to design something and then see it all come together," Benjamin said.
One of the more memorable items the shop framed was the menu from an Elvis Presley performance at the Las Vegas Hilton when there were dinner shows.
"It was New Year's Eve, from (1975)," Rolen said. "And there was one of his scarves, too, and a couple other mementos, a picture of Elvis, so that was fun. Then I had a doctor client, and he had a patient who was one of Elvis' co-stars in 'Blue Hawaii.' And this lady is now in her 70s. And the doctor brought in a picture for me to frame to go in his office. It's of this co-star with Elvis, on the set of 'Blue Hawaii,' so he had that framed. Of course, she was thrilled about being Elvis' co-star."
An involved piece the shop did was a shadow box for a World War II pilot's jacket, along with a knife, a passport, a photo of his squadron and various instruments. The jacket had to be sewn into place, one lapel folded back so that the jacket was open, with the lining exposed. When finished, the piece was estimated to weigh 50 pounds.
In the back work room are a Bienfang vacuum press for dry mounting and a Wizard CMC 8000 machine, which is computer-operated to make precise mat cuts. It can also be programmed to do cutouts.
Framing options include ornate designs, glittered styles, metal and wood. Men will sometimes go for a more rustic look, while women want a more contemporary style, Rolen said. Some art begs for a mat to separate it from the frame, so the shop carries many styles. Some are fabric. All the elements have to work together, she said.
"Generally, people in Las Vegas like the contemporary frame. They have contemporary homes, so they go for a flat, very clean look," Rolen said. "Designing is tricky because you want the client to be happy with (the end result). It's going to be on their wall for a long time."
For more information, visit lasvegas.thegreatframeup.com or call 702-240-9640.
Contact Summerlin Area View reporter Jan Hogan at jhogan@viewnews.com or 702-387-2949.