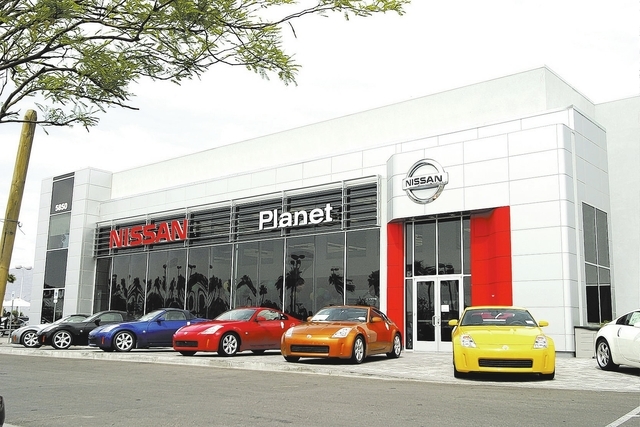 Planet Nissan at 5850 Centennial Center Blvd. in northwestern Las Vegas has been the No. 2 Nissan dealer in the United States for the past two years and has already passed its previous sales record. The store has been the No. 1 selling Nissan store in the Western Region for four consecutive years, company officials said.
To celebrate this milestone, Planet Nissan General Manager Sam Amer said the store will offer free oil changes to all Southern Nevada Nissan owners today and Monday.
"It does not matter to me if you purchased your Nissan from us or not, I plan to still offer this as a way of saying thank you to Las Vegas," he said. "Our customers have supported us in record numbers, despite the economic downturn Las Vegas faced these past four or five years. It's our way of giving back to the community."
The oil change offer will be limited to the first 100 customers on both days, and excludes GTR and synthetic oil changes, he said.
"We strive to always offer the best prices, with the largest selection of Nissans, and after the sale, service. That formula has always worked in business, during good times and during bad and we will continue to go that extra mile for our customers," Amer said.
Planet Nissan rolled out the launch of the new 2014 Rogue. Its styling is distinct, offering a V-shaped grill and light-emitting-diode driving lamps that give this new vehicle an assertive look. The side windows dip down just behind the mirrors and then kick up in the cargo area, adding some swoopy lines to the body sides. This design has the added benefit of enhancing an outward vision for front-seat occupants. The tail lamps in particular are pretty pieces of automotive jewelry, and numerous chrome tip pieces lend the car a pleasantly upscale appearance.
The new Rogue's interior has room for as many as seven passengers with a third-row seat, which can be added. The Rogue's cargo area features a shelf/cubby system.
The vehicle also includes technology highlighted by the Nissan Connect app suite, which adds Web-based applications, ranging from navigation and weather reports, to Pandora and Facebook.
For more information, visit www.planet-nissan.com. The dealership is open 9 a.m. to 9 p.m. Monday through Friday and 9 a.m. to 10 p.m. Saturdays.