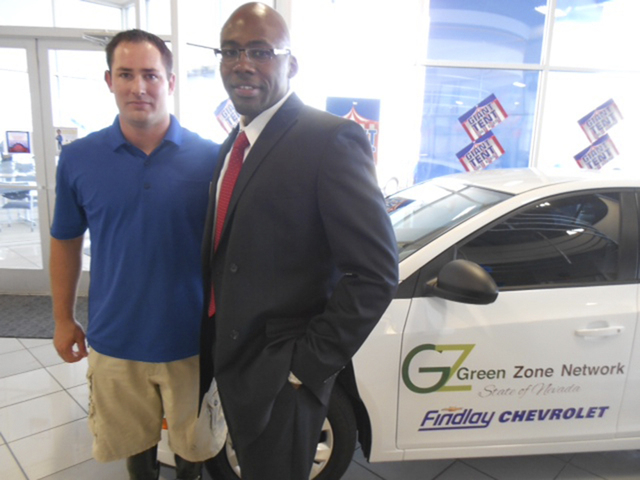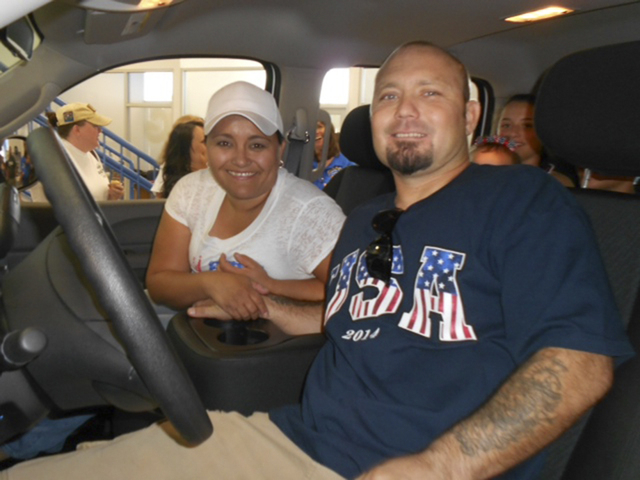 A special Memorial Day event honoring a pair of Nevada veterans in a packed showroom generated tears and the surprise of two vehicles given to the men wounded in the Middle East.
Retired Marine Sgt. Dylan Gray of Reno and retired Army Sgt. Charles Copeland of Las Vegas were the honorees receiving congressional honors from Congressman Joe Heck during the second annual Military Appreciation event.
However, thanks to the efforts of a dedicated staff and management of Findlay Chevrolet, both were given new vehicles as tributes to them for their service in the U.S. military.
Both servicemen are recovering from wounds suffered during battle in the Middle East.
Gray served three tours in Iraq as a sniper scout. During his third tour, his Humvee drove over an anti-tank mine leaving him a double amputee.
Gray, who spearheads the Green Zone Network to help veterans (www.greenzonenetwork.org), thought he was making the trip to the dealership to honor Copeland, whose unit came under attack leaving five dead and Copeland suffering serious injuries May 10, 2008.
Gray presented the keys to a new 2013 Chevrolet Silverado to his fellow serviceman.
Gray, the father of three, discovered a few minutes later that he was the recipient of a 2014 Chevrolet Cruze during a tribute that brought tears to the eyes of nearly everyone who packed the showroom of Findlay Chevrolet.
"I thought I was attending so that I could give the keys to Sgt. Copeland," he said. "I had no idea that I was also getting a new car."
An equally stunned Copeland said the Silverado was his favorite truck.
"This is an amazing deal," he said. "The Silverado is my favorite vehicle."
In addition, a concerted effort spearheaded by the Findlay Chevrolet staff resulted in birthday gifts for the Copelands' daughter, Makelia, who turned 3 on May 28. Among the gifts was a pink toy Corvette.
After returning from his tour in 2008, Copeland sold his 2003 Chevrolet Silverado so that a car could be purchased for his wife. He attended ceremonies at Findlay Chevrolet only four days after undergoing back surgery.
Among those in attendance was Findlay Automotive President Cliff Findlay.
"This was unbelievable," Findlay said. "It was very emotional, and it was also great that we could get involved by recognizing people who protect us."
Findlay Chevrolet General Manager Jamaal McCoy, who grew up in a military family, said during a speech that the sacrifices military members and their families experience are very trying.
"Serving your country can create incredible stress for both the person in the military and also the families of the military," McCoy said.
Heck talked about the stresses the military can create.
"You constantly worry about the phone call at 3 in the morning or someone ringing your doorbell. It's never-ending."
The donations of new vehicles by Findlay Chevrolet marked the second time in as many weeks that the dealership had awarded keys of a new vehicle to a dedicated resident of Southern Nevada.
Earlier in May, Findlay Chevrolet joined with Appreciation Financial to present the keys to Roy Martin Middle School coach and algebra/geometry teacher Perryn Hale, a respected educator who had suffered a series of setbacks.
Findlay Chevrolet is part of Findlay Automotive Group founded more than 50 years ago by Pete Findlay. His son, Cliff, spearheads the company new and pre-owned dealerships in Nevada, Utah, Arizona and Idaho.
The dealership is at 6800 S. Torrey Pines Drive, south of the 215 Beltway.