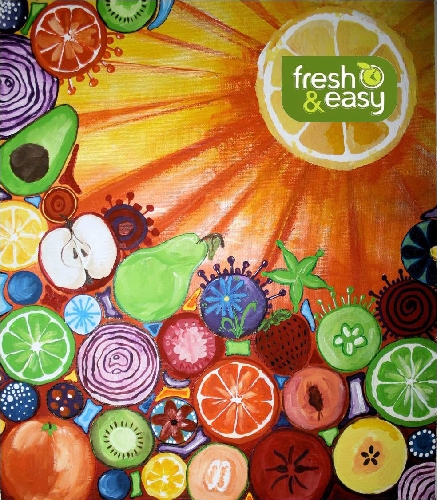 A slice of a Las Vegas woman's art will be with Fresh & Easy Neighborhood Market shoppers around the Southwest by the end of the year.
Centennial Hills resident Tonya Jacobsen was named winner of the company's Design-a-Bag contest, and her artwork will be featured on a reusable bag available in stores by the end of the year.
Jacobsen's award includes a year's worth of free groceries valued at up to $5,000.
"I initially didn't tell anyone I submitted my artwork, so I was shocked to hear I won," Jacobsen said.
Jacobsen paints in her free time and said she heard about the contest while shopping at her local store, which she said is close to her home and her main grocer.
Jacobsen said her acrylic-painted design of fruits, vegetables and the sun around the Fresh & Easy logo was inspired by the bright colors she sees when visiting the store.
Her winning design will be printed on reusable bags to be sold at all 176 Fresh & Easy stores in California, Nevada and Arizona this year, company spokesman Brendan Wonnacott said.
Jacobsen beat out 800 submissions and was one of two Nevadans selected for customer vote.
Wonnacott said this is the second year for the contest, which was launched to help promote reusable bags.
Last year's contest bag sold out.
"It was an indication to us that we wanted to bring the program back," Wonnacott said.
More than 30,000 votes were cast for this year's contest. Jacobsen said friends and family were among voters, she said.
When she won, Jacobsen said she literally called on them again.
"I called everyone in my contacts list," she said.
Her design is expected in stores by the end of the year.
"It's bright, and it reflects a bit of Fresh & Easy," Wonnacott said. "That was something certainly our customers liked, but we're excited about it, too."
Jacobsen said she was hush-hush to family and friends about voting but thanked everyone who cast one in her favor.
"It's been a really great experience, and I thank everyone who supported my design," she said.
For more information, visit the Fresh & Easy Neighborhood Market blog at blog.freshandeasy.com .
Contact Centennial and Paradise View reporter Maggie Lillis at mlillis@viewnews.com or 477-3839.