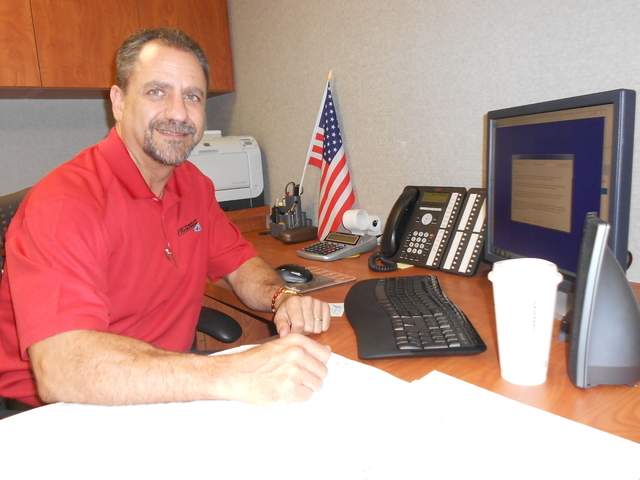 As a Western High School sophomore in April 1977, Rob Mancini was an aspiring athlete who had suffered a shoulder injury. Knowing that his athletic career was in jeopardy, he walked across Bonanza Road and applied for a job with Friendly Ford.
He was 15.
The energetic Mancini took a job as shipping and receiving assistant. Thirty-seven years later, the 48-year Las Vegas resident is parts director for the 44-year-old dealership at 660 N. Decatur Blvd.
"I guess you could say that I found a home away from home," said Mancini, 53, the dealership's longest-tenured employee with the dealership next to owner Ed Olliges. "I was really excited to be here. It was very interesting to see all of the new cars arriving while also being able to see everything else related to the process. For a young kid with his first job, I was on top of the world.
"The people of this dealership have always been great to me. I'm very fortunate to have worked for such a great group of people. I have worked in every position in the parts department, so I'm able to relate to all of the experiences."
Mancini said that through nearly four decades of the car business, he's been happy to stay put.
"The thought of leaving has never crossed my mind," he said. "I have spent two-thirds of my life with this company and while I haven't really thought about that fact much, it's been a wonderful ride."
Some of Mancini's mentors have become longtime friends.
"The list of people who have assisted me over the years is actually quite long," said Mancini, a Fresno, Calif., native. "Starting with Ed Olliges there has been people like Ray Ribicki (a former parts director who has since passed away); along with parts representatives Fred Burkin, Paul Krogh, Mike McDaniel and sales consultant Tom Gallina who come to mind. Every one of them has been important to my career because they offered a helping hand. They all trained and/or mentored me at one time or another."
For further information on Friendly Ford, call 702-870-7221 or visit www.friendlyfordlv.com.