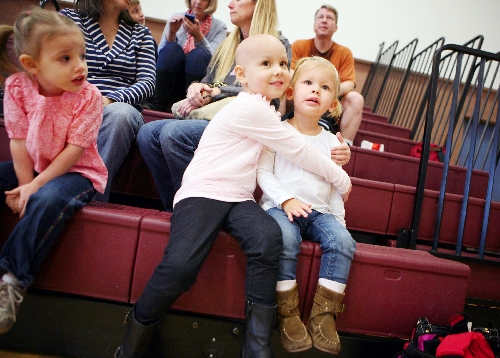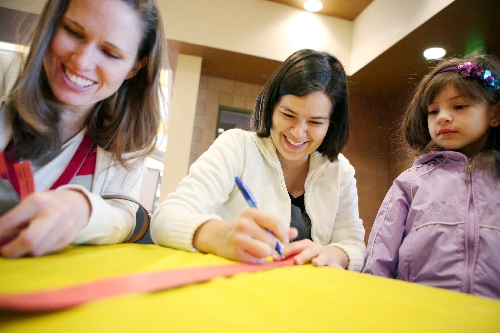 When Cathy Coleman heard that her friend's 4-year-old daughter Rachel Anderson was diagnosed with acute lymphoblastic leukemia, she wanted to help.
Rachel, who turned 5 this month, was diagnosed May 21 and given a prognosis of a 90 percent chance of recovery without a relapse but will still have to complete two years of treatment, said her mother, Shelly Anderson.
To raise money to cover the medical expenses, Coleman organized a three-on-three basketball tournament fundraiser Nov. 10 with the MOMS Club of Las Vegas, Northwest at the Centennial Hills YMCA, 6601 N. Buffalo Drive.
Anderson started to cry when she talked about how grateful she is for people reaching out to the family.
"You just realize how many people love your child," she said.
Her family had hoped to donate any extra money to Candlelighters, a non profit childhood cancer foundation, but the funds that were raised were used to cover the family's $3,000 medical expenses, Coleman said.
Ten teams of three participated in the event, and almost another 200 people attended to watch, she said.
"We're not looking for a fundraiser so we can go shopping," Anderson said.
She said she hoped to give back to the community.
She knows her family is lucky and that the bills could have been much worse.
"We feel fortunate because our medical bills aren't astronomical," she said. "We were fortunate to avoid most of that."
She said she is also relieved that Rachel does not start school until next year, so she does not have to deal with missing time at school from illness.
Anderson had a friend, Jackie Trueblood, whose son had the disease, so when she saw the same traits in Rachel – bruising and paleness – she started to put the pieces together, she said.
"I looked at her and knew something was not right ," she said. " By 1 p.m., I was at the oncologist's."
Trueblood met Anderson through the MOMS Club five years ago. She went with Anderson to the oncologist's appointment that day and told her that when people asked if they could help, she should never say no.
"I wish I had said yes to more people," Trueblood said.
It helped Rachel to explain that a friend had the same disease and has since recovered, her mother said.
"We educate the kids on what's going on with them and tell them it's OK and it's not going to be forever," she said.
Coleman is not the only one who reached out, Anderson said. She said friends, family and church members delivered meals, gift cards and anything they could.
The church class Rachel attended still brings her the lessons so she does not fall behind.
She said she's most impressed that her daughter goes to the doctor for a shot and often comes home to go about her playing without getting upset.
But as hard as she tries, things are not normal. Being homebound makes things difficult, but Rachel cannot risk catching any other disease, which means she was unable to go trick-or-treating.
"Her little sister talks about, 'When I'm 4 and I get leukemia,' and I tell her, 'Sweetheart, this is not a normal thing,' " Anderson said.
Anderson said she has struggled emotionally in the last six months.
"Emotions? They're up and down," Anderson said. "You have good days and you have bad days."
She just wants Rachel to be able to be a carefree little girl. "The hardest part is them not being able to have a normal life," Anderson said. "In the big perspective, it really doesn't matter (that these two years will be different from other childhoods) but at the same time, she's only 4 . This should matter."
Coleman said she's known the family for almost two years, and it took her four months to prepare the basketball event, including getting participants, finding a referee and a location.
Contact Centennial and North Las Vegas View reporter Laura Phelps at lphelps@viewnews.com or 702-477-3839.