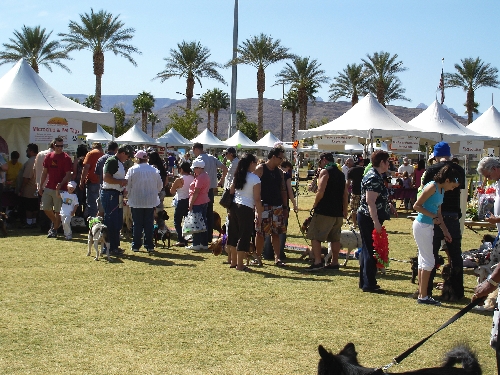 The Family, Fur & Festival at Mountain's Edge offers five hours of fun, activities and education surrounding humane animal care.
Presented by the Nevada Society for the Prevention of Cruelty to Animals, the free event from 10 a.m.-3 p.m. at the best-selling master plan's Exploration Park and is perfect for the whole family, including leashed and well-behaved four-legged pets and companion animals.
The popular event has enjoyed steady growth in its five-year history, but its message of kindness to animals is even more important this year.
"We've experienced unprecedented hardship for community animals in 2011," said Doug Duke, Nevada SPCA executive director. "Our firsthand account and reports from other shelters indicate the numbers of animals abandoned in foreclosed homes is the worst it's ever been — and it's not just cats and dogs. All species are affected, from rabbits and goats to peacocks and fish."
Duke said Nevada SPCA and the community's other animal rescue groups and shelters need the public's help. Information is available at the Family, Fur & Fun Festival, including tips on adopting or fostering a pet, spaying and neutering, donating and volunteering.
"Adopting an animal and making him or her a cherished, lifelong member of your family is one of the best ways to make a difference for an innocent life in desperate need," he said. "Another great option is fostering newborn kittens, puppies, rabbits and other species entering shelters and rescue programs. They need loving home care and socialization until they are old enough, and healthy enough, to be spayed or neutered and prepared for adoption."
The Nevada SPCA placed more than 300 rescued newborn animals with caring foster homes over the past three months.
"This summer was, by far, our most challenging for newborn animals," said Duke. "We thank the dozens of committed and compassionate foster parents who stepped forward."
Duke stressed the importance of spaying or neutering cats, dogs, rabbits and ferrets so they don't contribute further to the animal overpopulation crisis.  There are several low-cost options.
To make a difference, visit the How You Can Help section at www.nevadaspca.org, call 702-873-7722, or meet with Nevada SPCA staff at the Fur, Family & Fun Festival or office, 4800 W. Dewey Drive.
Other festival activities are animal massages, animal hero badge, making rabbit toys, naming new animals at Nevada SPCA, raffle prizes, refreshments, and great deals from Mountain's Edge builders.
There will be $5 microchipping from Aloha Animal Hospital, Canine Good Citizen testing, and special pet portrait pricing from Arica of Pet'ographique with proceeds benefitting Nevada SPCA.
Those attending also can learn how to keep pets safe during Halloween, incorporate them into the family and provide proper care, the latter from Drs. Jason and Jamie Sulliban of Aloha Animal Hospital. Winners of the Clear Channel Las Vegas The Real House Pets of Las Vegas contest also will be announced.
For Family, Fur & Fun Festival information, visit www.familyfurandfun.com, call 702-444-3713 or email info@familyfurandfun.com.
Event sponsors include the law office of Donna Stidham LLC, Mountain's Edge, Aloha Animal Hospital, Good Paws Dog Training & Nutrition Consulting, Amica Insurance, Pet'ographique, Medical Reserve Corps, NutriSource Premium Pet Food and English Garden Florist.
The American Heart Association My Heart, My Life, Walk and Run (Heart Walk) will be the following week on Oct. 15, also at Exploration Park. The 5K and one-mile walk and timed 5K run raises funds to battle heart disease and stroke and generate awareness about making healthful lifestyle choices.
Online registration is available before Wednesday for $30 at www.lasvegasheartwalk.org. Event-day registration is available for $40 on a first-come, first-served basis. For details or to register, donate or volunteer, visit www.lasvegasheartwalk.org or email lacy.ekert@heart.org.
Exploration Park at Mountain's Edge is located at 9600 S. Buffalo Drive. It is just south of the master plan's main entrance at Buffalo and Blue Diamond Road.
Mountain's Edge is a 3,500-acre master plan that has been named the No. 5 best-selling master planned community in the country by RCLCO, the leading independent real estate advisory firm. It is also Nevada's top seller.
To learn more, visit the Mountain's Edge New Home Information Center, open daily from 10 a.m. to 4 p.m., at 9275 S. Buffalo Drive; call 702/898-5777; or visit www.mountainsedge.com.