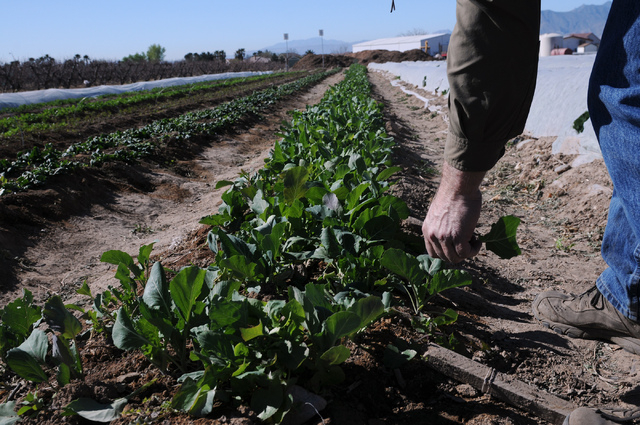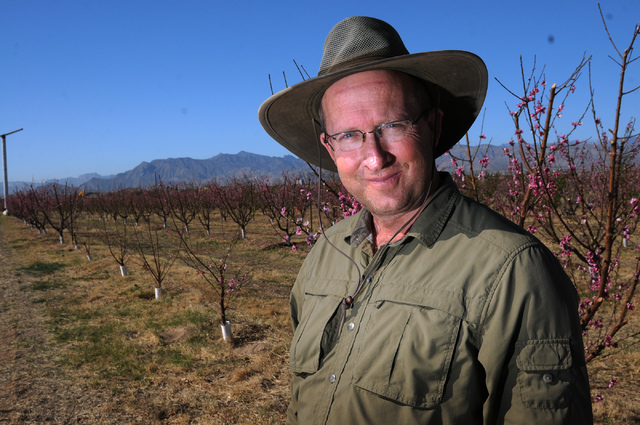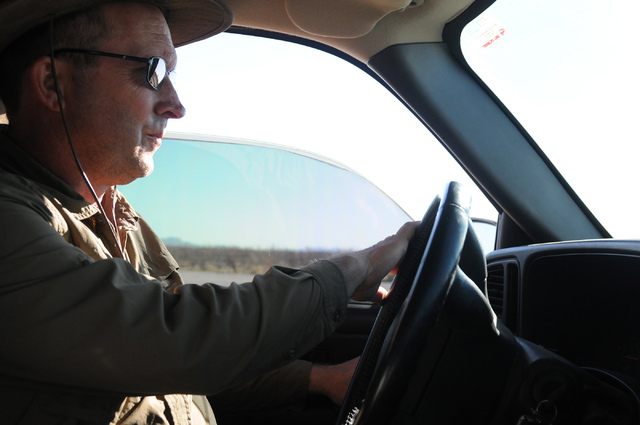 Through customer reviews, public interest and a monthly newsletter sent to approximately 17,000 people, Gilcrease Orchard has continuously attracted a new and regular flow of visitors to its 60-acre farm.
The orchard offers people a chance to select and pick from a variety of fruits and vegetables, including apples, apricots, figs, peaches, pears, plums, kale, melons, potatoes, onions, garlic, carrots and eggplants, among other items.
"This is the only place around that lets people pick their own stuff," said Mark Ruben, director at Gilcrease Orchard. "It's the experience that counts more than anything."
Elda and Leonard Gilcrease started the orchard with their sons, John Theodore and William Orr, when they arrived in Las Vegas in the 1920s.
The couple purchased more than 900 acres in the Las Vegas Valley that included natural artisan springs known as the Lower Tule Springs for cultivating crops and raising livestock.
The Depression caused by the stock market crash of 1929 discouraged Leonard from continuing with farm life. He left Elda and their sons to return to California, according to thegilcreaseorchard.org.
Elda continued working on the ranch until she died in 1968.
John and William took over the ranch until 1997, when they decided to establish the nonprofit Gilcrease Orchard Foundation, governed by a board of trustees, to manage and operate the orchard.
Now Ruben manages the orchard with the help of four full-time volunteers and four to five part-time workers.
Jesus Leon works as a foreman at the orchard. He said his experience with his family's farm in Mexico helped prepare him for a career in agriculture.
Most recently, Leon was preparing dirt rows to plant tomatoes by putting plastics over the top of each row and irrigation lines.
"This work is not hard if you know what you're doing," Leon said. "My parents prepared me well, and I enjoy seeing families come and have a good time at the orchard."
Ruben said he is not afraid to try growing new vegetables and fruits. He has received multiple requests from the public to produce bitter melon at the orchard, which he said is popular in the Filipino community.
"We're not afraid to experiment with new things, and we're always expanding," Ruben said. "We'll try anything once."
To keep the soil rich and moist, Ruben said workers add manure, wood chips and mulch. He said it helps keep water in the soil and decomposes nutrients fast.
The orchard is made up of 60 percent fruit trees and 40 percent row crops, according to Ruben. There are approximately 38 different crops at the orchard.
Ruben uses floating row covers to regulate the temperature and keep frost and dust away.
"The most challenging aspect is dealing with the summer heat," Ruben said. "One thing that we can't grow is citrus. The climate gets too cold in the winter."
Most recently, workers planted pomegranates, which Ruben said are one of the easiest things to grow in the desert. Other recent additions include aprium and pluot trees, which are a hybrid between an apricot and a plum.
Most fruits and vegetables are available for the public to pick, except garlic, melons and potatoes. Ruben said some items are picked ahead of time because people don't know when they are ready.
Ruben added that burrowing owls live at the orchard and fly at night, eating moths that would otherwise lay eggs in the crops.
There are also 15 beehives on site that help with pollination. In May and September, the orchard sells about 60 gallons of local honey to the community, according to Ruben.
The orchard's busiest time of year is in October when families flock for the pumpkin season, Ruben said. The orchard also sells its popular apple cider doughnuts to the public in the fall.
The orchard is open from 7 a.m. to noon Saturdays for picking seasonal items, which include kale, collards, bok choy, spinach, turnips, carrots and beets.
Asparagus and peanut and almond butter are also available at the checkout stand.
Most items range from $1 to $2.
"The timing here is a lot different compared to other areas," Ruben said. "It's all about when you plant things in and harvest."
The orchard is also open to school field trips and tours by appointment.
For more information, visit thegilcreaseorchard.org.
Contact North Las Vegas and Centennial View reporter Sandy Lopez at slopez@viewnews.com or 702-383-4686.
FOR MORE SPRING STORIES
Visit https://www.reviewjournal.com/life/home-and-garden/spring-gardening for spring gardening stories from around the valley.
TO BE A MASTER GARDENER
To become a Master Gardener, people must complete 80 hours of training, which consists of 20 classes of instruction offered by the University of Nevada Cooperative Extension.
Classes are offered from 8:30 a.m. through 12:30 p.m. Mondays, Wednesdays and Fridays in the spring semester. Classes include three hours of lectures and one hour of hands-on activities. There is a $200 fee charged to offset program expenses.
Participants must sign an agreement to volunteer 50 hours a year to the program in order to stay certified as a Master Gardener. They answer phone calls, send out informational materials and develop community gardens.
The extension also offers community classes open to gardeners of all skill levels throughout the year.
For more information, visit www.unce.unr.edu/programs/sites/mastergardener/southern or call 702-257-5501.