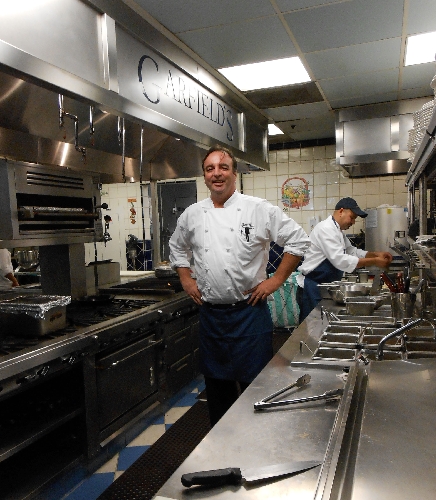 If some of the faces at Garfield's Restaurant look familiar to those who frequented the now-closed Rosemary's Restaurant on West Sahara Avenue, there is a reason. Six employees from both the front and back of the house at Rosemary's —- which closed in July 2011 —- have migrated to Garfield's, 2620 Regatta Drive, Suite 118, in Desert Shores.
Daniel Sobers, general manager of Garfield's, is new to Las Vegas but said Rosemary's had a great reputation.
"I've heard it was a fantastic restaurant, that people even cried when it closed," he said.
Sobers said it was not disruptive to have that many workers trickle in from another restaurant. "It was a plus to see that on their resumes," he said.
Ross Boaz is the head chef at Garfield's. He was at Rosemary's for 12 years. He said it is common in culinary circles to change jobs.
What did he see as the similarities between the restaurants?
"We're from Rosemary's, but this isn't Rosemary's," Boaz said. "There's not been any influence from Rosemary's. … We're more than proud to be associated with Rosemary's, but it's not another Rosemary's."
Besides Boaz, the other migrated employees are Felipa Perez, line cook; Michael Jones, bar manager; Raquela Credle, hostess; Marin Hernandez, server; and Salvador Ramirez, server.
While the atmosphere may be a little more scenic (Garfield's sits at the edge of Lake Jacqueline), dishes such as the salmon tartare may taste slightly familiar. Boaz said it was inevitable that some of the dishes will have similar elements to what Rosemary's served.
"It was a good experience to work with chef Mike and chef Wendy (Jordan, former owners of Rosemary's) because they wanted excellence out of everybody, (which) we hope to carry on here," Boaz said. "… There'll be some menu changes, a nightly special. I'm just trying to get the cooks (used) to producing different food and doing different things."
Items he recently added to the menu include crispy duck confit, smoked duck salad with berry balsamic dressing, goat cheese-stuffed figs with prosciutto and Asian-style tuna tartare. Boaz said any time there is a menu change, it involves the kitchen staff learning a new routine.
"When you know your menu, you're like a machine," he said. "You know the hand movements, where to grab. Any time you change anything, you're changing the whole process. I've worked in a lot of places, and when you change the menu, it's the hardest thing in the world because you're not throwing a complicated recipe (at your crew), but you're changing the process. You're sautéing something different, or you're using a different amount, or you've got something at a different place on the line. So, yeah, it takes a while."
Jones joked that he was "another refugee." He said the difference between the eateries was "night and day … they are two completely different restaurants. Here … a lot of our patrons come in for the lunch or the brunch because we have such an excellent view of the water. Rosemary's was a destination restaurant for a lot of people from the Strip because of its reputation of chef Mike (Jordan). Here, we do more of a local crowd. At Rosemary's, you basically have a view of the parking lot. Here, you've got a nice lake, and you can forget you're in Las Vegas."
He said a lot of his bar patrons followed him to Garfield's. He has a cocktail program that is popular. He changed Garfield's wine list to be more approachable, meaning labels most people recognize. He priced them to be affordable to complement the neighborhood setting.
Boaz said he tours the dining room now and then each night, and, so far, when he greets patrons and checks that they like their meal, he's avoided saying "welcome to Rosemary's, but answering calls might be a different story.
"I still answer the phone sometimes with the name of places I worked at 15 years ago," Boaz said and shrugged. "It happens to everybody."
Contact Summerlin/Summerlin South View reporter Jan Hogan at jhogan@viewnews.com or 702-387-2949.
Garfield's
Garfield's, 2620 Regatta Drive, Suite 118, is open from 11 a.m. to 3 p.m. Monday, 11 a.m. to 8 p.m. Tuesday through Thursday, 11 a.m. to 9 p.m. Friday, 10:30 a.m. to 9 p.m. Saturday and 10:30 a.m. to 3 p.m. Sunday.
For reservations, call 702-925-8333. To see the menu, visit garfieldsrestaurantlv.com.