Gaudin Jaguar service adviser earns top honor Marque of Distinction
January 23, 2009 - 10:00 pm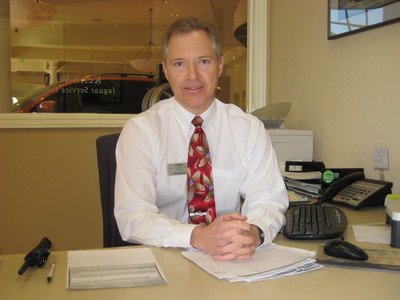 Keith Walton, service adviser of Gaudin Jaguar, was awarded the Marque of Distinction award from Jaguar Land Rover North America LLC in November.
Jaguar annually recognizes and rewards top scorers in parts, sales and service as part of the Journey to Excellence certification and recognition program. Significant training in their field, customer handling scores, knowledge and experience are required to earn the Marque of Distinction award. Thousands participate, hundreds compete, and only seven Jaguar professionals prevail annually.
Walton qualified for the Journey to Excellence program through two written tests. The top 36 are then given a verbal test over the phone where participants are asked 20 questions in 30 minutes. The phone test focuses mostly on product knowledge, but also contains administrative questions. From there, 12 finalists are rewarded with a cruise vacation. On the cruise, the top scorers in each category are announced.
"It's exciting and a little overwhelming because there were probably 200 people on the cruise for Jaguar and Land Rover combined. It was kind of a surprise," Walton said. "They don't tell you how you've done on the test, there's no indication; even afterwards you don't know what your score is. It's just a big surprise, I guess. I feel pretty good."
Two Gaudin Jaguar salespeople and one parts employee were also invited on the Caribbean cruise.
"I'm lucky to work at a dealership that encourages us all to participate in the manufacturer programs and given time to study all the materials we need," Walton said. "We learn a lot. I learn a lot every day from the people I work with. We've got a lot of good people working here."
Gaudin Jaguar won the Pride of Jaguar award two years ago, which is given to stores that have the highest sales and customer satisfaction nationally.
Walton, from Edmonton, Canada, has been with the Jaguar brand since 1981. He and his wife lived in Denver for four years before moving to Las Vegas five years ago.
For more information, call Gaudin Jaguar at 284-7000 or visit the dealership online at www.jplv.net.