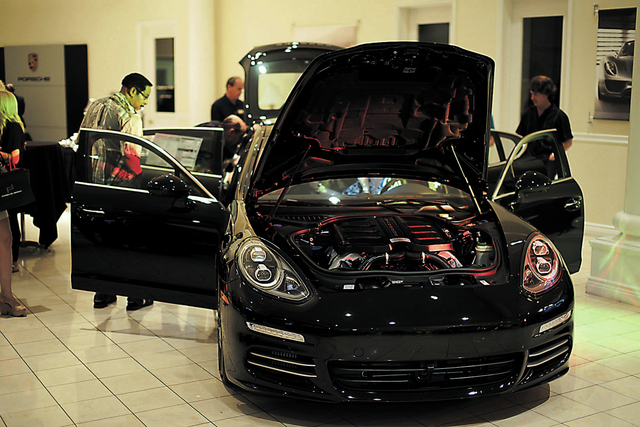 Gaudin Porsche of Las Vegas recently celebrated the official release of the 2014 Porsche Panamera with a party for 100 invited guests.
As the West Sahara Avenue Porsche sales center filled with auto enthusiasts enjoying catered delights, wine and beer pairings and the sounds of a jazz duet, the countdown to the reveal began. A video presentation showed the new luxury sports sedan racing across the Valley of Fire. Choreographed to the precise moment of a countdown on the Porsche Sport Chrono gauge displayed overhead, two black-draped vehicles were simultaneously unveiled.
"We are thrilled with the response to the Panamera, first introduced in 2009, just as the automotive market was suffering," said Jim Mooradian, general manager of Gaudin Motor Co., the exclusive Porsche and Jaguar dealer in Southern Nevada. "Skeptics thought a sedan was counterintuitive to the brands' race car heritage, but Porsche proved them wrong. Sales of the Panamera continue to increase year over year. With the edition of the Executive long body, we will embrace the ultraluxury driver without sacrificing performance."
The Panamera Executive is one of nine versions of the top-selling luxury sport sedan, which was named Top Initial Quality by J.D. Power &Associates for 2012 and 2013. The edition is 6 inches longer than the traditional chassis, and is offered in a 3.0-liter V-6 with 420 horsepower and the 4S model, a 4.8-liter, 520-horsepower V-8 twin-turbo active all-wheel drive that goes from zero to 60 mph in four seconds.
Panamera also is available as a V-6, S-V-8, 4, 4S, Turbo and GTS. The S-E Panamera, the first Porsche electric plug-in hybrid, is expected to arrive in November.
"There is already a waiting list for the new electric plug-in hybrid, which uses gas and hybrid technology and is uniquely positioned to serve the needs of clients concerned about the environment, fuel economy and range anxiety," Mooradian said, "We've also seen a high demand for Porsche CPO — certified preowned — Panamera models, which make up a considerable portion of our luxury used car center."
Kelleybluebook.com recently named the 2013 Porsche Panamera Best Resale Value in the luxury sedan segment. According to Kelley Blue Book, the award recognizes vehicles for their projected retained value throughout the initial five-year ownership period.
Prices for the 2014 Porsche Panamera start at $78,000; the S-E Panamera hybrid is expected to sell for $99,000.
The dealership is at 7200 W. Sahara Ave. For more information, call the dealership at 702-284-7000.