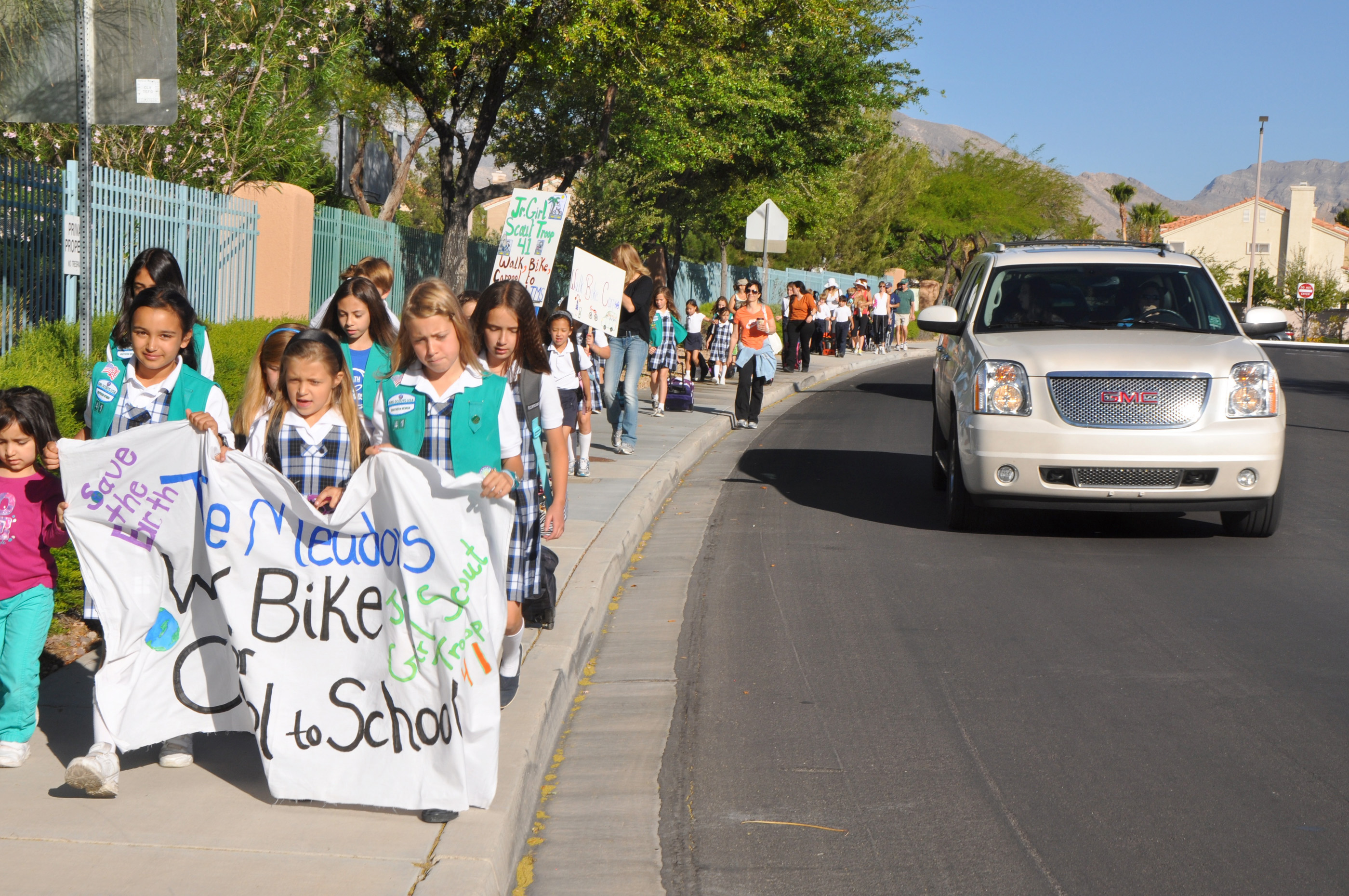 Some rode bikes. Others laced up their walking shoes and hit the pavement.
On May 27, Girl Scouts of the USA Troop 41, based out of T he Meadows School, 8601 Scholar Lane, urged everyone to help the Earth with a Walk, Bike or Carpool to School Day.
The event was the culmination of Troop 41's Bronze Award project, which addressed car idling awareness. Ashtyn Fink, 10, was one of the Girl Scouts who helped plan it. She said she was excited when it was decided what her troop would do.
"I thought, 'This will be a way for people not to pollute the air anymore," she said. "I looked at it as a challenge. I really like a challenge."
That Friday, she and her sister, Ainsley, 7, also in scouting, walked with their mother a little over a mile from the Eagle Hills development to The Meadows School.
"People kept joining on and on," Ashtyn said. "There had to be 100 people."
Asia Tizes, 10, a Girl Scout for two years, also walked to school with family and friends on the final day of the project. She said she lived just around the corner from The Meadows School, a short walk.
"But it took 10 minutes with all the stops to pose for pictures," she said.
Leading up to the day, the Scouts sent home fliers that encouraged friends, schoolmates and neighbors to rethink how they used transportation and to reduce fuel consumption. Those who live far from the school were asked to carpool that Friday.
There are 19 girls in the troop. The Bronze Award project began March 4, and its focus was decided by all the girls.
The awareness campaign had the girls assessing how energy-efficient their school was, meeting with the facility director and then writing a proposal, which they presented to the school director. They created and sent home fliers , made signs and picketed the car line.
The Scouts combined a Reduce, Reuse and Recycle water bottle campaign along with the car idling awareness campaign. A week before the walk, the Scouts did a skit during the lunch hour at school. It showed other students the importance of recycling.
The skit included "mean girls," who were littering and throwing empty water bottles into a tortoise habitat. The tortoise was played by one of the Scouts. Asia got to play a mean girl, which took some acting on her part.
"I'm not like that," she said. "Well, sometimes to my brother."
She was on a fact-finding team and learned that idling a vehicle for more than 10 seconds — that's right, seconds — uses more fuel than restarting the engine.
Another Scout, Malini Nurula, 10, said the campaign had a definite effect. T hey calculated 78 percent of drivers there to pick up students that day shut off their engines instead of letting them idle.
She said using less gasoline "is a good idea because if all the gas runs out, kids like me won't get to drive," she said.
Malini cited a statistic she learned, that idling emits 20 times more pollutants than a car traveling 32 mph. What would she do if she went into a grocery store, noticed an idling car and came out to see the same vehicle idling outside?
"I'd suggest that idling isn't so good for the planet, and tell him how it's costing him gas," she said. "I wouldn't tell him, 'You should turn off your car and not idle,' because when you say 'should,' it doesn't work so well with people … it's like you're ordering them around."
Nevada Lee, 11, said the effort was not just informing others of changes they could make but getting the school to make changes, as well. The Meadows School hands out bottles of Sparkletts water every day. That's 360 students, 180 days of school each year. The girls estimated it costs about $22,000 a year to do that.
"The school recycles, but not all that stuff gets processed," Nevada said.
The Scouts are suggesting handing out re usable water bottles and switching to a filtration system such as Brita, which they calculated would cut the cost to a penny per fill-up.
Troop 41 also learned about the Great Pacific Garbage Patch, or Pacific Trash Vortex — 3.5 million tons of plastic waste swirling in the Pacific Ocean near the Hawaiian Islands.
"It's two times the size of Texas," she said. "It's sad because the ocean is dying, and when the ocean dies, we die."
The girls have done other green projects in the past. They are very involved at the Tonopah Community Garden , 711 N. Tonopah Drive. They painted, planted, harvested, painted a mural and had a fund raiser that generated enough to purchase a composter for the gardens.
Contact Summerlin and Summerlin South View reporter Jan Hogan at jhogan@viewnews.com or 387-2949.