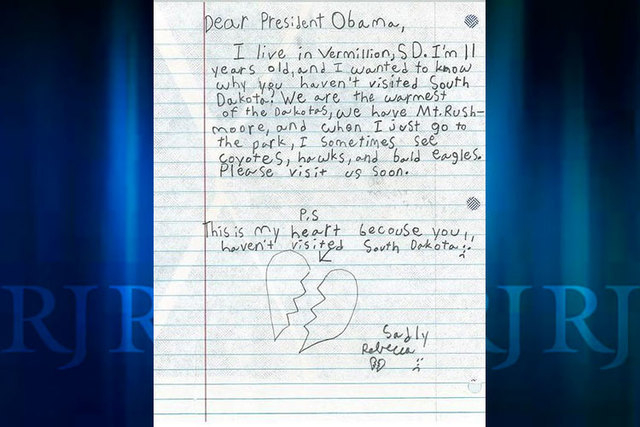 President Barack Obama will visit South Dakota on Friday for the first time during his presidency and according to the White House, 11-year-old Rebecca's "heart can finally mend."
Once he visits South Dakota, Obama would have crossed all 50 states off his list.
Rebecca is a resident of Vermillion, South Dakota, and has apparently been waiting for the president to visit her state for six years.
The White House tweeted a picture of a letter that Rebecca addressed to the president, urging him to visit South Dakota and sweetening the pot by reminding him "we are the warmest of the Dakotas, we have Mt. Rushmoore, and when I just go to the park I sometimes see coyotes, hawks, and bald eagles."
Rebecca drew a picture of a broken heart and wrote "This is my heart because you haven't visited South Dakota."
She even signed the letter with "Sadly, Rebecca," adding another broken heart and a sad face for emphasis.
During his trip, Obama will visit the Lake Area Tech Community College in Watertown to deliver a commencement address.