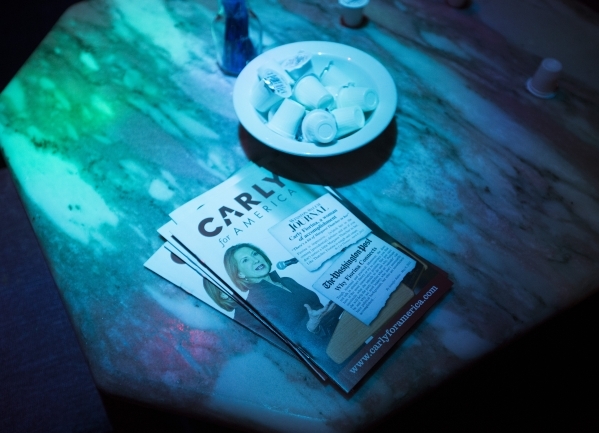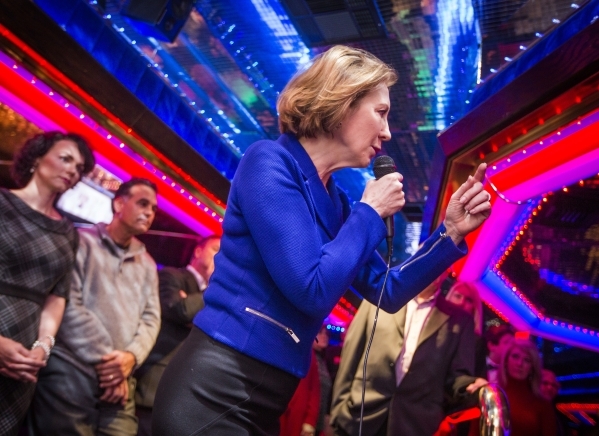 Republican presidential candidate Carly Fiorina is hoping to woo Nevada's caucus voters as a hard-charging outsider who will clean up Washington's ways.
On the second of a two-day series of events Monday, Fiorina touted that she doesn't have the typical political background of candidates running for the nation's highest office. She had also campaigned Sunday in southwest Las Vegas and Reno.
Fiorina had a corporate career and was chief executive officer of Hewlett-Packard. She ran unsuccessfully in 2010 for the Senate against incumbent U.S. Sen. Barbara Boxer, D-Calif.
Signs at her campaign events call her a "conservative outsider."
Fiorina, 61, likes it that way.
"Politics is kind of a fact-free zone," she told the audience of more than 100 gathered at the Peppermill Fireside Lounge on the Strip.
Even more so, she said, politics has became an "accountability-free zone."
As part of her comparison to position-switching politicians, Fiorina said that as a chief executive officer of a publicly traded company she was required to publicly report the company's results without making misrepresentations. Making a misrepresentation could have led to criminal charges.
"Imagine if we held politicians to this standard," Fiorina said.
Among her policy aspirations: simplifying the tax code to a three-page document that all can understand that lowers rates and closes loopholes, with a flat tax for companies and individuals.
She also advocates for control of federal spending with "zero-based budgeting" that requires federal agencies to justify spending.
Fiorina also took aim at Hillary Clinton, saying the Democratic presidential candidate must be defeated.
"In your heart of hearts, you cannot wait to see me debate Hillary Clinton, and you know why: because you know I'm going to beat her," Fiorina said.
Nevada is an early voting state with Feb. 23 caucuses that will play a key role in determining which GOP candidate gets the nomination. Nevada Democrats will caucus on Feb. 20.
Fiorina is fighting for votes from behind. She qualified only for the "undercard" debate at last week's GOP debate in South Carolina, with the main primetime debate reserved for candidates who polled higher.
In an interview with the Review-Journal, Fiorina said that when she first started her campaign, the pollsters wouldn't even ask her name.
Asked about billionaire businesman Donad Trump's lengthy run at the top of the polls, Fiorina said she's surprised it's lasted this long.
"He obviously channels a lot of the frustration that people feel and I get that," she said. "I find it suprising though because he's the ultimate insider. He is a crony capitalist. He has made billions buying people like Hillary Clinton off. That's what he's done all his life. He's very open about it. So he's not the guy who's going to challenge the system. He's going to take advantage of the system just like he has all his life and in that way, he's just like a typical politician."
Fiorina said she supports states managing federal public lands. The issue has gained widespread attention since Jan. 2, when armed protesters took over federal buildings in a federal wildlife refuge in Oregon.
"I understand Western states' frustration," she said. "I don't condone the armed takeover of federal property but the federal government owns 80 percent of the land in the Western states and they don't do a very good job of managing it so it's an abuse of power by the federal government to hang onto that much land and not to manage it well."
Contact Ben Botkin at bbotkin@reviewjournal.com or 702-387-2904. Find him on Twitter: @BenBotkin1