GOP presidential candidates woo Nevada voters ahead of Tuesday's caucus — VIDEO
February 21, 2016 - 10:46 pm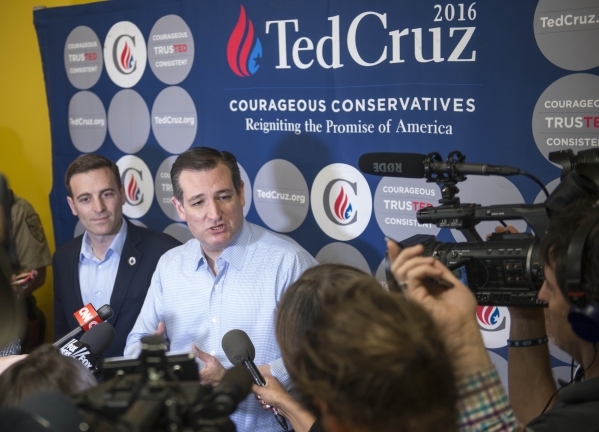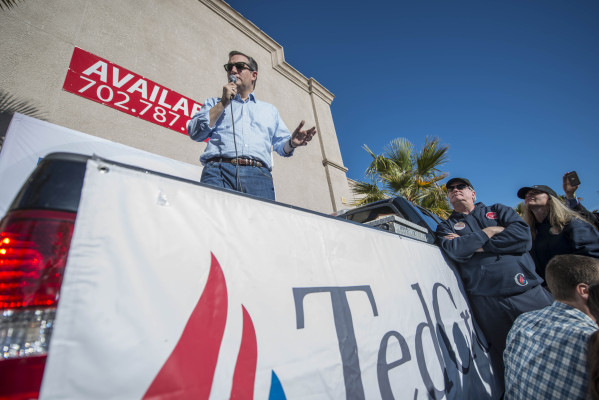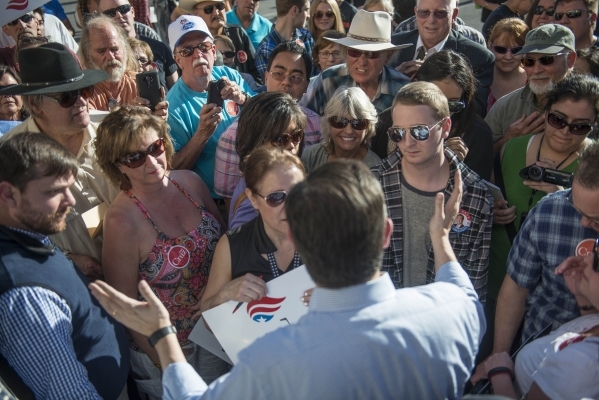 Nevada Republicans will help chart the course of a presidential contest that's become a titanic struggle between the establishment wing of the GOP and voters who are tired of politics as usual. —
The Republican caucus in Nevada on Tuesday will be the fourth contest for GOP presidential candidates, following Iowa, New Hampshire and South Carolina. On Sunday, at least three candidates, U.S. Sen. Marco Rubio of Florida, U.S. Sen. Ted Cruz of Texas, and retired neurosurgeon Ben Carson, were already on Silver State soil, making their final pushes to win over voters.
The field of Republican candidates once numbered more than a dozen. It's now down to just five: billionaire businessman Donald Trump, Rubio, Cruz, Carson and Ohio Gov. John Kasich.
The latest candidate to drop out is former Florida Gov. Jeb Bush, who was initially viewed within the establishment as a favorite to win the GOP nomination. Bush dropped out of the race Saturday after coming in a distant fourth in the South Carolina Republican Primary.
In Nevada, the shakeup allowed Rubio to attract two endorsements from former Bush supporters within the state's congressional delegation: U.S. Sen. Dean Heller, R-Nevada, and U.S. Rep. Mark Amodei, R-Nevada. Both endorsements were announced on Sunday.
Trump has won two of the first three contests: New Hampshire and South Carolina. Cruz, meanwhile, won the Iowa caucuses — the first contest.
In the South Carolina primary on Saturday, Rubio and Cruz had battled closely for a second-place finish against Trump, who is riding a wave of anti-establishment sentiment. While Trump took 32.5 percent of the vote, Rubio received 22.5 percent and Cruz had 22.3 percent.
The Trump Factor
When Trump first jumped into the GOP nomination race, plenty of pundits predicted his unconventional candidacy would flop.
So far, he's lost only Iowa after three contests. The billionaire has never held an elected office before, pitching himself as someone outside the establishment. Trump talks often of bringing jobs back to the United States from China and Mexico.
In an interview, Trump's son, Donald Trump Jr., said:"He's not beholden to anyone, so he can do what's right for the American people, not what's right for guys stroking $1[million]- to $5 million-dollar checks for their campaigns."
Speaking from a suite in the Trump International in Las Vegas, the son said his father is the only candidate who has invested into the state's economy and brought jobs to Nevada.
The campaign's impact could last beyond this election cycle, regardless of the outcome.
"I really think almost regardless of what happens, he's changing the way that Americans are looking at politics," Trump said.
He said his father's willingness to make changes worries an establishment unaccustomed to shakeups.
"You have someone that's going to shake it up, that's going to call people out when they're playing games," Trump said. "…They're very scared because he's going to change their way of life. These guys that spend their entire careers doing nothing other than leveraging their power within their parties and it's not just the GOP. It's all sides."
He added, "He's really changing the dialogue in Washington and the way things are going to be handled and I think it's about time. But they're scared to death of him."
Rubio rally
The Florida senator campaigned Sunday night in a ballroom packed with hundreds of raucous supporters at Texas Station in North Las Vegas. This year's election, he said, is the "turning point" for the United States.
"America will either be greater than it has ever been or America will be a great nation in decline," Rubio said.
Rubio pledged to rebuild the military and fight terror groups such as ISIS, with a "real war on terror."
He stressed his belief in free enterprise and limited government, saying the government isn't the solution for all of society's problems.
Rubio told about his parents' struggles as Cuban immigrants in the U.S. His father, a bartender in Miami Beach, went looking for work in Las Vegas in the 1979. After his father found a job at Sam's Town, the family, including a young Rubio, relocated to Las Vegas where they lived for several years.
For the family, Rubio said, Las Vegas was "a place of new beginnings and second chances and a new start."
It's also where he's hoping his campaign gets its first early-state victory on Tuesday.
Cathie Lynn Gisi and her husband Art Gisi of Las Vegas are volunteers for Rubio's campaign. She said she likes how Rubio is getting young people interested in the political process and teaching them about their freedoms.
"He's bringing them right out," she said.
Cruz' Pahrump stump
Earlier Sunday, a crowd of hundreds soaked up the afternoon sun at a rally for Cruz in Pahrump.
The rally, at a sports bar parking lot, was originally set to take place inside the bar but was moved outside to accommodate more people.
Donning black sunglasses, Cruz told the crowd, "The men and women in this parking lot, can change the outcome of the Nevada caucus."
The Texas senator portrayed himself as the only candidate willing to question Congressional leaders and at times, likened himself to former president Ronald Reagan. Cruz compared the Barack Obama administration to that of former president Jimmy Carter who was succeeded by Reagan after one term.
"It took Jimmy Carter to get us Ronald Reagan," Cruz said.
Cruz said the "number one priority" for the country was economic growth and pledged to abolish the IRS and push for a flat tax.
In remarks, the Texas senator also pledged to "rebuild" the military and secure the border.
Cruz knocked rival Trump for the billionaire's recent statement about staying neutral in regard to the Israeli-Palestinian conflict.
"I have no intention…of being neutral," said Cruz, who vowed to stand by Israel.
Cruz was introduced by Nevada Attorney General Adam Laxalt, who endorsed Cruz this year.
Hours before Cruz was set to speak, supporters from Nevada, California, Arizona and elsewhere filled Draft Picks Sports bar and its parking lot.
Eighteen-year-old college students Daniel Cauffiel and Clare Meis drove from Simi Valley, California early Sunday to attend the Cruz event.
"We vote so late," said Cauffiel, whose state's primary falls in June when the field of candidates will likely be narrowed. "We feel like we should come when it matters."
Meis said she was drawn to Cruz because of his views on the economy, marriage and abortion.
"Cruz kinda goes hand in hand with my religious beliefs," Meis said.
On Sunday evening, Cruz attended a rally hosted by the pro-Cruz Keep the Promise PAC featuring radio host Glenn Beck at the Henderson Convention Center.
— Contact Ben Botkin at bbotkin@reviewjournal.com or 702-387-2904. Find him on Twitter: @BenBotkin1 Contact Alexander S. Corey at acorey@reviewjournal.com or 702-383-0270. Find him on Twitter: @acoreynews
Monday campaign events

Ted Cruz: 11 a.m. Monday, Durango Hills Community Center, 3521 North Durango Drive, Las Vegas. To register, visit https://www.eventbrite.com/e/summerlin-rally-with-ted-cruz-with-nv-attorney-general-adam-laxalt-tickets-21682569148
Donald Trump: He will have a rally at 7 p.m. Monday at South Point Arena, 9777 Las Vegas Blvd. South, Las Vegas. Doors open at 5 p.m. To register, go to eventbrite.com/e/donald-j-trump-in-las-vegas-nv-tickets-21637396034
Tuesday campaign events
Marco Rubio: He will hold a rally at 8 a.m. Tuesday at the Silverton Las Vegas, 3333 Blue Diamond Road, Las Vegas. Doors open at 7 a.m. RSVP is required for the event at eventbrite.com/e/las-vegas-rally-with-marco-rubio-tickets-21840696110. If you are unable to RSVP via Eventbrite, onsite registration will be available (pending venue capacity) at the door.
HOW TO CAUCUS
— Nevada's GOP presidential caucus is Tuesday.
— Same-day voter registration is not available. The deadline to register as a Republican and be eligible to participate was Feb. 13.
— Caucuses will begin between 5 and 7 p.m., depending on the county and location, and end by 9 p.m. Voters must show a government-issued photo ID to participate.
— Republicans do not need to stay for the duration of their precinct meetings. Voters can submit a paper ballot and leave.
— Voters can look up their caucus location and start time at: http://www.nevadagopcaucus.org.