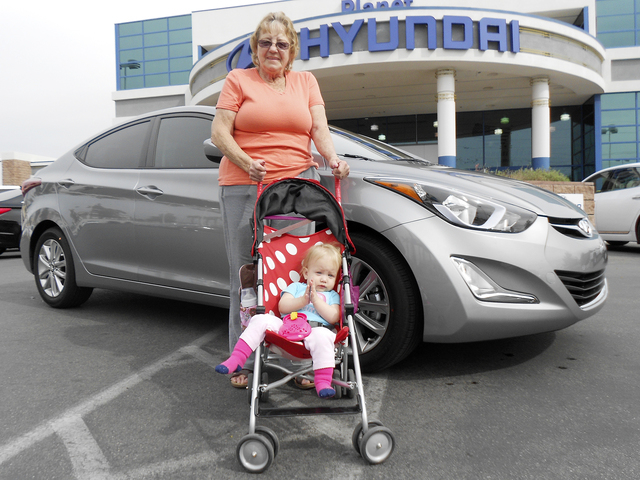 Vivian Rosado first arrived in Las Vegas in 1964, so she knows her way around town; and when it came time to look for a new car, she headed for Planet Hyundai Sahara.
In fact, Rosado bought her 2014 Hyundai Elantra from her grandson, Christian Saban, a sales agent at the dealership, and veteran automobile executive Terry Mills.
"My car broke down," she said. "I had a 1998 Saturn and the pulley mount broke, so I called Christian for help. Everyone here was so nice and friendly," Rosado said. "So many staffers stopped to say hello while we were finishing the transaction."
The overall package included with the Elantra was also a big reason for the purchase, she said.
"I loved the style and the interior of the Elantra. In addition, this car has so much room. There are simply so many cars that lack the room needed. I'm constantly driving around town with my grandkids and a good vehicle is so important."
The Elantra's roomy interior is especially important to Rosado, who often baby sits her grandchildren.
"I also have a bad back, so it's important that my car be very comfortable,' she said. "This is my first Hyundai and it's beautiful."
Also important, is that the Hyundai comes equipped with a backup camera, she said.
"This is the first vehicle I have had with a backup camera," said Rosado, a native of Missouri, who also praised the car's gas mileage.
"That's one of the reasons I purchased the Elantra," she said. "So far, I have driven so many miles and I still have a quarter-of-a-tank of gas left."
The safety factor along with the warranty also played a role in Rosado's purchase of the Elantra, considering that every new Hyundai comes with a 10-year, 100,000-mile warranty and a five-year, 60,000-mile bumper-to-bumper warranty.
"We feel very comfortable with this warranty," she said. "I have never had a car with a warranty like this one."
The Elantra is always a big seller at Planet Hyundai Sahara, Mills said.
"This car is amazing," said Mills, who is part of the Internet department. "I have a buddy who is 6-foot-4 and he fits perfectly in the Elantra. We hear that all of the time because people are amazed at the room in the Elantra."
Planet Hyundai Sahara is part of a locally-owned umbrella of dealerships that also includes the Planet Hyundai Used Car Superstore at 7100 W. Sahara Ave. and Centennial Hyundai at 6200 Centennial Center Blvd. in the northwest valley.
For further information, call Planet Hyundai Sahara at 702-938-1400 or Centennial Hyundai at 702-483-2200; or visit www.planetlv.com.
Hyundai Motor America, which is headquartered in Fountain Valley, Calif., is a subsidiary of Hyundai Motor Cos. of Korea. The company now includes more than 800 dealers nationwide.