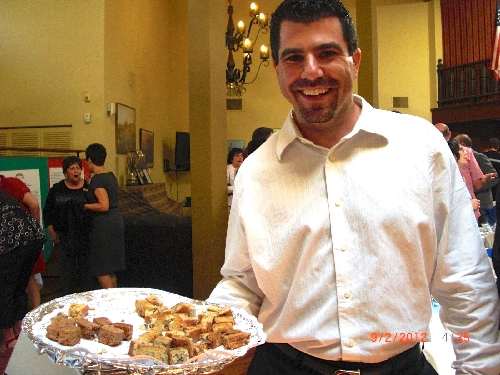 For years Rena Cosso-Repetto was told she could sell the family biscotti, which dated back more than 100 years from her mother's recipe book.
Generations later, Marc Floyd, her grandson, has made that dream come true by selling his grandmother's biscotti and starting his own business, Marcello's Biscotti.
"(My grandmother) inspired me," Floyd said.
Growing up in an Italian family, Floyd's grandmother, whom he calls Noni Rena, would make traditional cuisines including pastas, breads, sauces and, of course, her biscotti.
Since these recipes are part of his heritage, Floyd made sure to learn how to make many of the dishes so he could continue to carry on the traditions with his family.
"About 10 years ago, I wanted to start making the almond biscotti," Floyd said. "The traditional one is a harder one you can dunk in your coffee."
Once Floyd got the hang of the recipe, he would give them out to friends as gifts.
Just like his grandmother, he said his friends would tell him he needed to sell it.
Floyd also began tweaking the recipe.
Though it is initially the same ingredients, he has modernized the biscotti taking the traditional crunchy Italian cookie and making it softer.
"It blows people's minds that it was a soft biscotti," Floyd said.
After years of telling him he should sell them, Floyd's friends forced him into a commitment at Christmas in 2010.
"They told me if I made it they would just pay me," Floyd said. "It started with about 12 dozen of the almond biscotti, then just snowballed from there."
With orders growing, Floyd converted his house kitchen in Henderson into a workspace for production.
"I pretty much have my family room converted into an assembly line," Floyd said.
Floyd also began experimenting with different flavors, such as cinnamon roll or blueberry muffin, and by spring 2011 he had five new flavors.
"Every time I rolled out a new flavor, it would take off," Floyd said. "I think I made over 80 dozen batches for Easter alone."
At the same time his business was expanding, Floyd's sister, Monica Cooper, was moving back to town and decided to join.
"I really wanted to be a part of its growth," Cooper said.
Out of all the siblings, Cooper said she wasn't surprised that Floyd was the one to start the biscotti business.
"He was always trying to perfect it," Cooper said.
By November 2011, Marcello's Biscotti was fully operational, making more than 300 dozen for the holiday season.
The team, which still operates out of Floyd's kitchen, is entering its second official holiday season accompanied by 18 flavors ranging from the classic almond to seasonal favorites such as candy cane.
Floyd has been reaching out to businesses and restaurants to see if they want to sell the treat.
He wants the business to grow into its own space eventually.
"Not really a restaurant but our hole in the wall," Floyd said, "a place you can stop in for a snack. You have to get there by 3 p.m. or you miss out on all the good stuff and have to come back."
Floyd is seeking a commercial kitchen space where he can transfer his operation.
Cooper hopes the business will gain recognition around Las Vegas and nationwide.
"I want us to make our mark," Cooper said.
No matter how successful the business becomes, Floyd wants to keep the company a family business for as long as he can.
In addition to the biscotti, Floyd has added other Italian family favorites, such as ravioli, to the business.
People can book "Ravioli Parties" where Floyd teaches participants how to make the dish from scratch. The party is a daylong process that ends with a giant meal of homemade ravioli, sauce, soup and biscotti.
For more information, visit marcellosbiscotti.com.
Contact Henderson/Anthem View reporter Michael Lyle at mlyle@viewnews.com or 702-387-5201.