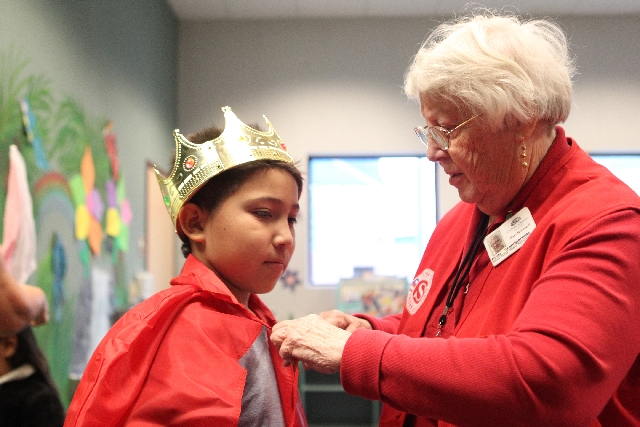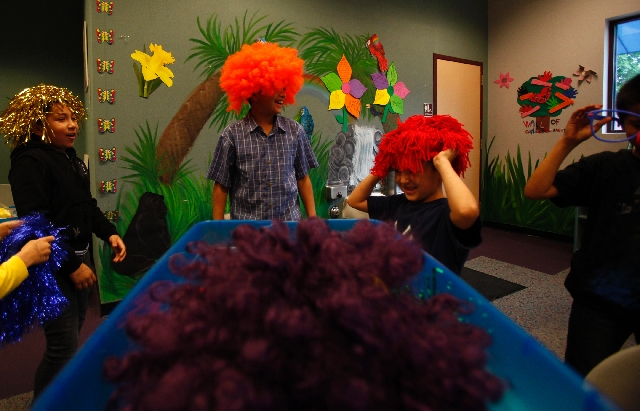 The seniors of Catholic Charities of Southern Nevada's foster grandparent program are helping brighten the future of at-risk Clark County students using a tool students are comfortable with — the Internet.
The program, which has been in existence in Las Vegas for more than 30 years, pairs low-income seniors 55 or older with at-risk students as tutors and mentors.
This summer, the program is aiming to launch a Web-based television news-style program produced by the children.
"The kids research topics that interest them and work together to create content for the show," said Jim Mulleague, one of the foster grandparents organizing the show. "They get so excited, they forget that they're learning."
The foster grandparent program receives about $400,000 annually in federal grant money, according to program supervisor Doreen Nichols. The money goes toward training, nontaxable incomes, mileage and transportation reimbursement, an annual physical and paid vacation and holidays for the 90 seniors enrolled in the program.
"We're helping the teachers with these kids at the bottom," Nichols said. "Instead of getting lost in the system, they can get caught up."
Tony Angarone, a retired salesman, said the financial benefits are far outweighed by the children he helps weekly.
"Working with the kids is fun. They are the most important thing," he said. "These are kids at the bottom of their class. Three months later, they're winning achievement awards all because someone paid attention to them."
Angarone recalled a chance meeting with one of his former students at a grocery store. The child ran up to "Papa Tony" to tell him he was doing well in middle school.
"It's very rewarding work," he said.
The program has yet to procure a domain for its Web series, but Mulleague said the show is gaining interest.
"(The show) can be used in many different ways," he said. "As it develops, we can work closer with schools and tell them, 'Here's a great way to learn about something.' "
In an early version of the project, foster grandparents have used text from class reading assignments that the children act out.
"The kids are really getting on board and really showing their creativity," Mulleague said.
Angarone agreed.
"It gives them incentives and goals better than those offered to them on the streets," he said.
For more information about the foster grandparent program and how to get involved, call 702-382-0721 or visit catholiccharities.com.
Contact Paradise/Downtown View reporter Nolan Lister at nlister@viewnews.com or 702-383-0492.