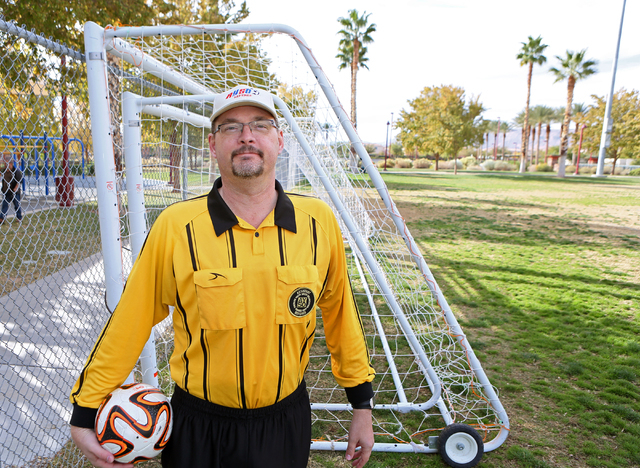 This time of year, View looks to what makes people grateful. Area residents offer their compelling stories.
GRATEFUL TO BE ALIVE
Dave High, father of two, is a robust 6-foot-7, but a heart attack cut him down on Sept. 6.
He was home, talking with his wife, Leta, when he felt a sharp pain in the middle of his sternum. There were no other classic symptoms: no arm pain, no elephant sitting on the chest, no shortness of breath.
When the pain worsened, he called 911. Paramedics were there quickly, and High's EKG showed up as normal. But the responders decided he needed emergency care.
"I was on the gurney, being wheeled out, and it was at that point — I knew it was a heart attack — when I thought, 'Is this the last time I'm going to see my family?' " he said.
At Summerlin Hospital Medical Center, he went into full cardiac arrest and flatlined twice. Chest compressions and electric shock brought him back.
"I'm grateful to be alive," he said. "(I'm) grateful to still be here. There was no luck involved in this. I called 911 in time; the paramedics recognized what was going on, and I was in the cath lab … when my heart stopped."
He said he now feels as good as he did before the heart attack.
A LOVING SON
Theresa Holder said her son, Jesse "Jake" Holder, has been a godsend to her.
Jake Holder won the Democratic primary election for District 10 Nevada State Assembly this year, one of many accomplishments.
His father, Robert, died of heart issues when he was a teen, and Jake Holder stepped up and helped support the family by working in a pizza shop and picking up odd jobs. When a home repair was needed, he took care of it himself. He watched the younger children so his mother could be at her secretarial job.
"He sacrificed a lot of things a guy that age would normally do," Theresa Holder said.
Jake Holder put himself through college while working 40 hours a week, earned a Bachelor's Degree in business in 1985 and then completed Navy Officer Candidate School. He was deployed three times, his last on an aircraft carrier in the Arabian Sea, providing air support over Afghanistan after 9/11.
He sent home every penny he could to help his mom and his siblings. Back stateside, he was a home construction foreman, a claims adjuster for an insurance company, a mortgage loan officer, and when the economy nosedived, he drove a taxi. He earned a political science degree at UNLV in August.
When his mother was taking the bus to get to her three jobs, he bought her a car. When circumstances meant she was homeless, he got her a mobile home to live in.
"If I didn't have Jesse, I wouldn't be where I am today," she said.
APPRECIATING FREEDOM
Harriet Smith, a photographer and travel agent who takes tourists to Africa, is grateful to have avoided being arrested in Kenya. She had taken a tour there, and her cohort in Kenya kept pressuring her for more money, saying she hadn't paid him. Smith had the receipts to prove she had paid what they had agreed upon but he kept badgering her. She paid him several hundred dollars extra but he still pressed for more.
Smith ended up demanding that they let the police decide the matter. But when she presented her case, the police sided with her accuser, and she said she realized they were as corrupt as her cohort. The police demanded her passport and airline ticket and threatened to arrest her.
"At the point before I gave in, I asked to go to the restroom, and I went in there and I almost barfed, it smelled so bad," Smith said. "I realized that I didn't want to be (held in such conditions). I was so scared."
She ended up giving them all her cash, about $900. She said she didn't feel safe "until I got to the airport. I just sat there, even though my plane didn't leave for eight hours. I just sat there. I normally don't scare easily."
Smith, 70, has had wild animals — lions and cheetahs — approach her open-air vehicle, inches away, and said she has never felt threatened.
"I'm grateful for getting out of Kenya," she said. "I'll go back to Africa, but I'll never go back to Kenya."
Contact Summerlin Area View reporter Jan Hogan at jhogan@viewnews.com or 702-387-2949.