Green vehicle technology celebrated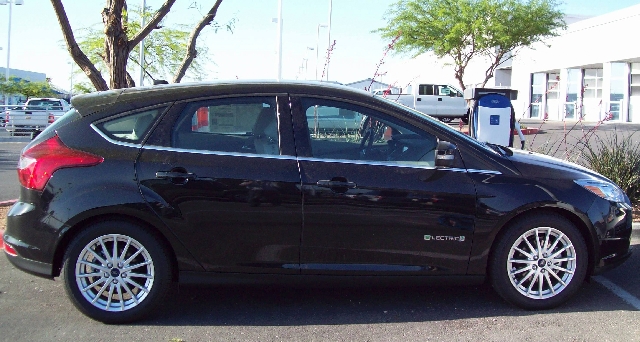 GreenFest 2013 celebrated Earth Day in April by showcasing a Green Vehicle & Tech Zone on the campus of the University of Nevada, Las Vegas. Green vehicles included cars with electric motors such as a Tesla Motors Model S, Ford C-Max hybrid, Ford Fusion Energi plug-in hybrid, Nissan Leaf and Chevrolet Volt. The exhibit also included vehicles powered by compressed natural gas, or CNG: a Honda Civic, a Chevrolet Silverado 2500 HD truck from Southwest Gas Corp., and a mechanized trash collection truck from Republic Services.
The Tesla Motors Model S was voted Motor Trend Car of the Year for 2013 because of its breakthrough performance specifications. These include electric motor range as far as 300 miles, acceleration from zero to 60 miles per hour in less than five seconds, lots of internal storage space with enough room for seven seats, a 17-inch touch screen interface panel and other design innovations. Tesla Motors will soon open a regional service center in Las Vegas to provide parts and maintenance for its customers in Southern Nevada, Utah, Arizona and California.
Gaudin Ford and Ford Country have installed electric-vehicle recharging stations in their dealerships to accommodate new plug-in electric vehicles. The Ford Energi line now adds plug-in capability to the existing C-Max and Fusion hybrids. The C-Max Energi and Fusion Energi have two fueling ports, one for electricity and one for gasoline. Each vehicle can travel as far as 20 miles using an electric motor, before reverting back to traditional gasoline/electric hybrid operation.
Both dealerships also offer the Ford Focus Electric. This battery-powered electric car uses no gasoline and can travel as far as 100 miles before its lithium-ion storage pack needs recharging.
Fairway Chevrolet and Henderson Chevrolet have upgraded their dealership parking lots to accommodate charging stations powered by electricity from photovoltaic solar cell arrays. The dealerships offer the 2013 Chevrolet Volt. This extended-range electric vehicle is configured as a series hybrid, rather than a parallel hybrid such as the Ford C-Max Energi or Fusion Energi. The Volt's electric motor drives the front wheels of the car almost exclusively, compared with a parallel hybrid, in which the gasoline engine and electric motor both drive the wheels of the vehicle.
The lithium-ion battery pack has enough storage capacity to let the Volt travel 40 miles before a gasoline engine is needed to extend its range. A 1.4-liter engine in the Volt functions primarily as an electric generator, creating electricity that keeps the lithium-ion battery pack operating at a steady state of charge. Because the gasoline engine is usually not coupled directly to the car's wheels, it can operate at a constant, efficient speed to generate electricity more efficiently. The only exception is when the Volt speed exceeds 70 mph; the gasoline engine then becomes coupled to the drive train to add an additional 15 horsepower .
Findlay Honda also has been an innovative dealership, selling a Honda Civic with an internal combustion engine fueled by compressed natural gas rather than gasoline. Methane is composed of much smaller and simpler hydrocarbon molecules than gasoline or diesel fuel. So when methane is burned in an internal combustion engine, it does not emit as many carbon-based pollutants.
Because it is stored in a gaseous state, methane must be compressed into a storage tank at about 4,000 pounds per square inch to deliver the same range and performance as a traditional liquid fuel. However, the price of a gasoline-gallon equivalent of compressed natural gas is about $2.10 compared with gasoline or diesel that are priced more than $3 per gallon. Because of the availability of natural gas resources produced within the United States, the price is expected to stay below that of gasoline and diesel for years to come.
Honda has produced a CNG version of the Civic for many years, but sold them primarily to commercial fleets as refueling infrastructure was difficult to find. That is changing. CNG refueling stations are now being installed across the country by companies such as Clean Energy Fuels, which has several stations in the Las Vegas Valley. Findlay sales representative Mick Tanner recently sold Civic CNG cars to individual owners, as well as commercial fleet operators.
Southern Nevada drivers continue to explore alternative forms of cleaner transportation as automotive manufacturers and dealerships continue to innovate.
Stan Hanel has worked in the electronics industry for more than 30 years and is a longtime member of the Electric Auto Association and the Las Vegas Electric Vehicle Association. Hanel writes and edits for EAA's "Current Events" and LVEVA's "Watts Happening" newsletters. Contact him at stanhanel@aol.com.