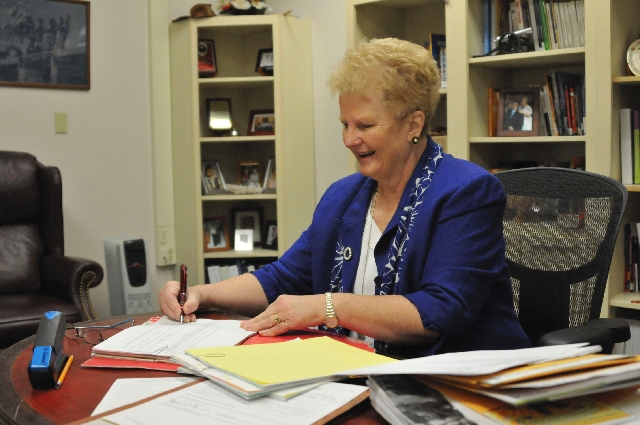 Sandra Ransel knew something was seriously wrong while walking to her son's Little League baseball game. She and her husband were carrying a cooler filled with oranges and Gatorade when she tried to lift her leg over a chain barrier. She tripped and fell, thinking she had lifted her leg clumsily and it simply got caught.
After the game, carrying an empty cooler back to their car, Ransel tripped again on the same chain and fell.
At 41, Ransel was diagnosed with Parkinson's disease.
She would spend much of the next 20 years falling. Her knees were constantly bruised. About two years ago, she broke her shoulder in the kitchen trying to catch herself from falling.
She could drive occasionally but other times needed to call for rides. She had to stop holding valuable objects. Chicken scratch replaced her cursive handwriting.
At least her mental faculties were intact. Ransel has spent much of her life teaching and has been the principal at Desert Rose Adult High School, 444 W. Brooks Ave. in North Las Vegas, since 2001.
After more than 20 years of living with the degenerative effects of Parkinson's disease, Ransel underwent brain surgery in November in Cleveland.
Doctors inserted electrodes into her brain at different areas that control motor skills. The electrodes were connected with wires to a pacemaker that sits in the right side of her chest. Electricity travels through the wires into the electrodes, stimulating those areas of the brain.
Ryan Walsh, director of the Parkinson's Disease and Movement Disorders Program at the Cleveland Clinic Lou Ruvo Center for Brain Health, said this procedure, called deep brain stimulation, gained clinical prominence in the past 10 to 15 years.
Parkinson's disease is a progressive neurological disorder that affects the nerve cells, or neurons, in the brain. Some of these neurons produce dopamine, which enables smooth, coordinated body movements. With the disease, neurons die and dopamine levels drop, resulting in movement difficulties.
An estimated 1 million people in the United States have the disease. The cause is unknown, but genetic mutations are likely a factor, according to the Cleveland Clinic. The average age of onset is about 60 years, and the risk increases with age. Men are more likely than women to develop the disease.
Every week or so, Ransel sees Walsh and has the voltage of her pacemaker increased.
"Our best current understanding is these areas in the brain perform very important networking for movement," Walsh said. "Somehow, for reasons not fully understood, the electrical currents generated change the way the networks work, closer to the way they normally work."
Slowly, Ransel is learning what it is like to control her legs, arms and fingers again. She said it is a "miracle."
Sitting in her office April 9, she was proud to show off her new tricks. She tapped her foot on the floor, touched all four fingers to her thumb one at a time and wiggled her hands –– things she had not done in two decades.
And she can write, or more correctly, people can read what she writes. Performing all these seemingly simple tasks is not easy, though. They come gradually and take a lot of work, she said.
Deep brain stimulation is not a common treatment for Parkinson's, Walsh said. Fewer than 10 percent of patients undergo the surgery. The leading treatment is still medication, he said.
And the surgery, like the medication, is not a cure. It treats only the symptoms. Ransel's disease will worsen as cells continue to die off. But she and her doctors hope the electrical stimulation continues to help. Battery life on her pacemaker is about 10 years.
Walsh called Ransel an "exemplary patient" in the way she has handled the surgery and her rehabilitation.
"She's very careful in challenging herself, but not too much as part of her recovery," Walsh said. "She gets good sleep, good activity. She exercises as regularly as she can. It all goes into someone's success. There's no silver bullet."
For Ransel, the most important factor in her recovery has been her support system, she said, which includes her husband, family and school.
"They're part of it," she said, referring to her students.
Up until about two years ago, Ransel still snow skied, one of her favorite pastimes. At 64, she said she plans to be back on the slopes eventually.
Walsh said, "We'll discuss that when we come to that point."
Contact View education reporter Jeff Mosier at jmosier@viewnews.com or 702-224-5524.