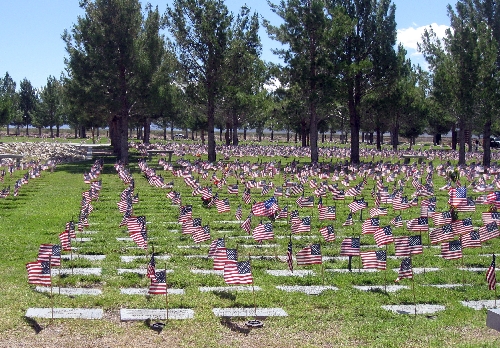 For five years, Hazel Dewey has attended the Southern Nevada Veterans Memorial Cemetery's Memorial Day ceremony without the company of her husband, Carl, a retired Marine who died in April 2007.
"He was a proud Marine," Dewey said. "We had been going to the service for years. But this year (May 2010) was especially crowded."
The main ceremony inside the cemetery's chapel holds places for dignitaries, Purple Heart recipients and disabled veterans , filtering others outside.
Even after getting there early last year, Dewey was placed in the overcrowd section. She and the others in her section were unable to see the presentation of the color guard or the U.S. flag during the Pledge of Allegiance.
Dewey, who has lived in Henderson or Boulder City for more than 40 years, kept thinking if only the cemetery did something to allow the people outside to see the ceremony.
That is when Dewey felt a tap on her shoulder.
"It was my husband," Dewey said. "He was saying, 'Take care of this problem.' "
A year later, Dewey and her friend Jim Mydlach offered a solution by setting up monitors and speakers at the Southern Nevada Veterans Memorial Cemetery, 1900 Buchanan Blvd., Boulder City, allowing people to watch the Memorial Day ceremony online .
"I told Jim my idea, and he bit," Dewey said. "And he bit hard."
Mydlach had many family members who served in the Marine Corps and thought he should do something to give back to them.
"Often it is politicians who claim they fight for our freedoms," Mydlach said. "But it is our soldiers who fight for our freedom."
At first, Mydlach said they were going to try to raise money for the cemetery to purchase equipment.
Dewey and Mydlach decided it would be better for them to have the equipment so they could use it to do future broadcasts from other veterans events .
The more Mydlach and Dewey looked into the problem, the more complex it grew as they realized the number of disabled veterans who are homebound and couldn't attend the ceremony.
Mydlach and Dewey decided to offer those veterans a chance to see the ceremony by streaming it online.
"We got a lot of good response about the idea," Mydlach said. "So many veterans are homebound, but it seems that everyone has a computer. Computers are taking over the world. They can go online and watch the program. It won't be the greatest, but we are going to do the best we can."
Thinking bigger, Dewey and Mydlach considered creating a network and nonprofit that would feature different events and information from various v eterans-specific organizations around Clark County.
"We talked to a doctor who deals with different problems veterans face," Mydlach said. "A lot of (veterans) come back and have pains. What if we had a program that tells veterans what brings on the pain and ways to help it? He can explain it in layman's terms."
In March, the two formed the Nevada Veterans Network Inc., which is waiting for its 501(c)(3) nonprofit status that should make it easier to collect donations and equipment. The newly formed organization is reaching out to groups and seeking donations to get the idea off the ground.
"Rome wasn't built in a day," Mydlach said. "This network won't be, either."
For now , they are reflecting on Memorial Day to determine what they did well and what they can improve on.
Mydlach and Dewey plan to meet with the Southern Nevada Veterans Memorial Cemetery in August to begin discussions on how they will approach the Veterans Day ceremony.
"I may have fixed the problem now," Dewey said, "but there are many more Memorial Days to come."
Dewey knows her husband is proud of what she has started.
"He is smiling down on me," Dewey said. "He would say, 'That's my girl.' Wait. He would actually say, 'Right on, trooper. Way to go."
For more information, visit nevada
veteransnetwork.org.
Contact Henderson and Anthem View reporter Michael Lyle at mlyle@viewnews.com or 387-5201.