Groups rally to bring Thanksgiving to homebound seniors
November 20, 2015 - 7:00 pm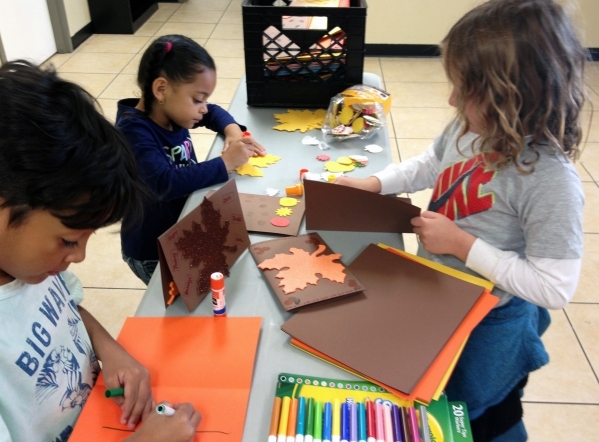 Hundreds of homebound seniors are set to have their Thanksgiving feasts delivered to them — complete with dessert, handmade table decorations and greeting cards — thanks to a small army of volunteers, two churches and a nonprofit.
The effort involving HopeLink of Southern Nevada, 178 Westminster Way; St. Thomas More Catholic Community, 130 N. Pecos Road; and Casa de Luz, 2412 Tam Drive, is expected to serve about 800 seniors in Henderson, Boulder City and southeast Las Vegas, up from 700 last year.
"Hundreds of families who belong to the parish get involved," said Ken Rosania, pastoral administrator and director of social ministries for St. Thomas. "It's weeks and weeks of preparation that go into this."
He said on Nov. 3 that most of the prep work was done, and meals were scheduled to be cooked on Thanksgiving and the day before.
The table decorations will be made by parish children as part of the church's God's Love Overflows While Serving ministry, while youths from Casa de Luz are in charge of making the greeting cards as part of the facility's ThanksGiving Back program. Children who take part in that program make cards for soldiers and seniors and will be stepping up production this year due to participation in the partnership with HopeLink.
"We have traditionally made about 250 cards, so we're really dedicating everything to that effort this year," said Briana Mackey, a Casa de Luz board member.
Improvements in the logistics of the annual food delivery program allowed for the 100 additional recipients this year, said Don Miller, senior services specialist/SeniorLink program manager for HopeLink.
Many of the recipients were selected from names of people who take part in HopeLink's SeniorLink program, which offers various forms of assistance to low-income seniors 55 or older.
To distribute the food, parish families from St. Thomas and other volunteers plan to meet on Thanksgiving morning at the church for a breakfast and an early Mass, followed by a brief orientation and delivery assignments. Those who make the deliveries also plan to spend time visiting with the recipients, Rosania said.
The partnership fills a gap in terms of feeding seniors on Thanksgiving, as Meals on Wheels does not deliver food that day, organizers said.
The joint Thanksgiving outreach dates back 20 years, said Dorothy Distel, director of religious education at St. Thomas. She said the church has always partnered with HopeLink for the program. It started as a dinner offered at Henderson's Downtown Senior Center, 27 E. Texas Ave., but went mobile about 13 years ago in order to serve homebound seniors, Rosania said.
Parishioner Dave Wirshing said he has been helping deliver food for the program for the past five years with his wife, Sue, 24-year-old son Tim Wirshing, 25-year-old daughter Emilee Wirshing and his mother, Jeanne Anderson.
"Usually, my son and I take one car, and my wife, mother and daughter take the other one," he said. "We split up and hit the town. It's something that we think is important, and we think it's important for our kids to do. We consider ourselves blessed."
Visit www.stmlv.org, casadeluzlasvegas.org or link2hope.org.
— To reach Henderson View reporter Cassandra Keenan, email ckeenan@viewnews.com or call 702-383-0278. Find her on Twitter: @CassandraKNews.