Hambrick targeted by Citizen Outreach mailer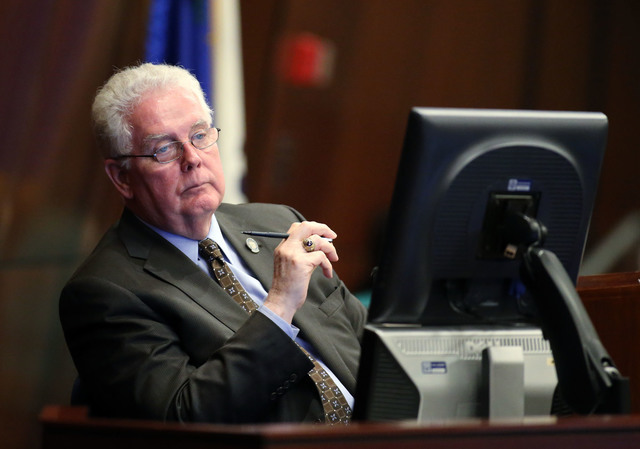 CARSON CITY — Republican Assembly Speaker John Hambrick is being targeted again in negative campaign mailers for his support of the governor's $1.5 billion tax package.
This time the attacks come from Citizen Outreach, a group led by conservative activist Chuck Muth. Its donors are secret.
Muth was embroiled in a long standoff with former Democratic Secretary of State Ross Miller over whether Citizen Outreach was required to register as a political action group and disclose its donors.
In July 2013, Citizen Outreach was fined $10,000 plus attorney fees by Carson City District Judge James Todd Russell for failing to report donors for a 2010 flier targeting former Assemblyman John Oceguera. But the Nevada Supreme Court ruled 5-2 in February 2015 that because the mailer did not contain so-called "magic words" — such as "vote for" or "vote against" — it did not qualify as express advocacy and did not require the disclosure of donors.
Citizen Outreach's mailer targeting Hambrick comes with a disclaimer: "This mailer is purely for educational purposes on issues voters might find of interest or value. In no way should the information provided be construed as advocating, either directly or indirectly, for the election or defeat of any candidate for public office."
It also directs people to a website, www.taxhiker.com, for more information. That web address is redirected to www.rinohunt.info/hambrick, a blog written by Muth with a link to subscribe to his conservative email newsletter.
Hambrick, a retired federal law enforcement investigator and Secret Service agent, faces a GOP challenge from real estate agent Clayton Kelly Hurst in the June 14 primary election.
Other mailers, paid for by the New Majority PAC tied to Republican Assemblyman Ira Hansen of Sparks, also criticized Hambrick's support of the governor's 2015 tax package and denounced him for violating a no-tax pledge he signed in 2012.
Hambrick has defended his vote, saying taxes were unthinkable when he signed the pledge because Nevada was still clawing out of deep recession. He said Sandoval's revenue bill was the right thing to do to reform and improve Nevada's education system.
Contact Sandra Chereb at schereb@reviewjournal.com or 775-461-3821. Find her on Twitter: @SandraChereb