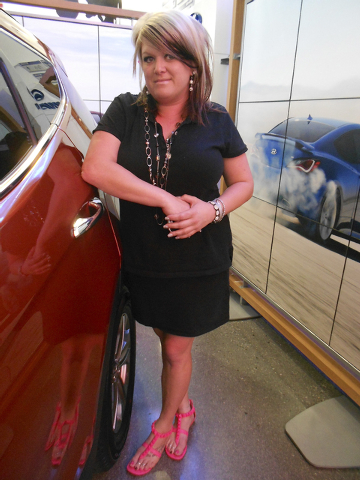 As a single mom, Josephine Gentry is no stranger to the fact that hard work pays off.
As the Internet sales manager at Henderson Hyundai, she is also proof that the automotive industry can provide a good living as long as the individual is willing to provide a good effort.
"The car business has afforded me a chance to not only make a good living, but also provide for my son," said Gentry, who started working for Henderson Hyundai in January 2010. "The job definitely requires long hours, but it's also very rewarding both from a financial and a personal standpoint."
Bell-to-bell in the car business indicates starting at 8 a.m. and not leaving until the doors have been closed at 9 p.m. There are times boredom can set in and there are even more times of nonstop phone calls, interactions with fellow employees and customers; along with the everyday challenges that the car business affords.
"Truthfully, I had been in the car business for more than 10 years and I knew I was ready when I came to work at Henderson Hyundai," said Gentry, a native of Glendale, Ariz. "I was excited that I had the opportunity to work with such a great product and amazing people that I now call family."
With the challenges found in car sales, the reward of knowing that you have hopped over the bumps in the road en route to the completion of a sale is a reward that provides a rush unlike any other business.
"I love my job and the people that I work with. If there are any challenges that I need help with, I receive more help than anyone could imagine.
"True, there aren't many women in the car business, but I would have to say that the majority of those women who have hung on are happy that they didn't give up. As Internet sales manager, I have to be on my toes 24 hours a day simply because the Internet will not let you sleep. Then, too, if I'm not on my game, I know that I can lose a car deal to another dealership."
However, when a deal is done and the customer is happy, the result is all worth the effort. Gentry said that the 10-year, 100,000 mile power train warranty and the five-year, 60,000-mile, bumper-to-bumper warranty provides the best protection in the country while creating a great working relationship for the customer and the employee.
"It's more than the money you make in the car business," Gentry said. "It's the friends you make not only in the dealership but more importantly with your customers.
"Customers appreciate the fact that a person works hard for them while remembering that the purchase of a car is important and demands respect from all sides."
Key, though, is the ratings given to an employee by the customer; and Greg Arnold is at the forefront of those who praise Gentry.
"Josie listens to what you give her for details," said Arnold, who purchased two vehicles from Gentry. "I told her what I was looking for and that I didn't want to be haggled. I just wanted an easy experience and Josie got me the answers I wanted and the detail I requested prior to even walking in the door.
"That's why I went to her. She made it simple and pain-free. Overall, she is upfront and honest, too, which isn't something that you get in general when you are dealing with a car dealership."
For information on Henderson Hyundai, call 702-565-1500 or visit www.hendersonhyundai.com. The dealership is at 410 N. Boulder Highway.