Hardy comment in Kihuen ad given context
September 15, 2016 - 7:52 pm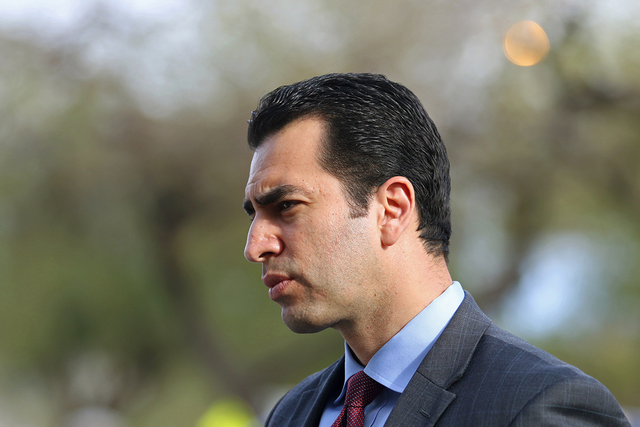 In October 2012, U.S. Rep. Cresent Hardy was a state legislator running for re-election to Nevada's Assembly District 19.
In a videotaped interview the Nevada Republican gave to the Mesquite Citizen Journal at the time, he used the phrase "blatant lie" when discussing assertions that public education was underfunded in Nevada.
The footage and two-word phrase are now fodder for the first television campaign ad produced by his Democratic rival, state Sen. Ruben Kihuen, who is hoping to block Hardy 's bid for a second two-year term to the 4th Congressional District.
Here's a look at the ad, titled "Blatant Lie," with some context:
"People talk about (how) the education is underfunded in the state of Nevada," Hardy says in the 2012 footage featured in the ad. "It's a blatant lie."
The 30-second spot cuts to a narrator: "That's Congressman Hardy and the Republicans. Even though Nevada ranks 49th in education funding, Republicans in Congress opposed Gov. (Brian) Sandoval's education package."
The ad juxtaposes two time periods. Two years after Hardy's 2012 comment, Sandoval pushed an education package that called for $1.3 billion in new and extended taxes to fund a variety of education reform measures. The GOP-led Legislature passed the measure in the 2015 session, with Kihuen among its supporters in the state Senate.
By then, Hardy was serving in Congress, which didn't have any direct role in the state legislation.
"It's ironic this ad is titled 'blatant lie' because it's so factually inaccurate and stretches the truth," said Ross Hemminger, Hardy's campaign manager.
Kihuen's campaign points to a statement Hardy gave to the Las Vegas Sun recently, when he said he "can't imagine" he would have voted for the education and tax package, while conceding that he wasn't in Carson City at the time and might have changed his mind. Other Republicans, including GOP U.S. Sens. Ted Cruz of Texas and Rand Paul of Kentucky, spoke out against the Nevada increase as presidential candidates campaigning in the state.
The ad goes on to say that Kihuen and Democrats have "different priorities" and want to make college and student loans affordable, showing a Review-Journal article from June 14, 2014, about a Democrat-backed student loan bill that stalled in the U.S. Senate.
At the time, Hardy wasn't in the U.S. Senate, or Congress for that matter. He was running for the U.S. House and wouldn't be elected until November 2014.
Kihuen's campaign says that's irrelevant. And it notes that as a state senator, Kihuen did advocate for state legislation to make college affordable, including a bill creating a scholarship program.
The ad accurately cites a Reno Gazette-Journal report from October 2014 about Nevada ranking 49th nationwide in per-student education funding. Studies routinely put Nevada's per-student funding among the lowest in the U.S.
As for the "blatant lie" comment, Hardy's campaign contends it's out of context.
Here's what Hardy told the Mesquite newspaper in 2012: "People talk about (how) … education is underfunded in the state of Nevada. That's a blatant lie. Yes, the state only pays $5,200 per student. But people don't understand that education in the state gets money from other things that other states don't have, mining and other places. It's closer to $11,000, $12,000 or $13,000 per student, per year."
The Nevada Report Card, compiled by the state Department of Education, gives varying figures for the 2012-2013 school year. Per-student spending averaged $8,353, including all revenue sources. Rural school districts, however, often spent more, with five eclipsing the $13,000 figure Hardy gave.
Contact Ben Botkin at bbotkin@reviewjournal.com or 702-387-2904. Follow @BenBotkin1 on Twitter.