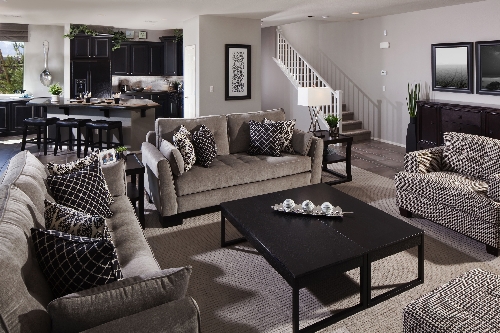 According to Geoff Gorman, vice president of sales for Harmony Homes, its sales agents are reporting an increase in homebuyer interest at its 16 Las Vegas Valley neighborhoods.
He said mortgage payments on brand-new homes are often hundreds of dollars lower than rent due to today's buyer's market, low interest rates and builder incentives.
"Making the choice to buy a home right now goes beyond the fact that homeownership can be a great equity builder and it goes beyond having a home that you can make into your own. The icing on the cake is that the cost of mortgage payments is often less than rent for qualified buyers, meaning that you'll have more money in your pocket while you're saving yourself substantial dollars in living expenses," Gorman said.
"Those who are likely renting a home for $1,000 to $1,500 per month often find that they can buy a brand-new home with a monthly mortgage payment cheaper than their rent. At many of our Harmony Homes communities, qualified buyers may actually save $500 a month in living expenses by purchasing a similar home with today's low interest rates."
Gorman compared the starting monthly mortgage payments of the 1,504-square-foot Residence One design at the Las Rosas neighborhood in North Las Vegas and the 2,409-square-foot Residence One model at the Talus at Sunrise Highlands neighborhood in the eastern portion of the valley.
The three-bedroom, $97,990 home at Las Rosas offers qualified buyers monthly mortgage payments that could start at just under $400 in principal and interest, depending on loan program, while monthly mortgage payments on the larger three-bedroom home at Talus at Sunrise Highlands could start at less than $730 for qualified buyers; both amounts are contingent upon a 3.5 percent down payment and qualifying for a Federal Housing Authority five-year, adjustable-rate mortgage, that offers a very low fixed rate for the first five years.
"Mortgages for qualified buyers are much less expensive now than in the past with the lower interest rates, lower prices and the very fact that Harmony Homes will help pay for your closing costs when (a) variety of preferred lenders is used. … Plus, there really are some programs out there that do offer down-payment assistance," Gorman said.
"And, our per-square-foot cost starting at $60 per square foot, at our new Valencia Terrace community, is not far off, if not the same, as some foreclosures and short sales but without all of the hassle.
"On top of that, through our Live in Perfect Harmony campaign, we're offering incentives that can be used in upgrades or applied to buying down your interest rate even further. Harmony Homes is interested in selling as many homes as we can in October, so our incentives are generous and, in addition, we're continuing to help pay closing costs throughout the month," he said.
"Our sales agents can tell you about Harmony Homes' incentives and they can help connect you to our preferred lenders whose loan officers can help you prequalify for a mortgage, learn about available programs and choose the right type of mortgage for your needs."
Harmony Homes is locally owned and operated by a builder with more than 20 years of experience. The builder offers 16 neighborhoods located throughout the valley, with single- and two-story homes ranging from 1,306 to 4,265 square feet and priced from the $90,000s. All new homes come with Harmony Homes' warranty that covers all components for two years and the home's structure for 10 years.
Sales offices are open from 10 a.m. to 6 p.m. daily except Monday, when offices open at noon.
For additional information about Harmony Homes' neighborhoods and directions, visit harmonyhomes.com.