He carried the title of editor, but he was a coach
October 31, 2014 - 4:47 pm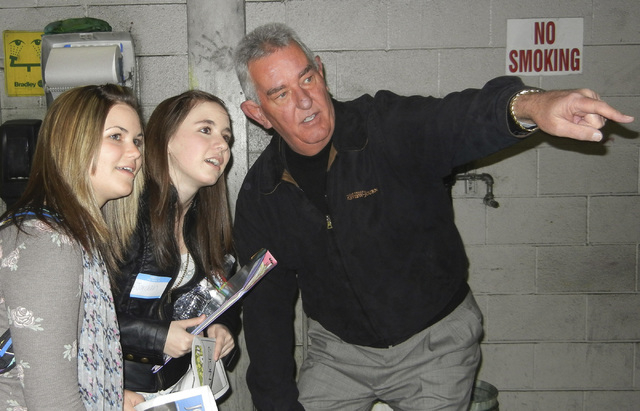 KINGMAN, Ariz.
The very mention of his sun-bleached hometown made Charlie Waters smile and always brought to mind a story.
Although his life as a newspaper editor had taken him across the country and through the doors of the Review-Journal, Waters was proud of the fact he started his career at his father's feisty newspaper in this small Arizona town on Route 66.
Charlie died Oct. 8 in Henderson at age 66 after battling lung cancer. His memorial service at St. John's United Methodist Church brought together his family, friends and a smattering of the legions of journalists he mentored during his long career. In keeping with his generous spirit and keen sense of story, there were tears and laughter in all the right places. As a lover of music who once played guitar in a Kingman rock band called The Exits — "Because that's where they'll head as soon as they hear us play," he liked to say — it was especially fitting that two of his grandchildren paid tribute to him with wonderful piano performances.
Charlie's title was editor, but he was a writing coach at heart. Whether you were a cynical veteran or optimistic cub, he was willing to mentor anyone with the sense to listen.
He loved a good read and enjoyed sharing his find. I still have photocopies of stories he knew I'd appreciate. After reading a particularly good piece, he'd often say, "This guy really heard the music." He meant that the writer had caught the rhythm of the language and showed the kind of attention to detail that enables a deadline story to rise above the din of the daily news grind.
Charlie was especially proud of the success of Portland Oregonian columnist John Canzano, whom he'd mentored as the Editor of the Fresno Bee. In a moving piece under the headline, "My mentor is dead … a tribute to Mr. Charlie Waters," Canzano wrote, "He'd challenge me to be better. He'd encourage me to take chances, to attempt writing humor one day, then banging my shoe on the table, the next. He encouraged me to make you laugh, then cry. Sometimes, in the same column. He wanted me to have multiple pitches.
"I was his pitcher. He was my coach."
Waters coached enough writers to fill many leagues.
We met late in his career. Our friendship was forged by our desert roots, a love of the language, and a fondness for the craft of newspapering.
In a few short years, we managed to eat lunch in every greasy spoon from downtown to Summerlin. Chili dogs one day, machaca the next: The man had the constitution of a bare-knuckle prizefighter. But we both knew the meal was just an excuse to get together, swap stories and talk about writing.
No lunch was complete without a joke. He'd once edited the popular "Laugh Lines" column at the Los Angeles Times and was acquainted with half the comedians and joke writers in Southern California. Scour the Internet and you'll probably find a copy of the humor column collection he edited. It's a good one.
And he never failed to deliver the latest dispatch from the Waters family chronicles. Through the months I learned about the people he loved most: his wife Linda, his grown children, and especially his grandchildren. When his grandsons played lacrosse, I heard about every goal, assist, and penalty.
A grateful grandson said at the memorial service, "He was a mentor to us. He was a coach to us. He was at everything we ever did."
Charlie Waters won his share of awards, had big editing jobs, taught journalism at the University of Kansas, and improved every newspaper he ever worked at. He was humble and ethical and never lost his sense of humor even when his life's shadows grew long.
The last time we talked, Charlie reminded me that the most important thing in his life wasn't his success in journalism, but being loved by his Linda and knowing that his kids were doing all right. He was simply grateful to have the love of a good woman and to know the hearth warmth of family and friends.
Although he was suffering, he made sure the tears were mixed with laughter in all the right places.
My friend Charlie heard the music of life, too.
John L. Smith's column appears Sunday, Tuesday, Wednesday, Friday and Saturday. Email him at Smith@reviewjournal.com or call 702-383-0295. Follow him on Twitter @jlnevadasmith.