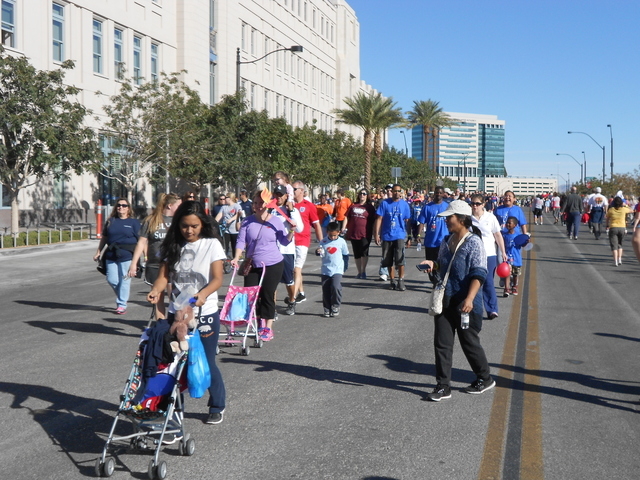 Las Vegan Melanie Baldwin knows all about helping a cause.
The annual Las Vegas Heart and Stroke Walk/Run is her pride and joy, and the recent event in downtown Las Vegas was one for the record books.
The 23rd annual event benefiting the American Heart Association drew an estimated 5,000 participants while also raising more than $390,000. As a five-time survivor of heart surgery, the energetic Baldwin was smiling from ear to ear.
Especially gratifying was the fact that Findlay Automotive Group was again heavily involved in the event that included a combination 5k run and walk. The colorful array of contributors started near Fremont Street before following a path through Symphony Park past The Smith Center for the Performing Arts and back to the original starting point.
The spectacle had it all, ranging from youngsters to senior citizens all dedicated to helping those who have suffered from cardiovascular disease and strokes, while also spreading information to prevent future setbacks.
"It's all about awareness," said Baldwin, a 12-year resident of Las Vegas. "I was involved in the Heart Walk in Reno where I had my last open heart surgery at St. Mary's Hospital (on) May 16, 2000. When you have been affected directly or indirectly by heart problems, you never forget those who have helped you, and that's exactly what the Heart Walk is all about. It's all about helping others."
The growth of the Heart Walk has been amazing, Baldwin said.
"When I arrived on Fremont Street at 5 in the morning, there were already people there getting ready for the Heart Walk," she said. "There's no telling how big this event can get."
Baldwin said Findlay Automotive Group was again heavily involved.
"Findlay Automotive people have been a part of the Heart Walk for several years," she said. "They are a huge sponsor and we can always count on them to help every year.
"This was the biggest ever," said Development Director Kerry Sallee. "In the 23 year history of the Heart Walk in Las Vegas, not only did we have the greatest participation but also had the highest fund-raising total, making it the most successful Heart Walk."
Baldwin said Findlay Automotive Group sponsored the 5K run again this year, thanks in part to the help of company employee Terry Stockdale, who won the race in 2013. He volunteers on the My Heart My Life Committee and also competes nationally.
One of Nevada's largest independently owned businesses, Findlay Automotive Group has participated in AHA programs for several years. Several of Findlay's Southern Nevada new-automobile dealerships participate throughout the year in AHA fundraisers and outreach programs.
Company CFO Tyler Corder was among the members of Findlay Automotive Group who participated in the event.
"The turnout for the Heart Walk was tremendous and we're so happy the Heart Association surpassed its fundraising goal. Findlay Automotive is really proud to be a supporter of this event. All of our employees that participated had a great time and were thrilled to support a great cause," Corder said.
For further information about the American Heart Association, call Kerry Sallee at 702-789-4370 or visit www.lasvegasyheartwalk.org.
Findlay Automotive Group was founded in 1961 by the late Pete Findlay whose son, Cliff, now spearheads automobile dealerships in Idaho, Utah, Oregon, Nevada and Arizona.