Heck announces opposition to Iran nuclear deal
September 2, 2015 - 4:50 pm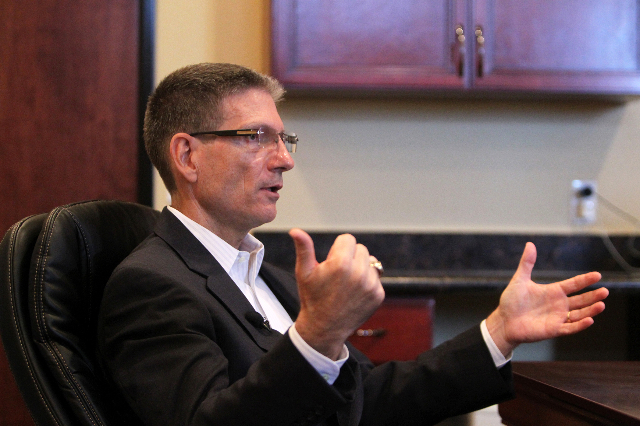 WASHINGTON — Rep. Joe Heck expressed his opposition Wednesday to the Iran nuclear deal, saying he does not trust Iran to live up to its commitments and doubts the Obama administration would stringently enforce it.
"The whole deal depends on Iran, a country that has never shown any interest in adhering to international norms and obligations, suddenly cooperating with the terms of this nuclear weapons agreement," the Nevada Republican said in a press statement.
"In addition, I am not convinced that this Administration is willing to take decisive action in the event that Iran does not comply with one of the many requirements of this deal. We saw that play out in Syria when the President ignored his own 'red line' on chemical weapons usage, sending a signal to the world that our warnings have no teeth."
The deal negotiated with Iran by the United States and partner nations would end economic sanctions against its regime in exchange for restrictions on its nuclear program and agreements for inspections to ensure it is not developing nuclear weapons. U.S. Secretary of State John Kerry led the U.S. negotiating team in Switzerland that reached the agreement.
Obama officials say the agreement will halt Iran's nuclear weapons capability for at least 15 years. Critics say that is not long enough, and express doubt that Iran will not cheat in the meantime.
Congress is facing a Sept. 17 deadline to weigh in on the agreement. The House plans to vote next week and will likely pass a resolution of disapproval. So far, 226 House members — 210 Republicans and 16 Democrats — have announced their opposition to the nuclear deal, according to the Bipartisan Policy Center.
In the Senate, where a 60-vote margin will likely be required to advance a resolution of disapproval, the outcome is unclear. So far, 34 Democrats have announced they will support the deal while two are opposed. The White House is hoping that at least seven of the remaining 10 undeclared Democrats will back the deal and spare the need for a veto.
Short of that, opponents of the Iraq nuclear deal would need a two-thirds majority in the House and Senate to override a veto. Proponents of the deal believe an override would fall short.
The White House on Wednesday reached the 34-vote Senate threshold to sustain a veto when Sen. Barbara Mikulski, D-Md., announced her support. And, House Minority Leader Nancy Pelosi said in a letter to Democratic colleagues Wednesday that she anticipates a veto would also be sustained in the House and more than 100 House Democrats will support the deal. So far, 93 have announced their support while 77 House Democrats are undeclared.
In his statement, Heck acknowledged that President Barack Obama has enough support to sustain a veto but said it is "nothing to celebrate."
"The American people are still rightly skeptical of this deal and for good reason. No anytime-anywhere inspections, lifting the conventional weapons embargo, billions of dollars in sanctions relief, Iran having a role in the inspection process, and sanctions lifted on notorious individuals like Qasem Soleimani do not make for a good deal," Heck said.
Heck is the third member of Nevada's congressional delegation to voice opposition to the agreement. Reps. Mark Amodei, R-Nev., and Cresent Hardy, R-Nev., are also opposed. Sen. Harry Reid, D-Nev., is supporting it while Sen. Dean Heller, R-Nev., and Rep. Dina Titus, D-Nev., have not announced their positions.
Contact Peter Urban at purban@reviewjournal.com or at 202-783-1760.