Heck campaign ad criticizes Cortez Masto's travel as attorney general
September 16, 2016 - 4:08 pm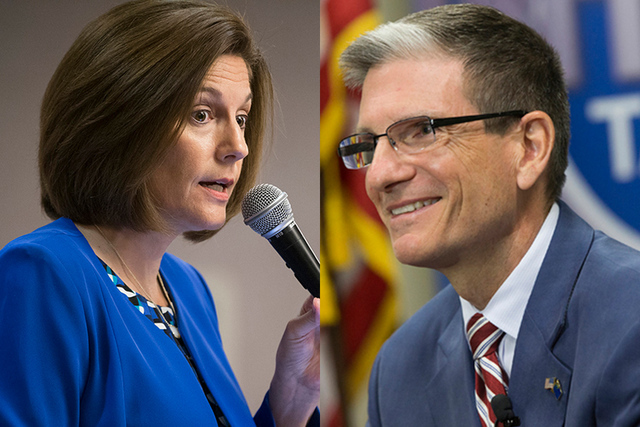 Republican Senate candidate Joe Heck on Friday released a television ad, the fifth of his campaign, but the first one taking direct aim at Democratic rival Catherine Cortez Masto.
Heck, a congressman in the 3rd District is locked in a competitive race with Cortez Masto, a former Nevada attorney general, as they face off for the open seat of outgoing U.S. Senate Minority Leader Harry Reid, D-Nev.
The ad aims to contrast Cortez Masto's traveling while attorney general with the military service of Heck, a brigadier general in the Army Reserve. The ad begins by touting Heck's 460 days of active duty service, which included a tour in Iraq while Cortez Masto was attorney general from 2007 to 2014.
The ad accuses Cortez Masto of taking 174 days on "special interest and taxpayer-funded trips" to various places including Switzerland, Argentina and Hawaii.
"Some people give," the ad concludes. "Others take."
Cortez Masto's campaign is pushing back against the ad, calling it recycled material that's already been debunked. In a statement, Cortez Masto spokesman Zach Hudson said Cortez Masto's travel as attorney general was to policy conferences to help fight human trafficking and work with other countries to "protect Nevadans from transnational crime."
Cortez Masto's response lists news accounts, including a 2014 Review-Journal story about a trip to Mexico City she made that established a bi-national working group on money laundering enforcement.
Heck's campaign is spending $290,000 to run the ad through Wednesday.
Contact Ben Botkin at bbotkin@reviewjournal.com or 702-387-2904. Find @BenBotkin1 on Twitter.