Heck fares better than Trump with Nevada's Latino voters, poll finds
September 9, 2016 - 6:46 pm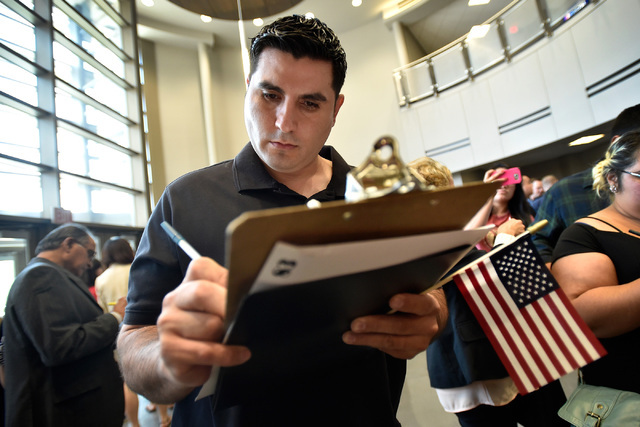 Latino voters in Nevada overwhelmingly favor Democrat Hillary Clinton over Republican Donald Trump for president, but they are less familiar with the major party candidates running to replace Harry Reid in the U.S. Senate and haven't solidified their voting plans, according to a new poll.
Trump's well-documented difficulties attracting Latino voters are reflected in the poll published Friday, which was commissioned by America's Voice, a pro-immigration reform group based in Washington, D.C. Seventy-eight percent of 400 Nevada Latino voters polled from Aug. 19-30 said they held an unfavorable view of Trump, and his views on immigration would make them less likely to vote for other GOP candidates.
Rep. Joe Heck, the Republican who is running for U.S. Senate, isn't as unpopular as the party's standard-bearer, with 50 percent of those polled holding an unfavorable view of him.
Heck has attempted to carve out a more-nuanced position than Trump's anti-immigration stance, which could be helping him somewhat. But there is no evidence it has reached Latino voters: Two-thirds of respondents said they didn't know if he or his Democratic rival Catherine Cortez Masto supported or opposed Obama's executive actions on immigration.
And while Heck isn't in as deep a hole as Trump with Nevada's Latinos, he's still running well behind Cortez Masto in the key voting bloc. The poll found Latino voters favoring Cortez Masto over Heck by 61 percent to 22 percent.
Latino voters are projected to comprise 19 or 20 percent of the state electorate in November, according to UNLV political science professor David Damore. Immigration is the No. 1 issue for them followed by the economy, according to the poll. They also express strong support for President Barack Obama's immigration policies.
Cortez Masto, the former state attorney general whose grandfather immigrated from Chihuahua, Mexico, has said she will work with Clinton to push for comprehensive immigration reform if she is elected.
Heck, the grandson of Italian immigrants on his mother's side, said in July that he believes undocumented children brought to the U.S. should be provided with a path to citizenship. He wants it to come from a vote in Congress, not via an executive action. As a congressman, He has voted against Obama's deferred action programs several times, but in 2014 was one of 26 Republicans who broke ranks to vote against an amendment to defund one of them — the Deferred Action for Childhood Arrivals.
"We cannot close the door on those individuals who have come forward as part of the DACA program and been given the opportunity to make a life for themselves in the only country they have ever known," Heck said at the time.
Viridiana Vidal, director of Nevada's Voice, the state affiliate of America's Voice, said Latino voters' lack of familiarity with Heck and Cortez Masto is because they have largely been focused on the race for the White House.
"We're having problems down the ticket. When we are asking about candidates, they usually don't know who the other candidates are," Vidal said of the group's recent voter outreach efforts, including door knocking.
But Heck might pay a price for his endorsement of Trump as more voters become aware of it. Sixty-eight percent of those polled — 74 percent of women and 62 percent of men — said they would be less likely to vote for Heck if they knew he was supporting Trump for president.
Other highlights from the poll, which had a 4.9 percent margin of error:
· Sixty-one percent of polled voters said they plan to vote for Democratic candidates in November, vs. 14 percent who intend to back the Republican ticket.
· Slightly more than half of the voters polled agree that stopping Trump makes it important to cast their ballot in this election.
· Nearly 70 percent said they saw Trump as having made the party more hostile toward Latinos.
· Nearly half of the Latino voters polled in Nevada said they perceive the Republican Party as not caring about their community.
· Trump's views on immigration had less impact on Latino Republican voters. Forty-three percent of respondents said they were much more likely to vote for GOP candidates based on his views on immigration vs. 8 percent who said they were much less likely to support other party candidates. Sixteen percent said the candidate's position had no effect.
Contact Adelaide Chen at achen@reviewjournal.com or 702-383-0281. Follow@adelaide_chen on Twitter.
RELATED
Latin chamber founder switches US Senate endorsement to Joe Heck
Tension escalates following Heck speech to Hispanic group
Senate candidate Cortez Masto meets with families fearful of being split up by deportation