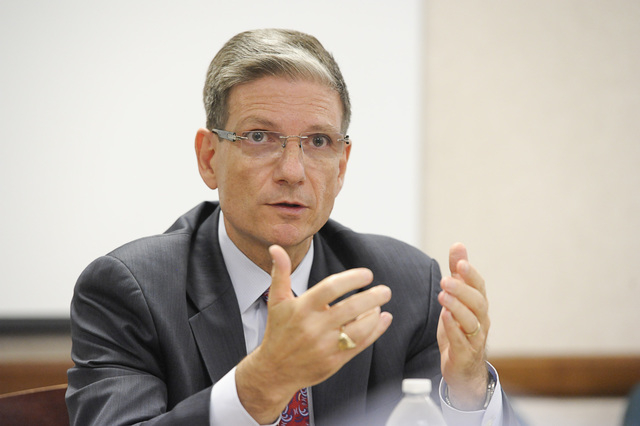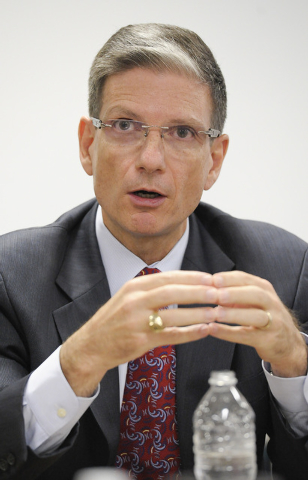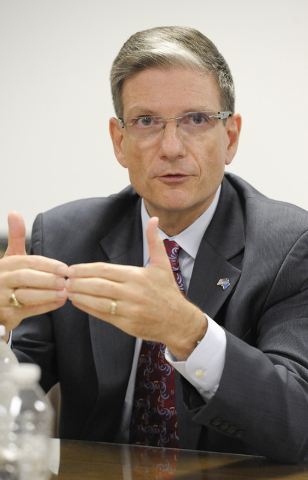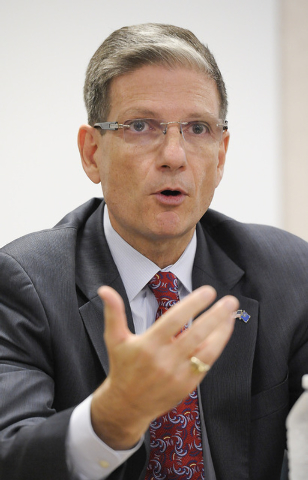 U.S. Rep. Joe Heck, R-Nev., on Wednesday criticized President Barack Obama, saying the White House doesn't have a "coherent foreign policy," which is causing the United States to lose its leadership role around the globe.
As a result, the Middle East is a mess, and Russia and China are moving to take advantage of America's weaknesses, said Heck, who sits on the Armed Services Committee and House Permanent Select Committee on Intelligence. A physician, Heck is also a colonel in the U.S. Army Reserves who served in Iraq in 2008.
In an interview with the Review-Journal's editorial board, Heck said he doesn't think the United States should act "as the world's policeman." But he said nations look to America to lead on several fronts, including with economic and military might when needed, as well as in diplomacy. He said the United States has been losing its edge for a couple of decades.
"I don't think we have a coherent foreign policy, and that's part of the problem," Heck said. "We have not exercised the level of leadership around the globe as we have over the past 20 years. … The world looks toward somebody to kind of set the example. And I don't think we've been setting the example that we have set previously."
Critics say Obama should have left a residual force of U.S. troops in Iraq instead of completely pulling out, Heck noted.
This month, the president authorized airstrikes against Islamic fighters in Iraq who have taken over large swaths of the country, where the United States waged war starting in 2003. The U.S. attacks have centered on the area of Sinjar, where militants have threatened to kill as many as 40,000 members of the minority Yazidi sect.
Some 250 U.S. military personnel are in Iraq, but the American mission could expand, CNN reported Wednesday.
Asked to grade how the U.S. is doing in Iraq and Afghanistan, where America still has troops, Heck said he would give Iraq a C and Afghanistan a B.
"It's hard to give it a final grade in Afghanistan because the final chapter hasn't been written yet," Heck said.
Meanwhile, the Obama administration has struggled, despite Secretary of State John Kerry's shuttle diplomacy, to secure a cease-fire between Israel and Hamas in Gaza after rocket clashes left more than 2,000 dead, mostly civilians.
Meanwhile, Russian President Vladimir Putin has acted with impunity in recent months, taking over Crimea and clashing with Ukraine, ignoring U.S. entreaties to stand down.
At the same time, nuclear-armed China is expanding its military and its navy, Heck said.
Heck said a lack of follow-through on U.S. threats makes America appear weak. He didn't cite Syria, but President Bashar al-Assad suffered no serious repercussions for using chemical weapons against his own people.
"Our adversaries need to know that if they do X, then the U.S. is going to do Y," Heck said. "And there has not been that consistency. That's why you see actors, not only in the Middle East, but also Russia and China, push the limits."
Heck is running for a third two-year term to represent the 3rd Congressional District in Clark County, including Henderson and Boulder City. He's facing Democratic challenger Erin Bilbray, who is making her first run at political office. The daughter of former U.S. Rep Jim Bilbray, D-Nev., she has long been involved in politics.
Asked how he would differentiate himself from Bilbray, Heck said he has more experience in both the legislative and business arenas. An emergency room doctor, Heck had his own practice before winning a congressional seat. He also said he has worked across the political aisle to get laws passed, including by working well as a member of the Nevada delegation.
"I think I've done pretty well in accomplishing what I said I would do," Heck said, noting he has worked on bills to boost jobs and the economy and travel to Nevada, as well as helping people with recession-caused housing problems. "I don't think my opponent has the breadth of experience or the background after being a political consultant for 20 years."
Contact Laura Myers at lmyers@reviewjournal.com or 702 387-2919. Follow @lmyerslvrj on Twitter.