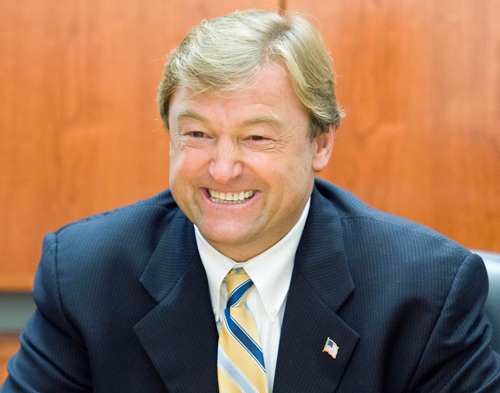 WASHINGTON – Nevada Sen. Dean Heller was the lone Republican to support a balanced budget amendment offered by Democrats.
The Senate on Wednesday voted down two separate measures aimed at amending the Constitution to require a balanced budget. A Republican proposal was defeated 47-53 with no Democrat in support. An alternative offered by Democrats fell, 21-79, with Heller crossing party lines.
"I have heard some of my colleagues claim that the Balanced Budget Amendment is 'reckless,' a 'waste of time' and 'of no value.' I couldn't disagree more. A Balanced Budget Amendment would ensure that Congress treats taxpayers' dollars responsibly and place our nation on a path to greater prosperity," Heller said, in a statement after the votes.
The Senate scheduled the votes to fulfill a commitment made last summer over raising the government's debt limit. The House held its vote last month, falling 23 votes short of the two-thirds majority needed.
Senate Majority Leader Harry Reid, D-Nev., voted Wednesday against both versions of the balanced budget amendment.
"History has shown that Congress can balance the budget without tampering with our Constitution. We did it in the 1990s, and we can do it again. A Balanced Budget Amendment would not really balance the budget. Republicans just are using it as an excuse to avoid taking responsibility for the hard choices we have to make as legislators," he said in a statement after the vote.
Reid offered a particularly harsh criticism of the Republican alternative calling it "political gimmick" that would threaten Social Security and lock in constitutional protections for "every single special interest tax loophole."
"That's not just foolish, it's extreme," he said.
The Republican plan would require a two-thirds majority of both chambers to raise taxes, three-fifths to raise the national debt, and stated that spending for any budget year could not exceed 18 percent of gross domestic product.
Sen. Mark Udall, D-Colo., offered the alternative that included no caps on spending, did not require a supermajority to raise taxes, and shielded Social Security from being tapped to balance the rest of the budget. It also would have barred tax cuts to millionaires unless their was a budget surplus.
Heller and 20 Democrats backed Udall's plan.
Rep. Shelley Berkley, D-Nev., issued a statement after the votes saying she would have supported Udall's plan but opposed the Republican approach.
"A Balanced Budget Amendment that protects seniors and veterans is one way to achieve much needed deficit reduction and to get our nation's spending under control. While Dean Heller's plan is nothing short of a sneak attack on the benefits seniors and veterans rely on, I support a Balanced Budget Amendment that cuts spending and goes one step further to including ironclad protections for Medicare, Social Security and veterans benefits," she said.
Berkley is running as a Democratic candidate for the U.S. Senate seat now held by Heller.