Heller wants to defund Planned Parenthood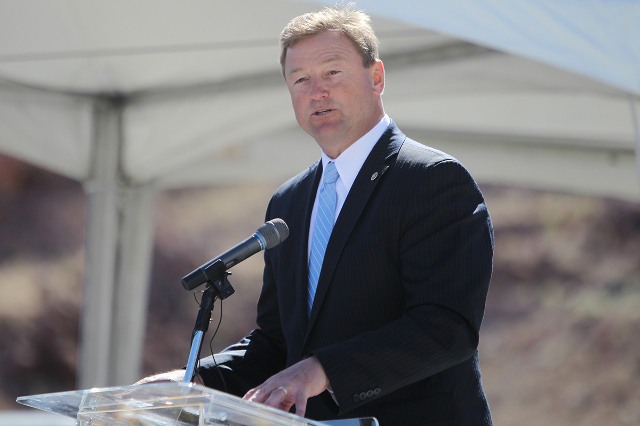 WASHINGTON — Sen. Dean Heller on Wednesday sided with critics of Planned Parenthood who are seeking to restrict federal funding to the group in the wake of provocative videos that raise questions about the organization's ethics on abortion.
"I've seen the films just like everybody else," said Heller. "The comments that were made, I think it's beyond the pale that these are the activities of Planned Parenthood."
The Nevada Republican said he plans to vote for a GOP amendment being lined up for a Senate vote next week that would defund the women's health group. As a House member in 2011, Heller voted for a similar amendment to cut off Planned Parenthood funding in a dispute over abortion.
In the latest controversy, an anti-abortion group has released covertly taken video of Planned Parenthood executives discussing the sale of fetal tissue and procedures for obtaining tissue from aborted fetuses for use in research.
The disclosures have set off a storm. Planned Parenthood officials say the group has broken no laws, and that the videos were heavily edited to cast the organization in the worst light.
Heller said he was "open-minded" about the use of fetal tissue in medical research, and has supported expanding federal research utilizing embryonic stem cells.
But, he said, "as one of the more progressive Republicans on this particular issue, I think Planned Parenthood went way too far on this one."
Republicans say the videos raise questions whether Planned Parenthood was profiting from the practice and whether the group was obtaining consent from women from whom the fetuses were removed.
Heller's comments in an interview were his first on the issue. While the Nevada Republican is anti-abortion, he was not among 49 Republicans who signed a letter last week demanding an investigation into the organization as a result of the footage.
Planned Parenthood receives about $500 million annually in aid from the federal government and states to provide contraceptives, cancer screenings and other health services for women. Federal law already forbids the group from spending government money on abortion services that it provides.
The amendment sponsored by Sen. Joni Ernst, R-Iowa, would cut off federal funds to Planned Parenthood and redirect that money to other groups that provide health care to women but aren't involved with abortion.
The amendment would need 60 votes to succeed. Democrats led by their leader Sen. Harry Reid, D-Nev., have mounted a furious defense of Planned Parenthood.
In a speech Wednesday, Reid called the Ernst amendment "an attack on women's health."
"The Republican bill pretends to be for women's health but it would prohibit federal funds to go to an organization that is the health care backbone for American women during their lives," Reid said. "In fact, it's the only health care that a significant number of women get."
On the prospect of Republicans winning 60 votes, Reid on Tuesday said, "Good luck with that."
Heller said Democrats are grasping for ways to defend Planned Parenthood.
"This has nothing to do with women's health and everything to do with the activities of Planned Parenthood," he said.
Contact Review-Journal Washington Bureau Chief Steve Tetreault at stetreault@reviewjournal.com or 202-783-1760. Find him on Twitter: @STetreaultDC