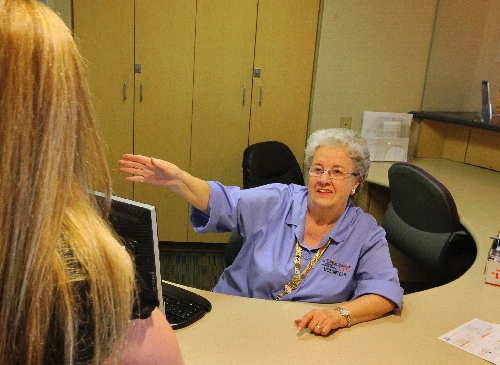 Ruth Samuels began volunteering at Sunrise Hospital & Medical Center to informally pay back a debt for her child's surgery.
Cut to 36 years later and Samuels turned her debt into goodwill profit to the sum of 11,000 volunteer hours. But the gain is all her s, the 74-year-old Paradise resident said.
"It gives you a warm, fuzzy feeling to help others," she said. "You get a hug every once in a while. And you know obviously you're doing something right."
Samuels is one of about 130 people who are often the first face that patients see when they arrive at the hospital and the last face they see when they're wheeled out. The volunteer group gave a collective 45,000 hours of service last year.
"I always say, 'They run the joint, I just take the credit,' " said Tracy Netherton, hospital community services coordinator. "It takes a special person."
The volunteer program has taken a step back to the "old candy striper days," Netherton said, and she hopes to get volunteer numbers back to more dynamic days.
Positions are available for adults and teens who can commit to at least four hours a week at the hospital, 3186 S. Maryland Parkway. Duties range from directing foot traffic and wheeling patients around campus to visiting with them and helping them with a comfortable stay, Netherton said.
Volunteers also assist with the hospital's care cart, a daily mobile service that delivers hot towels, books and magazines to patients.
Donations of gently used reading materials also are in need. Magazines no older than six months are ideal, Netherton said.
She hoped having more volunteers will allow them to dispatch the care cart three times a day.
Samuels recalled one notable day when comedian Redd Foxx came into the hospital gift shop. He wanted two large bouquets for his mother and brother, who were patients at the same time.
As Samuels delivered the flowers, Foxx's mother grabbed Samuels' arm.
"She wanted me to sit up there and talk with her," she said. "She was a nice lady."
Samuels bounced around in her volunteer roles.
Samuels jokes about her early days in the radiology department.
"I would teach people how to get undressed," she said of disrobing patients and how they struggled with gowns with three arm holes.
There were days when patients would balk at doctors and nurses because they associated the medical staff with pain, Samuels said. She would help them calm down and end up small-talking with them.
"I've seen a lot of funny things and sad things, and I've heard a lot of funny things and sad things," she said.
For 20 years, Samuels has helped send holiday babies home with homemade red stockings. She and another volunteer made a quilt honoring military personnel over three days last Veteran s Day thanks to Netherton's self-described ill-timed request.
"She calls my name and I go the other way now," Samuels joked.
Samuels volunteers six hours a day, three days a week and is often perched at the information desk. Netherton said she often sees her wheeling patients, a job reserved for younger volunteers.
"They always say, 'She won't let us,' " Netherton said. "Ruthie's really in charge."
In 2009, Samuels was honored with the Frist Humanitarian Award for her volunteerism. The national award is given to outstanding individuals in Hospital Corporation of America facilities.
"My mouth dropped and I couldn't say anything, and that's unusual for me," she said.
The personal interactions and exercise are what Samuels said keep her volunteering.
"If the place was burning down, I'd help put out the fire," she said.
Netherton said volunteers also are needed exclusively for the h2u, or health to you, senior program.
All volunteers must undergo background checks and be trained by the hospital staff.
For more information about volunteering at Sunrise Hospital & Medical Center, call 731-8712 or visit sunrisehospital.com.
Contact Centennial and Paradise View reporter Maggie Lillis at mlillis@viewnews.com or 477-3839.