Henderson and Anthem Neighborhood News for Dec. 3-9, 2013
December 2, 2013 - 1:44 pm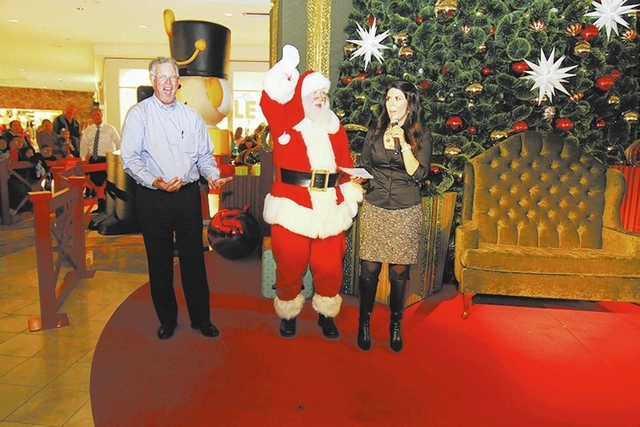 REPUBLICAN WOMEN PLAN CHAMPAGNE BRUNCH
The Southern Hills Republican Women plan a Champagne brunch at 8:30 a.m. Dec. 10 at Buckman's Grille, 2600 Hampton Road.
Admission is $22 for members in advance and $25 for nonmembers and members at the door.
Attendees are asked to bring an unwrapped toy to be contributed to Toys for Tots.
For more information, call Anne Danielson at 702-278-6652.
PHOTO CONTEST LOOKS AT 'WHAT MAKES HENDERSON GREAT'
The city of Henderson is seeking entries for its "What Makes Henderson Great" photo contest.
In order to enter, people can take photos of things such as landscapes, landmarks, friends, animals, sports or portraits.
All items must be recognizably Henderson-based and taken within the city.
It is free to enter, but people can submit no more than five photos.
Winners are expected to have their photos displayed at City Hall and at cityofhenderson.com.
Applicants must submit photos by Dec. 21. Instagram photos will be accepted.
For more information, visit cityofhenderson.com/mayor_and_council/photo_contest.php.
COUNCILMAN TO HOST NEIGHBORHOOD CONNECTION MEETING
Henderson City Councilman Sam Bateman is scheduled to host a Neighborhood Connection meeting at 6 p.m. Dec. 11 at the Henderson Multigenerational Center, 250 S. Paseo Verde Parkway.
Bateman is expected to be joined by Henderson Mayor Andy Hafen and city staff members who will go over city updates and take questions from residents.
For more information, visit cityofhenderson.com.
STATION CASINOS TO SPONSOR BLOOD DRIVE
Station Casinos and United Blood Services are scheduled to host a blood drive from 9 a.m. to 4 p.m. Dec. 7 in the Costa Del Sol banquet rooms of Sunset Station, 1301 W. Sunset Road.
Anyone who donates is expected to receive a free buffet.
TOYS TO BE COLLECTED AT BANK OF AMERICA LOCATIONS
Bank of America is scheduled to host its Make-A-Wish toy drive this holiday season.
It is slated to collect toys at 51 banking centers through Dec. 13.
People are encouraged to drop of a new, unwrapped toy to be presented to kids and their families at the Make-A-Wish holiday party.
HENDERSON CHAMBER TO COLLECT GIFTS FOR TOYS FOR TOTS
The Henderson Chamber of Commerce and Leadership Henderson are scheduled to host a Toys for Tots benefit from 5:30 to 8:30 p.m. Dec. 12 at The Landing Restaurant and Bar, 3500 Executive Terminal Drive.
People are invited to bring a new, unwrapped toy.
The event costs $10 and is open to the public. To register, visit hendersonchamber.com/events.
WINTERFEST GINGERBREAD HOUSE COMPETITION SEEKS APPLICANTS
Henderson is seeking entries for the WinterFest Gingerbread House Competition for the annual WinterFest, scheduled from 6 to 9 p.m. Dec. 13 and noon to 8 p.m. Dec. 14 at the Henderson Events Plaza, 200 S. Water St.
Applicants have until Dec. 5 to register.
In order to be considered, all entries must be 90 percent edible, made of gingerbread, frosting and candy and reflect the theme, "An Old-Fashioned Christmas Delight."
For more information, visit hendersonlive.com.
98.5 KLUC TO HOST TOY DRIVE DEC. 5-16
The 15th annual 98.5 KLUC Chet Buchanan & The Morning Zoo Toy Drive is set to run Dec. 5-16 at 6226 W. Sahara Ave., with Buchanan living on the 30-foot scaffolding throughout the drive. After the drive, HELP of Southern Nevada plans to distribute the toys to more than 3,000 families in need.
Volunteers are needed from midnight to 6 a.m. Wednesdays through Sundays during the drive. For more information, contact Joan Lima at jlima@helpsonv.org.
APPLICATION INTAKE PEOPLE NEEDED FOR HELP HOLIDAY PROGRAMS
Volunteers are needed between 8 a.m. and 2 p.m. through Dec. 16 to assist clients with their applications for holiday programs at HELP of Southern Nevada's main campus, 1640 E. Flamingo Road.
Those interested in volunteering or in need of more information may contact Joan Lima at jlima@helpsonv.org.
NATHAN ADELSON HOSPICE HOSTING DOG BED AND BLANKET DRIVE
The Pet Therapy Program at Nathan Adelson Hospice plans its third annual Dog Bed & Blanket Drive to help keep shelter animals warm this season.
Through Jan. 31, the hospice is collecting new or gently used dog beds, blankets and towels, as well as unopened dog food, to deliver to local animal shelters. In the valley, donations can be dropped off at 4141 Swenson St., 3150 N. Tenaya Way, Suite 350, next to Mountainview Hospital, or 1201 Nevada State Drive in Henderson.
More than 3,500 items were donated to local shelters over the last two winter seasons through the drive. For more information, visit nah.org.
HENDERSON PLANS SHOPPING DAYS EVENT
Henderson's park and recreation department is scheduled to host shopping days from 11:30 a.m. to 4 p.m. Dec. 14 at the Valley View Recreation Center, 500 Harris St.
The event allows parents to drop off children at the center while they run holiday errands.
Children are expected to enjoy games and arts and crafts. It also includes lunch.
The event costs $20 per person and is open to children 5 to 12.
For more information, visit cityofhenderson.com/parks.