Henderson artist draws on family of strong women to inspire his work
January 15, 2016 - 4:15 pm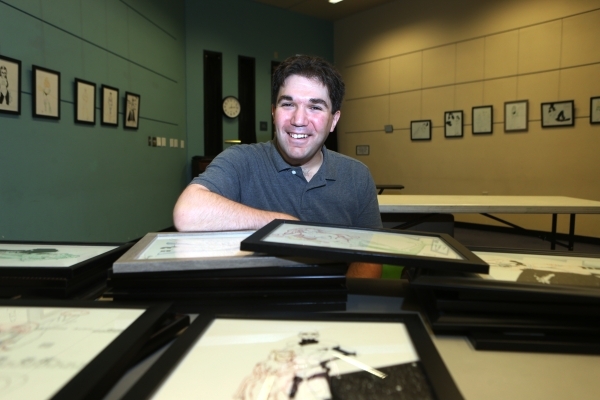 After going head-to-head with Joshua Weinberg's pen, Thor's thick muscles and stern gaze melt away into shapely curves and a sultry pout.
Even the Hulk, the Terminator, Michael Myers, Jason Voorhees and Freddy Krueger are no match for his artistic spin.
Drawing male characters as the opposite sex is one of Weinberg's favorite things to do as an artist, as is depicting female icons from cinema, pop music, video games, comic books and television shows.
"I think the public reaction is better when I transgender the characters, but I love drawing any of these women," the 37-year-old Henderson resident said. "The idea is portraying women as strong and beautiful, and there is not a single hint of timidity or weakness."
Weinberg, who considers himself a pop culture pin-up artist, said being from a family filled with strong, independent women has heavily influenced his work. Every woman in his family, in fact — ranging from his grandmother to his sister — considers herself feminist.
"My grandmother was a feminist before the term was even used," he said. "She was not about being taking care of; she was not about being told what to do or what to think, and she instilled that feminist strength in my aunt and in my mother. Even my sister is one of the most strong-minded women that I've had the fortune to have in my life, so in my artwork, I celebrate that."
Weinberg's work is set to be featured in an exhibition scheduled through January at the Green Valley Library, 2797 N. Green Valley Parkway. His show will include between 30 and 40 pen and ink drawings, one of which he was working on recently inside the Starbucks at Pebble Marketplace, 1500 N. Green Valley Parkway.
The roughly 3-foot-by-2-foot piece is slated to be the focal point of the exhibition, Weinberg said. The piece will feature 72 female sex symbols from the past several decades of music and cinema, ranging from Greta Garbo to Salma Hayek.
Weinberg said he has been drawing since he was 10 and received a lot of support for it from his family.
"My father saw my talent from a very early age," Weinberg said. "If I needed art supplies, he would go out of his way to get them, including finding a private art teacher."
The teacher was comic book artist Bill Bryan, with whom Weinberg studied in the early 1990s, when Weinberg was ages 13 through 15 in Detroit, his native city.
Weinberg added that while he was ages 10 through 17, he was an editorial and political cartoonist, with his work appearing in publications around the world.
"Again, with my father being as supportive as he was, he would contact cartoonists from around the world and ask, 'What do you think of my son's artwork?' " Weinberg said.
He said that through that interaction, he established connections with print-media editors and others in the publishing world.
In Las Vegas, he earned a following between 2010 and 2015 by regularly renting a tent to show his work at the monthly First Friday arts event in downtown Las Vegas.
To work on his drawings, Weinberg usually heads to the Starbucks at Pebble Marketplace with his art bin and paper.
That's where he met Chris Sullivan, who admires Weinberg's art and commissioned several pieces from him.
"I saw his stuff, and I appreciated it," Sullivan said. "I just think he's very creative. I like music; I like art. I appreciate those talents. I have absolutely none of my own."
One of the commissioned pieces was a portrait featuring his and Weinberg's Starbucks crew. Sullivan said he surprised members of the group with prints of the artwork.
"To this date, when I see some of these people, they still say it's one of the nicest, most personalized gifts they've ever received," Sullivan said.
For more information on Weinberg's art, visit facebook.com/joshua.w.weinberg.
— To reach Henderson View reporter Cassandra Keenan, email ckeenan@viewnews.com or call 702-383-0278. Find her on Twitter: @CassandraKNews

If you go
Artist Joshua Weinberg's pen and ink drawings exhibition
Green Valley Library, 2797 N. Green Valley Parkway
Through January, during library hours: 10 a.m. to 8 p.m. Tuesday-Thursday; 10 a.m. to 6 p.m. Friday-Saturday; closed Sunday-Monday
mypubliclibrary.com
702-207-4260
Online: Joshua Weinberg