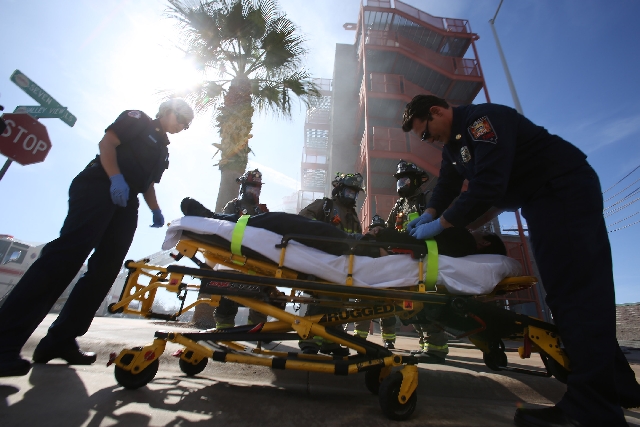 Over the radio, the call comes in that a fire has consumed a two-story residential building.
One, two, three fire engines race around the corner to secure the scene. Whether it is the group on the roof cutting through to relieve the toxic smoke, the team in the building searching for victims or the crew outside waiting in case a mayday call comes in, each firefighter has his role in facing the fire.
The Henderson Fire Department conducted a fire training simulation March 6 to demonstrate a typical scenario a firefighter might go through.
City officials and community partners joined in on tasks to see firsthand what it's like to sling on gear.
This is just a simulation at the Fire Training Center, but they practice the way it happens.
Kenny Ramirez, 25, was one of many taking part in the drill.
He has served with the Henderson Fire Department for nearly three years.
"I wanted to give back to the community," he said.
There is no such thing as a typical day. One day might be no calls, where the staff works out to stay in shape or goes through training exercises to be current on techniques.
Other days, however, Ramirez might go to call after call.
"There was one day where we got a call at 7 a.m. and didn't get back to the fire station until 8:45 p.m. for dinner," he said.
It's a physically demanding job. When he is not carrying the equipment — or occasionally carrying a much larger person on his 5-foot-7 frame — he works out to stay in shape.
"They require 1½ hours of working out," he said. "The biggest part is fitness. I'm a big runner. I balance it out with weights."
Even though scenarios might vary, the routine of putting on and taking off the gear is the same.
Dressed in 30-pound turnouts, which include boots, pants, a helmet and jacket, every inch of skin is covered.
"If any part is exposed, it would be burned," Ramirez said.
If the suits weren't heavy enough, the 35-pound air pack and mask add to the weight.
Firefighters have 60 seconds to put on turnouts, plus another 60 seconds to put on the air pack and activate the breathing devices.
"We pretty much have to be able to do it blindfolded," Ramirez said.
Geared up and ready to go, the real work begins.
Entering a building on fire, the room is engulfed with smoke, forcing firefighters on their hands and knees to crawl through the haze.
They go through searches — the first search looks in each room, while the second flips over tables or checks closets.
"We look at any place they might be hiding," he said.
Armed with a fire hose, spraying water from the nozzle at more than 100 pounds per square inch, each firefighter is able to take on the blaze.
"It's not your garden hose," he said.
After about 30 minutes in the building, each firefighter comes out to a recovery station to get water and have their vital signs checked before heading back inside.
"Everything has to check out," he said.
The first time Ramirez went into a fire was about a year after working for the department.
"It was a garage fire in a house," he said.
The adrenaline rush of being called to a scene has never faded for him.
Aside from the physicality of his work, the hardest part of Ramirez's job is going into a building where the only thing he can see in front of him is smoke.
"You have to learn how to get your bearings," he said.
But facing a fire is just one potential aspect of a firefighter's day.
"About 90 percent of the calls we do are medical," he said.
Ramirez's first call on the job was medical, where he responded to a child who had a seizure.
"It's hard because the parents feel emotionally helpless," he said. "I don't have kids, so I don't have that connection, but calls with children are the hardest."
It is a challenge anytime Ramirez makes a personal connection with a patient only to have the situation turn for the worse.
"You're talking to them, and all of a sudden they go into cardiac arrest in front of you," he said. "You develop this connection, and they die right in front of you."
In addition to hands-on actions, firefighters are involved with various community awareness campaigns such as talking to people about not leaving children in the car during summer; drowning and water safety outreach; and the annual boot drive to raise money for muscular dystrophy.
"We want to be a community fire department," said Steven Goble, the Henderson fire chief. "We want the community to know who we are and trust us."
The fire department does simple things, too, such as having children come into the station — whether it is with a school field trip or a parent bringing in their child — to see the firetruck.
"They come in all excited," Ramirez said. "They play around on the truck."
Flashing back nearly 20 years when Ramirez was in kindergarten, he had the same feeling every time he saw a firetruck.
"So I connect that experience with them," he said.
For more information about the Henderson Fire Department, visit cityofhenderson.com/fire.
Contact Henderson/Anthem View reporter Michael Lyle at mlyle@viewnews.com or 702-387-5201.