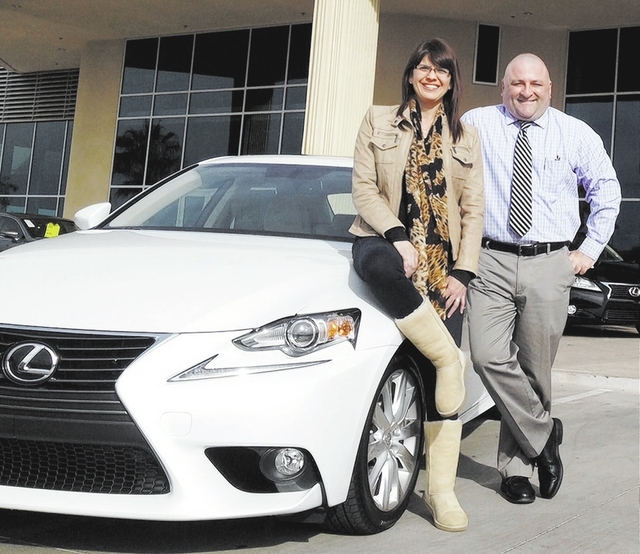 Cathy Grusinski and her husband, Louie, spent a month researching and test driving new cars before taking the plunge to purchase a 2014 Lexus IS 250 from Lexus of Henderson.
What finally sold them was the quality of the vehicle, professionalism of their sales agent and the friendliness of the dealership, they said.
"When I saw this car I said, 'My gosh. The luxury of it and the sportiness is unbelievable,' " Grusinski said. "We researched the BMW, and Louie felt the Lexus was better built and had a higher rating. I would definitely buy another Lexus, but I know mine will last for a long while."
Grusinski comes to Lexus of Henderson at least once a week to have her new car washed and enjoys the amenities the dealership has to offer such as PC and Apple computers in the lounge, complimentary refreshments and snacks that includes fresh fruit, loaner vehicles if recommended by a service manager and free shuttle service anytime upon request.
"I love this dealership. It's very Five Diamond," Grusinski said. "Besides having a lot to offer me while I'm waiting, it's also very relaxing here. It's great."
"Cathy and Louie are some of my most favorite people to have sold a vehicle to," said Lexus of Henderson sales and leasing agent Gary Kanadjian said. "They were very enthusiastic and had a lot of questions for me when they arrived. They did their research and that was good. We are happy to welcome them into our Lexus family."
The dealership is at the Valley AutoMall, 7736 Eastgate Road, Henderson. For more information, call 702-228-7736 or visit www.lexusofhenderson.com