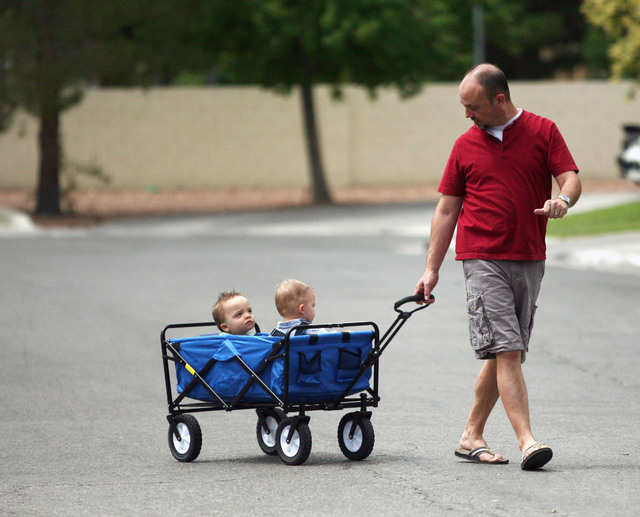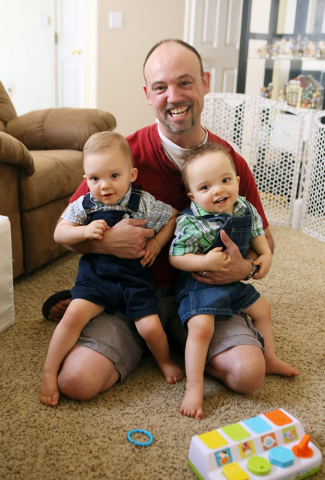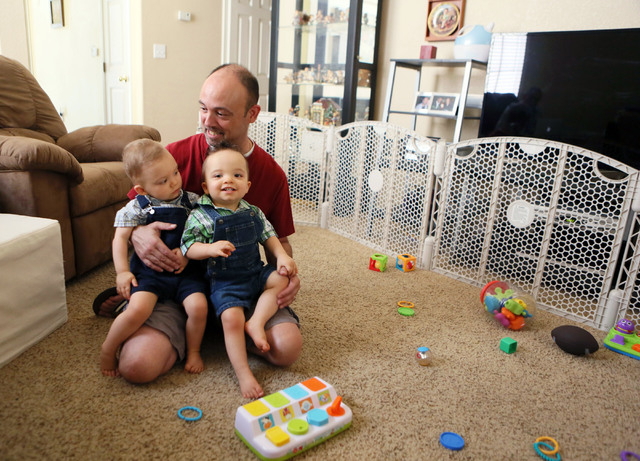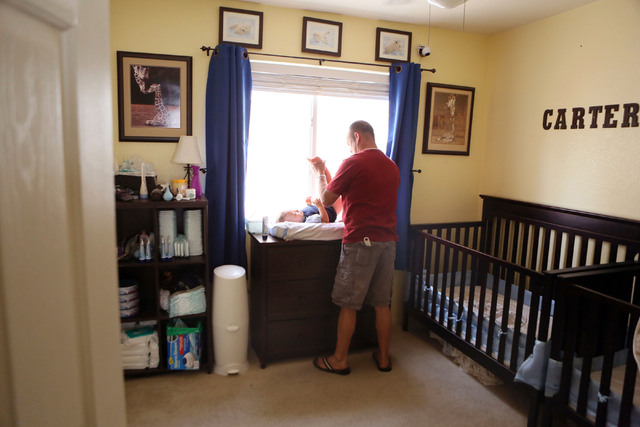 One of Kevin Zelenka's sons sits between his legs taking plastic discs of various colors and putting them into a piggy bank one at a time.
As a stay-at-home dad, it's one of Zelenka's favorite things to be there as his children learn something new.
"When I teach them something, it's pretty incredible," he said. "They are like little sponges."
Zelenka, a Henderson resident, knows not every day is as simple.
"I'm a fixer," he said. "Sometimes when they are crying, I go through the steps to feed them, change them, burp them. But sometimes, they just need to cry. It's a lesson in patience."
But come Father's Day, it is those moments of joy of taking care of his 17-month-old sons, Carter and Gavin — fraternal twins — that he will keep in mind.
Becoming a stay-at-home dad was an easy choice for the family.
When Zelenka and his wife found out they were pregnant, the couple began discussing options for daycare.
"It didn't make sense to pay for a care provider," Zelenka said. "Besides, no one could do a better job than myself."
Finding out they were having twins wasn't a surprise, Zelenka said.
"I was a twin myself," he said. "My twin ended up dying."
But still, there was a little nervousness.
"You hear people say it's double the cost," he said. "It's more like triple. You can never buy secondhand because you need two of everything, and it needs to match."
They were, however, hoping for a boy and a girl.
"We can't send them back now," Zelenka said jokingly. "I wouldn't want to if I could."
Months before the twins' arrival, Zelenka, who had previously worked in sales, made the transition to stay-at-home dad helping his wife with doctor appointments and preparing the house.
When the twins were born, his wife was on maternity leave for the first few months. By the time the twins were on a solid schedule, she returned to work.
Now, each day is a new adventure.
After a little breakfast and time in their playpen — a portion of the Zelenkas' living room is enclosed and loaded with toys — the twins might get out and go for a walk around the neighborhood or the park.
Zelenka pulls out a blue wagon, unfolds it and loads each child in. Carter fidgets a little while looking around at everything, while Gavin sits a little more still.
It's time for a walk, and they know it.
Gavin and Carter look left and right and left again as Zelenka pulls the wagon down the driveway, hoping to do a loop or two in the neighborhood.
Now that they are moving and more active, Zelenka said it's more fun.
"We are able to get into more of a routine," he said.
During the afternoon, they might grab lunch or head over to storytime at Henderson Libraries.
One thing Zelenka has added into his weeks are meetings with other stay-at-home dads.
"There were a lot of meet-up groups for mommy and me," he said. "You walked in as a dad and get a lot of glares. Men are kind of the outsiders."
Still wanting a space for dads to share ideas, ask questions and just connect, Zelenka started a Meetup group called Las Vegas Stay at Home Dads.
The group will hang out, doing anything from discussing how to make baby food and dealing with the stigma of being a stay-at-home dad to going on group outings to Town Square Las Vegas or the Springs Preserve.
"Some dads meet up for play dates on their own, " Zelenka added.
Ronnie Levin has been in the group since September.
"I was part of something similar when I lived in Salt Lake City," he said.
When he moved to Las Vegas, he decided to seek out a local group .
"Before the group, I would just meet other dads at the park or maybe at the library during storytime," he said.
Levin said it's nice having a group for support, though.
"We're also able to talk about other common interests like sports," he said. "Kevin and I are both hockey fans, so we get to talk about that."
On occasion, the group will have a night out without any children.
Also wanting to connect with other parents, Zelenka started a parenting blog, doubletroubledaddy.com.
He posts photos and writes about various childcare subjects.
Zelenka said he doesn't know how long he plans to be a stay-at-home father.
"Maybe once they are in school, I'll go back to work," he said.
For the time being, he knows he made the right decision to be with his children.
"I love it," he said. "I wouldn't trade it for anything."
Contact Henderson View reporter Michael Lyle at mlyle@viewnews.com or 702-387-5201.