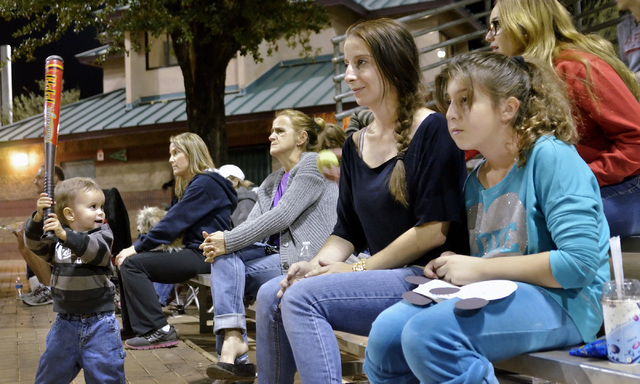 Henderson resident Yohana Martinez races to the baseball field at Arroyo Grande Sports Park in time to see her son Matthew, 6, play outfield.
Although she just finished working overtime at her bakery job, she snuggles close with her daughter Saile, 10, and youngest son, Jonathan, 2, to watch the game.
"My kids are my everything," Martinez said. "I will always be there for them, and they know that."
Life hasn't been easy as a single mom, but Martinez, 31, remains grateful for her children and the chance to provide them a stable life.
"I'm thankful for everything, for the good and bad moments," Martinez said. "It's helped me grow and taught me to never give up. Sometimes you have to go to the lowest of lows to get to the highest of highs."
Martinez's journey began about three years ago when she moved from Miami to Las Vegas to be closer to family.
While living with her family, Martinez discovered she was pregnant with Jonathan. Around the same time, she lost her job.
"My family didn't accept the pregnancy, but I wasn't going to give (my son) up," Martinez said. "They didn't want me around, so they kicked me out."
It wasn't the first time her family disagreed with her decisions, but without the support of her children's fathers, Martinez was homeless. She jumped between friends' houses for a few weeks until she found another job.
"We started staying at the Budget Suites, but then I got laid off again," Martinez said. "We really had nothing."
Then, a beacon of hope.
The Clark County School District referred Martinez to HopeLink of Southern Nevada, a nonprofit that serves as a family resource center. She was accepted into a one-year transitional housing program that assisted in finding her an apartment and paying portions of her rent and utilities.
Martinez, who graduated from the program in October, is now supporting her family entirely on her own. And although she is nervous for the holidays, the organization's executive director, Karen Kyger, has no doubt she'll succeed.
"(Martinez) is very determined to do what she needs to do to take care of her family and provide a good life for them," Kyger said. "She's very compliant with our programs and has been a very positive client to work with."
HopeLink provided assistance to 8,000 individuals last year by providing shelter and food, helping with job searches and offering classes on parenting, budgeting and co-dependency.
"Our goal is to empower people and transform their lives," Kyger said. "Our programs hold a great deal of accountability to our clients, and clients like (Martinez) are very successful in them."
In addition to housing, the organization taught Martinez how to cook healthily on a budget and provided for holiday gifts and back-to-school supplies for her children.
"(HopeLink) has given me a second chance and helped me get back on my feet," Martinez said. "Little by little, my family is getting more stable. Nothing is perfect, but it's getting close."
Despite her hardships, Martinez remains positive. She said she's learning from her past and now understands it's OK to ask for help.
"I used to be the one that was always helping people, but I didn't know how to ask for help myself," she said. "I've also learned that I need to think about me and my children first and that's OK to say, 'No.' "
Martinez hopes to purchase a house and take her children to Disneyland in the future. In the meantime, she enjoys playing games, watching movies and spending time with her children.
"I have to work a lot, but I still try to have a lot of family time because I don't want to miss out on anything," Martinez said. "Where there's a will, there's a way. Everything will fall into place one day."
For more information, visit link2hope.org.
MORE STORIES OF GRADITUDE
Henderson View sent out a call to see what readers are grateful for.
Henderson resident Kara Bouck Beeman is thankful to St. Rose Dominican Hospitals for saving her daughter's life after a diabetic ketoacidosis attack, a condition where the blood becomes too acidic due to a buildup of a toxic substance called ketones.
"I don't even want to think what could have happened if they did not act so fast with her care," Bouck Beeman said. "My daughter is the strongest person I know, and I'm thankful every day for her and her strength."
Henderson native Sue Ebert is grateful for living in Nevada with her husband of 46 years. She's also thankful for her children and grandchildren.
"This is what happiness and life are about," Ebert said.
Contact Henderson View reporter Caitlyn Belcher at cbelcher@viewnews.com or 702-383-0403.