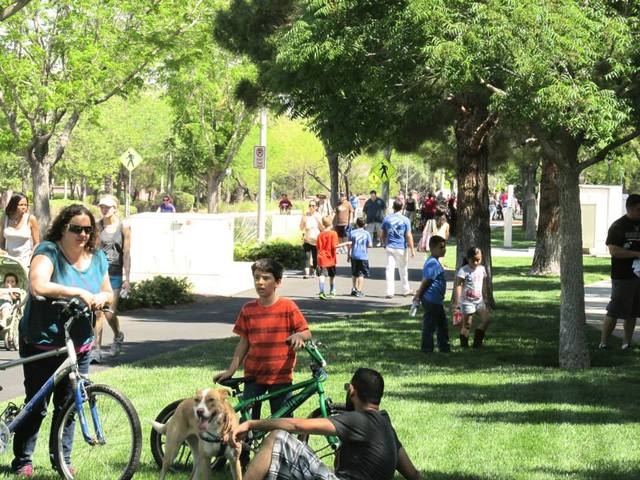 NEW DIRECTOR NAMED FOR HENDERSON LIBRARIES
Angela Thornton is slated to take over as the executive director of Henderson Libraries May 20.
The library district has been without a director since July when Tom Fay stepped down to take a position as deputy director for Las Vegas-Clark County Library District.
Thornton comes from the Ronald J. Norick Downtown Library in Oklahoma City.
In a press release, Thornton said Henderson Libraries appealed to her for a number of reasons.
"I have family in Las Vegas, so I was familiar with the area," she said. "Henderson Libraries also had been through some challenges, but has weathered financial losses really well; the atmosphere was very positive when I met with the staff during the interview. Also, Henderson seems to have a great sense of community, which is really important to me."
Thornton graduated from Valdosta State University with a master's in library and information science, from Northeastern State University with a master's in communications and from the University of Georgia with a bachelor's degree in journalism.
For more information on the library district, visit mypubliclibrary.com.
HENDERSON SHINES HELPS RESIDENTS DISPOSE OF UNWANTED GOODS
The city of Henderson is scheduled to host a free Henderson Shines event from 9 a.m. to 1 p.m. May 3 at the Henderson Pavilion, 200 S. Green Valley Parkway.
Residents can safely dispose of unwanted items from documents that need to be shredded, items that need to be recycled or hazardous materials such as batteries or paint.
There is also a chance for people to drop off items such as clothes and books, for donations.
For more information, visit cityofhenderson.com.
BIRD VIEWING PRESERVE TO HOST NIGHT EVENT
The Henderson Bird Viewing Preserve, 350 E. Galleria Drive, is slated to host its Birding Under the Stars event from 7:30 to 9:30 p.m. May 17.
Guests are set to be guided by staff members as they seek out nightlife at the preserve.
The event costs $14 per person.
For more information, visit cityofhenderson.com/parks.
GOLF TOURNAMENT TO HELP VETERANS
Lexus of Las Vegas plans a Vets Helping Vets Golf Tournament at 8 a.m. May 3 at Wildhorse Golf Club, 2100 W. Warm Springs Road. Proceeds are planned to go toward assisting veterans' charities in Southern Nevada. Participation is $75.
For more information, call 702-336-3205.
SOUTHERN HILLS REPUBLICAN HONOR STUDENTS IN ESSAY CONTEST
The Southern Hills Republican Women's club awarded the winners of its second annual "We The People" essay contest April 4.
Students from Del Webb Middle School were presented awards at its April meeting.
For more information, visit shrwhendersonrepublicanwomen.com.
BULLSEYE PET SUPPLY DONATES TO ANIMAL FACILITY
The Henderson Animal Care and Control Facility, 300 E. Galleria Drive, received a $2,000 donation from Bullseye Pet Supply.
The company presented the donation April 8.
Money is slated to go toward dog food, toys and care items.
For more information, visit cityofhenderson.com.
HENDERSON NAMED AMONG SAFEST CITIES
Henderson was recently ranked one of the Top 10 Safest Cities in America by the Movoto real estate blog.
The blog's rankings come from the 2012 FBI Uniform Crime Report, which collects statistics from police departments around the country, looking at murders, violent crimes, property crimes and total crimes.
For more information, visit movoto.com.
BOWLING EVENT RAISES AWARENESS ABOUT TEEN SEXTING
SM@RTConnections is scheduled to host at bowling fundraiser at 1:30 p.m. April 27 at Wildfire Casino, 4451 E. Sunset Road.
Put on by Leadership Henderson, the event is called "Hero Bowl: Knock Down Pins for Kids," which encourages participants to dress as their favorite superhero.
The fundraiser is also expected to raise awareness about teen sexting.
Registration is $50 per person.
For more information or to sign up, visit beingsmart.org/herobowl.
HENDERSON SEEKS ARTISTS TO DESIGN MURAL FOR TEEN LOUNGE
The city of Henderson is seeking artists or arts groups to create a mural for the teen lounge at the Whitney Ranch Recreation Center, 1575 Galleria Drive.
The proposed mural should reflect the purpose of the lounge, which provides a safe gathering place for teens and preteens to socialize, learn and grow.
Applications are due April 25.
For more information, visit cityofhenderson.com.